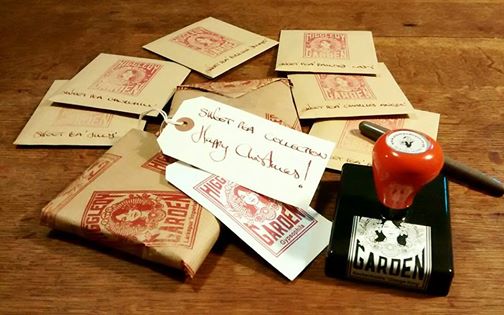 I presently only stock six varieties of Sweet Peas…I would rather have a small selection of the best sweet peas known to modern man rather than have fifty that don't cut the proverbial mustard.
Sweet Pea Christmas Collection
I will perhaps extend this six to a dozen next season…but for now…this is what I offer….and they are all spanking gorgeous.
The collection is Christmas wrapped and also has 20% of the collective price of buying the packets individually…AND as it is over £10 the collection comes with free shipping.
So…what have we got:
'Perfume Delight'…this is one your Great Grandfather would have grown…it's heavily perfumed….(though I suspect you had already guessed that.) Easy to grow…never fails….according to my Auntie Flip Flop it is the best Sweet Pea this side of Basildon.
'Painted Lady'…this cultivar dates from the 1700′s…it doesn't get more old school than that….this like 'Perfume Delight' is also heavily perfumed and will fill your house with scent and loveliness…your friends will dream that one day they could be a little bit like you.
'Winston Churchill'…the colour of this sweet pea is just jaw dropping…you don't see it commercially grown as the blooms are not as abundant some…so it is a delight to be able to grow it for yourself. I have found it keeps flowering for yonks too. A crimson masterpiece.
'Jilly'…This is my fav creamy white sweet pea…the flowers fade to an ivory colour….these are uber chic and are no doubt all the rage in north London or Bath…or somewhere…'Jilly' are often used as exhibition flowers if you fancy a shot at the big time.
'Beaujolais'…this a new school variety…good strong stems…heaps of flowers and beautiful deep colour. New varieties rarely have the same powerful scent as the old ones so I tend to mix them up in the vase…I call it my 'old school new school fusion'….it's snappy phrases like this that have got me to where I am today.
'Charlie's Angel' is another new(ish) variety…the flowers look the spitting image of Farah Fawcett…OK…that's a lie…they are however as beautiful as she. They are a powdery 'blue'…frilly around the edges…I remember they were a big favourite of the Gardener's World crew a few years back.
So there you have it….a perfect little collection…and delivered to your door for £10.12…though please spend more money than that…it's nearly Christmas…don't be tight.
Link to: Christmas wrapped Sweet Pea Collection.
Kind regards
Benjamin Higgledy
All the below are also being Christmas wrapped with no charge…
'Bee and Butterfly Friendly Seeds'
'Seeds To Sow In Early Spring'
'Seeds To Sow In Autumn (or Spring)'
'Flowers For A Small Cutting Garden'