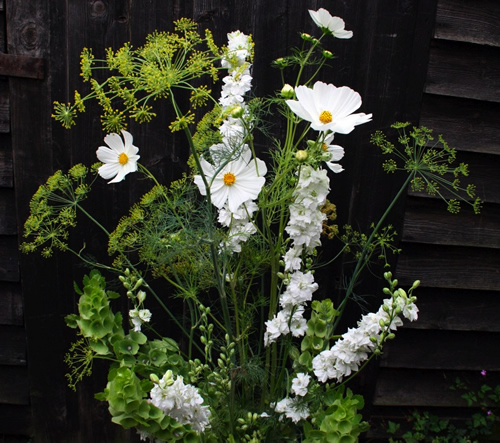 Larkspur
White Larkspur was Ben's Great Auntie Macassar's most favourite annual cut flower. She had a long, thin garden and would line the edge of her winding path (that wound all the way down to the River Shonk) with the bright spires.
One moonful night, a light aircraft mistook Auntie M's planting for a runway… that was the first time her Consolida ambigua had been cut by an aileron. She instantly forgave the dashing and ruggedly handsome pilot, Scotty…. they spent one balmy evening under his silken parachute learning all about aviation & new seed sowing techniques. Some say this is where Mr Higgledy gets his love of Biggles books… and his middle name.
Seen above with Bell's of Ireland, Fennel, Dill and Cosmos 'Purity', I'm sure you'll agree Auntie Macassar was right about white Larkspur? Interestingly though, after that illuminating night, as though suffused with adventure,  she switched her allegiance to Larkspur 'Giant Imperial Mix' and edged her winding path (that wound all the way down to the River Shonk) with colourful spires.
Growing Larkspur from seed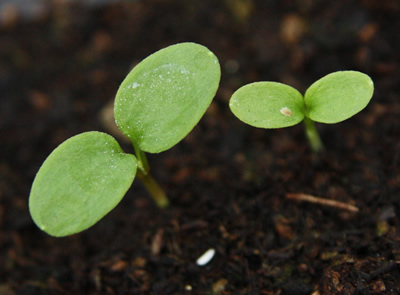 Growing Larkspur from seed couldn't be easier. When I lived in Poppy Cottage, Fittlesword – I simple scattered a couple of packets in her borders and they throoped away with little attention. But there's nothing like being a professional gardener growing cut flowers for other people that seems to focus the mind.
I sowed some Larkspur 'Giant Imperial Mix' underglass early April, pricked them out, potted them on and planted them in the cut flower patch two weeks ago.
This week, right next to the Larkspur'lings I sowed some seeds… let the research begin. Which method produces bushier specimens with more flowers?
Here's Mr Higgledy's guide to sowing Larkspur from seed, written I believe under a parachute, with a torch and Figrolls.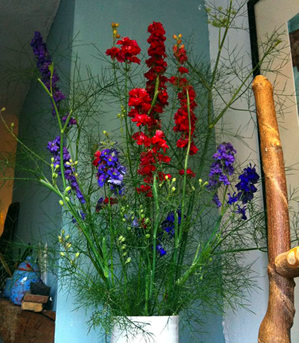 Larkspur in the vase
Tall, blowzy, frowzy and tousled – Larkspur definitely has her top two buttons undone and red bra strap showing.
Complete with her loose, fanciful foliage, she's great for lofty drama.
Cut her stems at an angle, increases the surface area for water uptake and thus her misspent vase life.
Grown in the Original Higgledy Garden circa 2012, not even I, with my lexicon of flower colours can describe the Larkspur seen left, the one that isn't purply-blue.
Can you?
I'm still in love with my petite Larkspur, Ammi majus and Sanguisorba threesome of last year… hubba hubba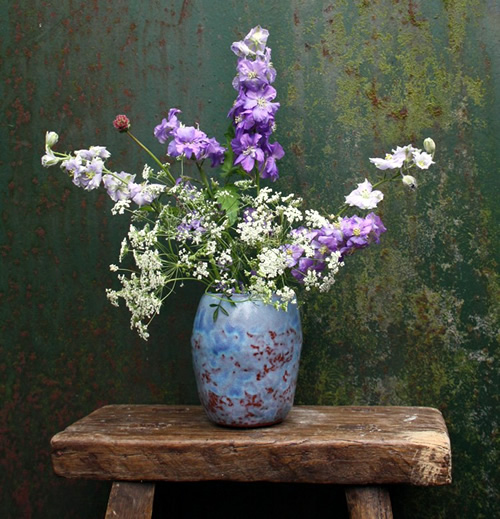 Why Larkspur?
Larkspur flowers, illustrated here with a rather sumptuous photograph of a stem in bud, have spur'ry calyces (yes Ben, the plural of calyx, now finish your jigsaw).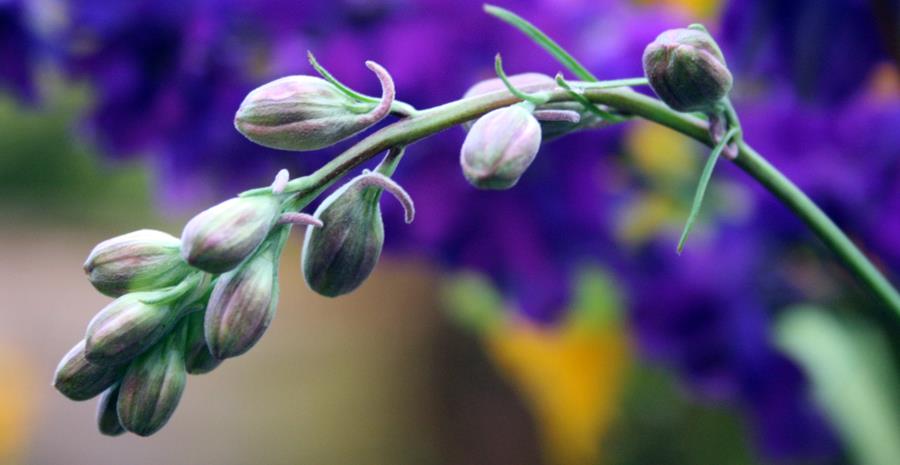 Along with Delphinium, Larkspur is part of the Ranunculaceae (buttercup) family, native to Asia, the Med and W Europe – coincidently all places I like Mr H to send me packing to on a Higgledy plant hunt.
Like Auntie Maccasar, I have spent some time under a parachute, draped over trees… with a mushroom expert, a small fire and a frying pan. So it's no surprise the swanky purple, lavished with opulant delft blue, Larkspur is my weakness… *wobbles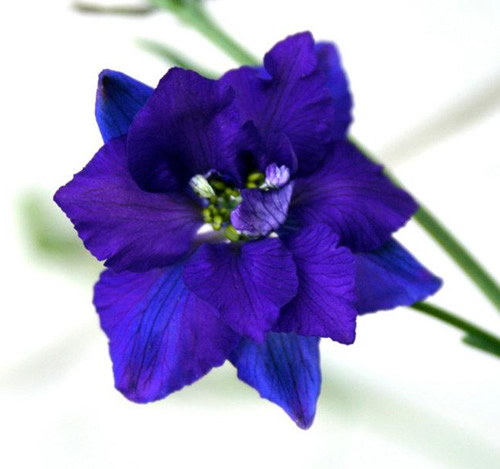 Le Samedi fille
Karen, The Higgledy Researcher (AKA @sanguisorba)