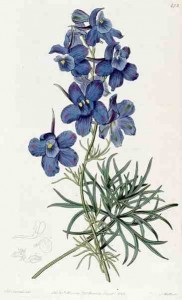 The Larkspur is a fantastic English garden flower and is also a great cut flower. According to our Greek cousin's mythologhy Larspur came from the blood of Ajax (not the kitchen scouring powder…giggle giggle) who killed himself after he could not obtain the protective covering of the slain Achillies. Thus is called 'The Knight's Spur". Tradition has it that Larkspur will ward off scorpions and poisonous snakes.
In an arragement Larkspur is a playfull little fellow…somewhat dominant and boastful…but hey…you only live once.
Plant out in full sun either in Autumn or Early spring and thin to 10 inches apart.
Untill next time.
Ranners and his intrepid Iguana.