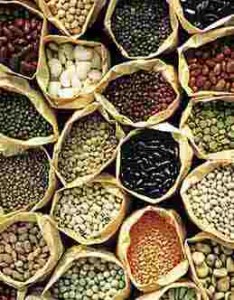 Organic seeds are produced from plants grown to recognised Organic standards. No chemicals are used either before or after harvest. Wherever possible we try to use organic seed, it not only helps us feel like we're saving the world and making it a better place for the little children but also helps other small UK companies. For reasons of biohazard laws we never buy seeds from overseas.
F1 hybrid seed that you may have bought in your local garden center will almost undoubtably have been treated with a fungicide and will not produce a 'true to type' plant from it's seed…so your prize pumpkin may turn into Frankinfruit.
The good people of The Organic Catalogue have a good selection, but look for the seeds that are marked as being organic as not everything in the organic catalogue is actually…er…organic.
Also…if you're keen…The Prince of Wales is patron of 'Garden Organic' and seeds can be obtained from them too. 'Garden Organic', is the UK's leading organic growing charity, has been at the forefront of the organic horticulture movement for 50 years and is dedicated to researching and promoting organic gardening, farming and food.
Mr Bigglesworth.
Image from Grain.org.