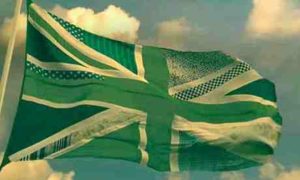 The Uk market for conventional flowers is huge, raking in 1.5 Billion pounds a year. 90% of which is imported. There has been an 85% increase in air freighted flowers in the last for years alone, all being moved around the world using energy intensive refrigeration. Last year 19,000 tons of flowers were flown from Kenya to the UK, racking up 33,000 tons of co2 emissions.
So for pretty things in a vase they punch well above their weight when it comes to environmental fallout. They are grown using copious amounts of fertilizer, insecticides, fungicides, nematocides and plant growth regulators, generally washed into our waterways.
Unless consumers start demanding ethical flowers, the flower of the future will be destined to be a globalised, pesticide ridden bloom, grown on a vast monoculture plain and developed at the expense of indigenous flora and fauna by workers paid a pittance. A rose by any other name but it definitely won't smell sweet.
Lucy Seigle. (Writing for the Guardian)
I can't add to Lucy's brilliant article…so I won't.
Ranners and his intrepid Goldfinch.