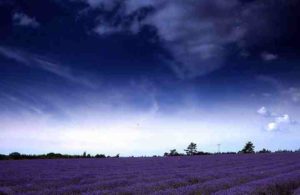 My Auntie Betsie just adored Lavender. She would always gesticulate wildly, flapping her bingo wings whenever it was mentioned and in her flouncy blouse she would look like a cross between Barbara Cartland and a humming bird.
In recent years Lavender has become more popular with the florists. Using it in unusual combinations with roses and carnations brings a new tone to an old tale. The old Elizabethan's used to put Lavender in a posie called a Tussie Mussie which they thought would help defend the poor blighters from the plague. Unfortunately it didn't and most of them croaked but at least they smelt nice.
It is said that Cleopatra used Lavender in her seduction of Mark Anthony…that and the fact she was drop dead gorgeous and the most powerful woman the world had ever known.
Lavender can flower from April right through to October but we've found it difficult to grow from seed so if we were you just buy some plants. There are loads of varieties, we at Higgledy favour the Hidcote blue…but we are fickle fellows and will be seduced by others next year I'm sure. Make sure it has free draining soil, otherwise it will have a full on hissy fit and not perform for you…and a Lavender that doesn't flower is about as useful as boobs on a nun.
If you live in our neck of the woods why not go and visit the fabulous Norfolk Lavender Farm…they mainly farm Lavender in Norfolk and have become very good at it.
What varieties do you grow?
Ranners and his imaginary squirrel.