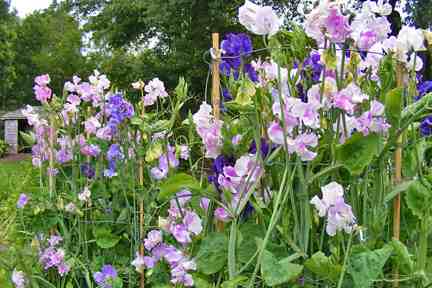 A national favorite. The Sweet Pea (Lathyrus odoratusis) is native to the eastern Mediterranean. It was a major specialist crop in Britain until it fell out of fashion and the skills needed to grow it on a commercial level were lost with the change in taste. It is now making a well deserved resurgence and is being grown by a small number of boutique flower farmers such as ourselves.
They acquired their name from the sweet scent that emanates from these most delightful of climbing annuals. Availability in a myriad of colours combined with a long vase life makes the sweet pea the Queen of the Annuals. She is however a viperous monach and her peas or flowers should never be ingested for fear one may collapse in the conservatory and become a 'bit part' in a Miss Marple tale.
Being that the Higgledy Garden gets the sharp end of winter out here in East Anglia, we tend to leave planting until the spring. In milder climbs some folk sow them in October. Though having said we may give some a head start in the greenhouse and the cold frames and we'll see how we do.
What varieties do you grow?
Mr Bigglesworth
Image from the RHS