Introduction to Godetia
Godetia is well loved favorite in the English flower garden, a proven performer year on year. It is a native of the west coast of America from California up to British Columbia. Its flowers could be described as being like that of the Azalea and come in pinks, lavender, purples and reds. This delightful plant was named after a Swiss botanist chappie named Charles Godet. Godetia is often called Clarkia or 'Farewell to Spring'….which gives you a pretty big clue as to when it flowers.
Propagation of Godetia
At the Higgledy Garden we generally sow the seed where we want it to grow rather than indoors. However if you wish to start them under glass I would recommend doing so five or six weeks before the last frosts. Its worth bearing in mind that these plants hate to be bunched up and crowded and care should be taken to avoid this. Space out to about a foot.
Find seeds at Nicky's Nursery.

Growing on' Godetia seedings
Godetia are sun worshipers and befit from a well drained (not too rich) soil. We have found them fairly drought tolerant. When they start flowering at add little phosphorus based fertilizer. They also have a rather fab habit of reseeding prolifically and you may find you have to thin out the seedlings next spring.
We will be planting a number of varieties next spring. One of which is Godetia amoena Memoria, a beautiful pure white bloom with a great vase life and long flowering period in the field.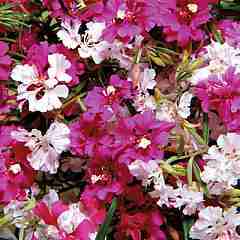 If you wish to use them for cutting, cut when just the top bud has opened. They should last ten days in a vase.
What varieties do you grow?
Expanding Mandy. x
PS Looks just fabalicious with Cosmos.