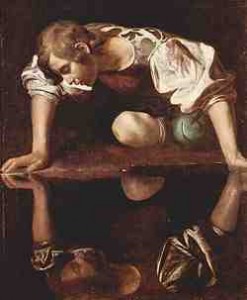 Are we sitting comfortably…good…then I shall begin.
A long long time ago, even before Oli was born, lived a hunter. This hunter was from a land called Beotia. He, like Ranners, was exceptionally good looking but unlike Ranners he loathed people whom fell in love with him. Now in the olden days in lands far far away there also lived people called Gods. These Gods were not impressed by this self loving chap who called himself Narcissus…well actually it was probably his Mum who named him that but it doesn't flow with the story quite as well…these Gods decided in their Godesque wisdom that they would smite down with furious vengeance upon Narcissus. 'Oh No! What did they do?" I hear you cry…well…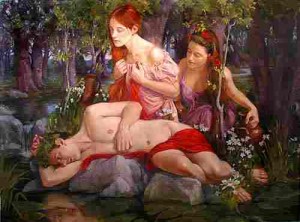 As Narcissus was drinking from a cooling pool by the side of the A505 on his way to Royston after having had a burger from Angie's van, in the layby by the turnoff to Melbourn, he saw there on the surface of the pool, his own reflection and fell madly and deeply and destructively in love. He was rooted to the spot…he couldn't take his eyes away from his reflection for one minute. Even when Angie tried to tempt him away with a pork and apple sausage special bap with secret sauce and extra onions, he would not be moved.
…and that place, my dear friends is where the pitiful Narcissus met his death…he wasted into nothing and his ashes turned to dust and were blown on a southerly wind towards Brighton and Hove.
So may that be a lesson to you all.
Ranners and his pair of dancing turtles
Image credit, The great Caravaggio.
Image credit, The Great John Waterhouse. (?)