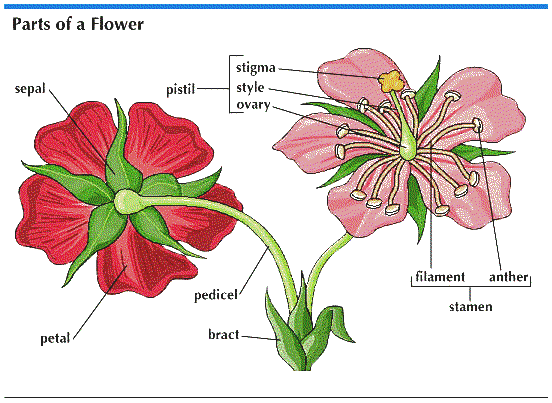 Don't know your pistils from your petals? OK, time for some of us to go back to school and do some learning. Some of you reading will already be in school so I'm afraid you'll have to budge up and let us oldies sit in…although we might sit at the back and throw things.
What are the parts of a flower?
Petals. Petals are usually thin, soft and coloured to aid the process of pollination This colouration may extend way into the ultra violet spectrum in order to attract insects but will invisible to birds. Together the whole group of petals usually forms a circle and this is called the corolla.
Sepals. Sepals are the green leaves that grow around the bud to protect the petals from the elements before it is ready to open. They sit beneath the flower when it has opened.
The Female parts of a flower
The female parts of a flower are called the pistil. The pistil has three parts, the stigma, the style and the ovary. The stigma can be found at the top of the pistil. It is sticky and traps the pollen. The style is the tube like structure which itself holds up the stigma. Still going downwards we find the style leads down to the ovary. (Still with us at the back?)
The Male parts of a flower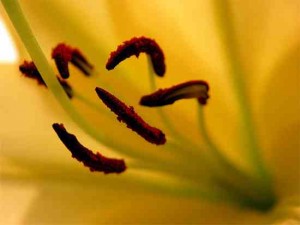 The male parts of a flower are called the stamen and this stamen is made up of two components…the anthers and the filaments. The filament is the thin thread that holds up the anther (We could call it the anther's stalk). An insect will wiggle it's booty against the anther and then, once done, fly off…if this insect then lands on the same species of flower and rubs his booty on the flower (but this time on the stamen), then the ovule is able to be fertilized. The anther does a rather fine job of carrying the pollen…well done old chap.
Well done everybody…we were going to have a test but let's not…let's bunk off for the rest of the day and eat junk food.
Please don't hesitate to let me know if I've got any of this wrong!
Ranners & his bootyful bees
Image Credit, The Allen Center.