What are Christmas Roses?
Christmas Roses are the common name for the much loved garden flower, the Helleborus Niger. The Hellebore produces flowers that are  two to four inches across, are white and sometimes edged with pink. They grow to approximately fifteen inches and are evergreen. Despite their name they are unlikely to flower in time for Christmas but will by late winter.
How to grow Christmas Roses.
Christmas Roses are relatively easy to grow if you bear a few things in mind. Firstly the little chaps want some dappled shade, under deciduous trees is a fab place because in winter they can receive that vital winter sun that will allow them to flower. They need to be able to send down some fairly deep roots, some make sure your ground is well dug with added compost. The compost will not only feed the little darlings but help water drain away while retaining enough moisture to maintain life as we know it. Give them a bit of space, I plant mine at about fifteen inches apart and them seem to be happy as larry with that…and a happy Hellebore is a flowering Hellebore as Aunty Flipflop used  to say. If you have some mulching material then I would suggest putting a layer around your plants and give them a general purpose feed come the spring time.
Can I use Christmas roses as cut flowers?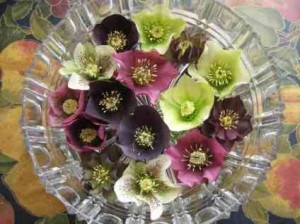 Generally I would have said they are best left on the plant. Certainly for us as boutique flower farmers we would have trouble with transportation etc but as a domestic grower why not. They look great in a bowl as above.
Where can I discover more about the Christmas rose?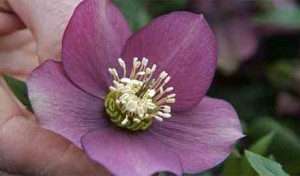 If we haven't slated your thirst for knowledge in this department and you are looking for some more perhaps scientific knowledge then why not visit the RHS or Gardeners World.
Good luck with growing your Christmas Roses and we look forward to hearing how you get on.
Ranners & his syncronised Kestrels
Images from Greenforks and Gardeners World