What are Snowdrops?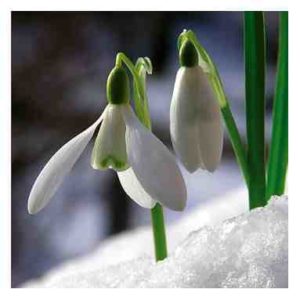 The Snowdrop (Galanthus Nirvalis) is a member of the daffodil family and is an early flowering bulb. It is native to the damper regions of Europe and North West Asia. Though they will generally grow on any type of soil, they are happiest on rich, moist soils. They are one of Britain's most eagerly awaited flower and herald the coming of the end of winter and flower as early as January. Snowdrops have long been seen as symbolising purity and of the cleansing of the earth.
There is plenty of debate as to whether or not Snowdrops are native to Britain and certainly ones that are found in the 'wild' are almost without exception 'escapees' from gardens.
We find the first reference to the snowdrop in 1597 in Gerard's Herbal and no reference to them in the wild until 1770. There are well over 350 different species and there are many strange folk who become rather obsessed with collecting them, these people are called galantophiles…or nutters, depending on your perspective.
Growing Snowdrops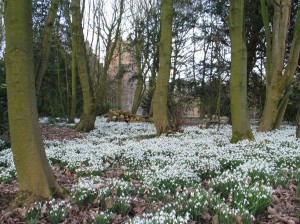 Bulbs should be planted in the autumn to a depth of roughly three times their height. Clumps of a dozen seem to look the most natural, they will of course divide and become more. We tend to put some grit mixed in with the covering soil to help with the drainage. Offer the little fellows some light shade, perhaps under a deciduous tree or in the shelter of some light shrubbery. Once planted they can be left to their own devises. Often bulbs will be moved around by forgetful squirrels and will pop up else where in the garden next year.
Snowdrops in Folklore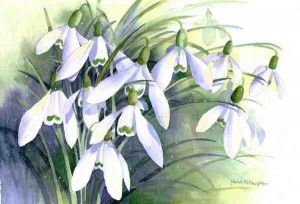 When Adam and Eve were thrown out of the Garden of Eden for enjoying themselves, they were sent to a barren and wintery land and the fig leaves weren't up to much in the insulation stakes. Luckily they bumped into an Angel who was clearly in a better mood than his boss and explained to the shivering duo that spring would follow the winter. He then showed them some falling snow flakes which on reaching terra firma were instantly turned into snowdrops and our naughty couple were given hope for a better future. Nice one Mr Angel.
Snowdrops in Medicine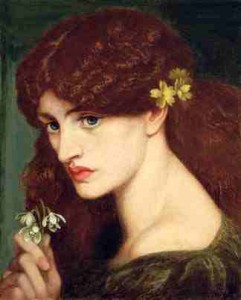 It has been found that the humble snowdrop can be greatly beneficial in the treatment of Alzheimers disease and is marketed under the brand name of Reminyl.
It won't be long now before we see some some more of these wonderful plants poking out of the earth…come on!!!
Expanding Mandy xxx
If you enjoyed this post why not give Didicus a go?
Image Credits, Rossetti, Rachel McNaughton, Gardeners tips.