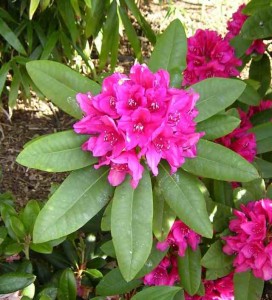 Just a quick note to remind you of a garden nasty…oh yes indeed…as wicked as witch on Wednesday. The Rhododendron's leaves and nectar can kill you stone dead. Eating this plant will cause violent vomiting and diarrhea. Later stages of the poisoning will dim your vision and can lead to coma and and a trip to dead town after your heart convulses and stops.
So the message here is not to dip the flowers in batter and deep fry them….or toss them in with a garden salad. You could really upset your dinner guests.
I will be doing a series about poisonous plants in the coming week just to add a little spice to our otherwise flouncy and glorious flower kingdom.