Summer Snowflake (Leucojum aestivum)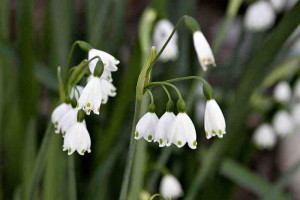 This happy little lady prefers the boggy side of things. Her habitats would include riverside marshes and wet open woodlands. One would be forgive for thinking that this wonderful wildflower would flower in the summer due to that season being at the forefront of its name…but no….that is all a bunch of lies…just PR. In fact we see the blooms in April and May Some sources will tell you its from February to May…they're wrong). In Berkshire it is called the Lodden Lily due to the fact it florishes on the banks of the river Lodden.
Chiltern Gentain (Gentianella Germanica)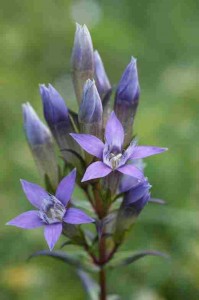 I think this is one of the best wildflowers known to humanity and I don't care who knows it. What a beauty. Not to be confused with its more common 'looky likey' the autumn Gentian it has larger, bright purple flowers.
Sadly our friend the Chiltern Gentain is in decline and one of our rarest wildflowers. Look for it in August, when it flowers and most other downland flowers are over.
For its home it prefers open turf chalk downlands. Here are directions to a great site in Aston Rowant National Nature Park where you can trot off to to marvel at a wonderous display.
Round Headed Rampion (Phyteuma Orbiculare)
Rapunzel, from the brothers Grimm tale of towering prisons, deceit and big 80's hair, lends her name to Rampion in many parts of Europe. Though I have no idea why so please don't ask.
The flowers are a deep blue and are infact made up of many blooms and not just the one flower head. Best to see on chalk grassland in July or August. You can find it within this grid square…I can't be more specific than that. The South Downs in Sussex is also a fine place to see them…and if you climb to the the top of Danny Hill you can see my old house.
Pryamidal Orchid (Anacamptis pyridimadalis)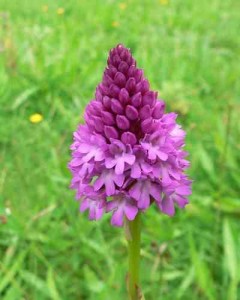 The county wildflower of the Isle of Wight and very well chosen. What a cracker and completely bonkers in as much as it requires a certain fungus in the soil or the fussy little madam won't flower. Its no surprise to discover that its flower head is in the shape of a Pyramid and these bloom in June and July. Prefers a grassy habitat.
Happily these little gems can also be found just a few miles south of the Higgledy Garden near Royston on Therfield Heath. Visit Roystonwildlife for more on that.
There are plenty more goodies to found in your wildflower searches in south east and would ask you check out Plantlife and the good work they do for wildflower conservation.
Its scent has been described as being 'foxy'…take from that what you will.
Please keep us up to date on the wildflowers you find in your local patch and for more of our wildflower posts click on the Higgledy Garden Wildflower Campaign. Thanks.
Image Credit. Jacob Sturm (wikicommons), Wildaboutbritain, Plantlife, Roystonwildlife
Receive Higgledy Garden Posts and stories straight off the press and sent to you…for free free free! Just click on the orange logo at the top of the page.