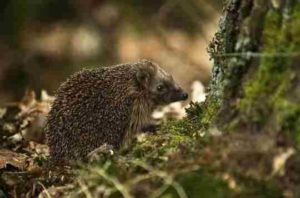 As we say at Higgledy, 'you can't beat a good hedgehog'…we love the spiky little critters and their snouty ways. We've got loads that snuffle around our flower gardens at night and long may it continue. However their numbers in the UK are declining.
Our little friends the hedgehog can travel vast distances in a night…well OK…not that vast but a few kilometers no problemo…which on little feet is quite a big feat…if you get my drift. This means that any hedgehogs you have in your garden may have started their evening elsewhere.
What features attract hedgehogs to a garden?
Compost heaps. Hedgehogs like a bit of cover…who knows what is lurking in the night. They just love a good compost heap. Nice and warm and hopefully full of nice and tasty worms and slugs. Yum Yum.
Log piles…another sure fire winner with our nocturnal nutters. They don't have to be massive, just a few logs high with openings so they can get in and snuffle out the goodies inside.
Undisturbed areas of your garden. General mess! Shrub cuttings, leaf piles all in a sheltered area.

What hazards to avoid…
Slug Pellets. These are like death on a stick (without the stick) to a hedgehog. Don't use them. Birds eat them too… bad bad bad!
Escape routes from ponds. Our hoggy chums happily seem to dive into any water source without first checking to see if they can get out…or they just fall in. They may be cute…but clever they ain't.
Holes. Uncovered drains…not that you would leave drains uncovered anyway…but I needed three hazards so I've chucked it in. (The hole…not the hedgehog)
Can I put food out to attract hedgehogs to my garden?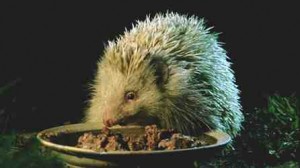 Yes…but don't! Many people put out cat food and dog food. The main reason why I don't do this is I don't want to make the rats any fatter. By providing the conditions outlined above you will provide the food they need naturaly.
Please accept my apologies for over cute and sickly photos…I couldn't help it.
Do let us know about the wildlife in your garden…and happy hedgehogging.
Other posts you may be interested in…Attracting Butterflies & Feeding Birds.