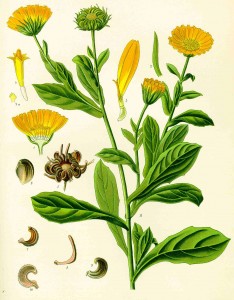 Since the time of the Greeks, Calendula has been used for both medicine and food. So to is it found in Indian and Arabic culture. It is generally native to North Africa and Mediterranean Europe. Its long flowering period is how it gets its name…from the latin Calendulae…meaning throughout the months.
All parts of the flower are edible but to be honest…take the petals and ditch the rest as it can be very bitter. Use the petals in a salad to impress your friends…then remind yourself that if you have friends that are impressed by salad you should get some new ones.
Treat Calendula like poor man's saffron and use it to dye rice or perhaps sprinkle the petals in your G & T to make yourself feel a little smug.
I have heard that you can make a Calendula souffle…but not having made or even tasted a souffle I can't comment…other than its got Calendula in it and that's what this post is about…
Regards
Ben
Other Edible Flower posts just clickerty chip!