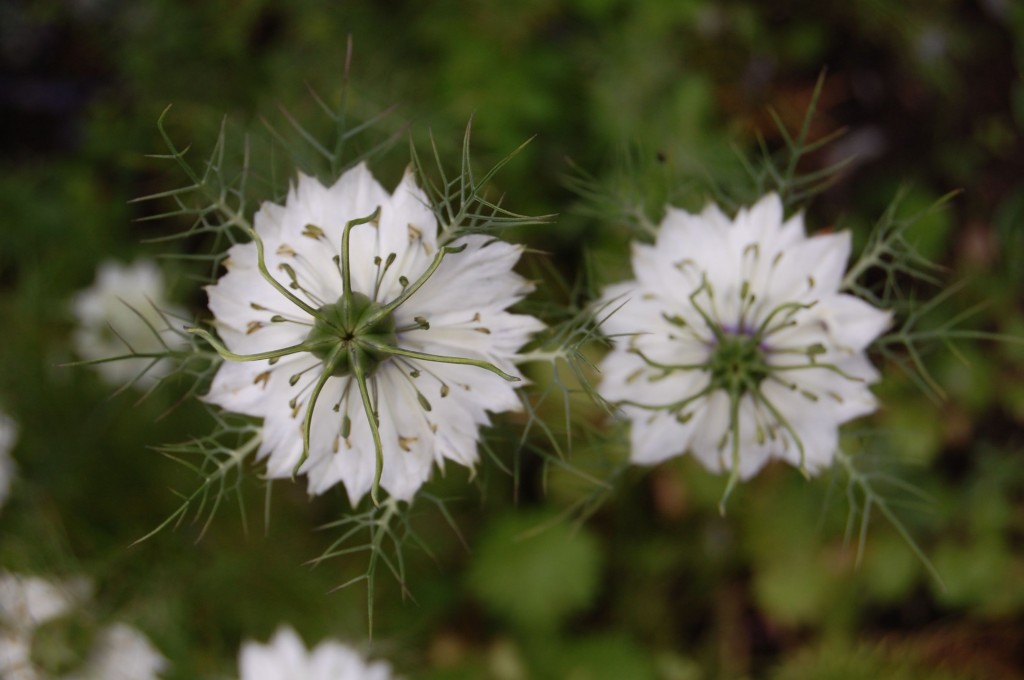 It's very difficult to say the word Nigella these days without some bright spark throwing in a boob joke or an oh-er missus. (If you're from outside the UK that will probably be over your heads.) I however shall refrain from such vulgarities and swiftly move on to the more refined ways and gentile ramblings of the Higgledy garden.
Nigella is a national favourite flower, a country garden staple, reliable, quirky and undoubtably beautiful. Though she is a fleeting mistress…staying for a few short weeks before eloping with the vicar and flowering no more.
But what blooms they are, powder puff flowers in white, blue and pale purple relax amongst cool fern like foliage. The flowers soon turn into ballon like pods with purple stripes. The pods have 'horns' which is where it gets another of it's common names, 'Devil in a Bush'.
I love this change it has from flower to pod, it's nothing short of bonkers and reminds me somewhat of a camp Incredible Hulk.
How To Grow Nigella.
It's all good news in the Nigella growing department. Being a hardy annual you can sow in Autumn and the little sweet cheeks will be flowering and flirting with the bees by Spring. Then you can sow some more in spring and have flowers for the rest of the season. PLUS you usually get 400-500 seeds in a pack which goes a long way.
One thing to note is that Nigella hates to be disturbed…she will behave like a spoilt child if you try to move her and will throw herself down upon the earth and scream and scream and scream till she's sick.
Nigella will happily reseed and you should be in wonderful flowers for eternityish.
What varieties of Nigella are best Mr Higgledy?
Good question, well asked. I have a few favourites that I will share with you.
Nigella Damascena 'Deep Blue' is a rather seductive little number. Seeds heads go a very groovy Crimson and green.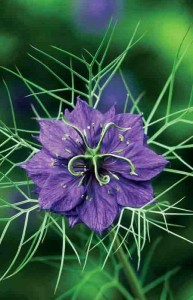 Then there is another Damascena ' Double White'. These two are great but slightly too short for my purposes…folk like to buy tall flowers but none the less if I were cutting flowers for me or a lover, they would be on the list.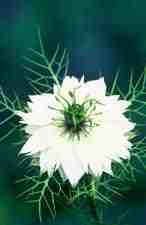 Also we have the spectacular Nigella Hispanica, a deep bluey purple with stunning crimson pods…this one rocks.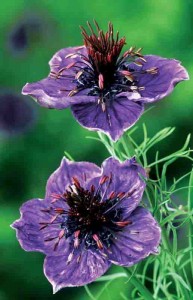 How do we arrange Nigella?
Nigella looks just brilliant on its own but often I use it to soften up and add contrast to Calendula. If used with cornflowers the whole thing becomes very Barbara Cartland and is too girlie for my tastes but hey…you dance to your own disco, baby.
Nigella and the environment.
It will be of no surprise that Nigella is very attractive to bees especially those plants that turn up in early spring when the bees are constantly banging on about how hungry they are.
You will only need to buy seed once and it will cost less than three quid…bargin. Sarah's shop sells a few different types and I think probably all three of the ones I've highlighted.
To buy nigella seeds just click…Nigella
Benjamin Higgledy
Update: I found this lovely time lapse video of a nigella flower opening.