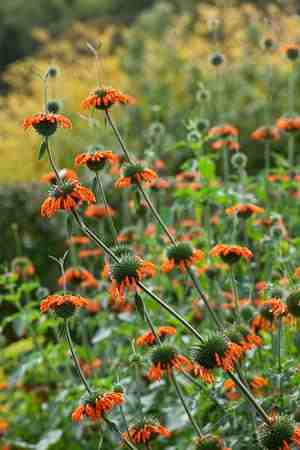 My great Uncle Gunter lived on a ruined fishing boat on the South Downs with his Jack Russell, Braveheart. He used to grow Leonotis Leonurus on the port side of his vessel to warn other salty sea dogs of the hilly hazard. He always maintained that this system had worked marvelously and that another vessel hadn't come close to disaster for two decades. But even as a child I always suspected this was because the sea was fifteen miles away.
What is this Leonotis Leonurus of which you speak, Higgledy man?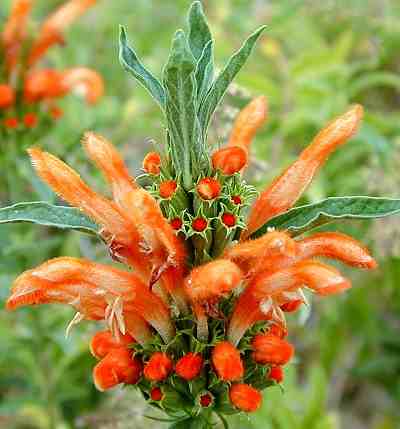 Leonotis Leonurus is one of the most full on rock and roll annuals ever known to man. Reaching to seven foot with bonkers orange flowers on vertical spires. Quite frankly it looks as though it has arrived from the future.
It is mildly psychoactive, so don't leave it near the dogs bowl unless you want Rex to start leaving poetry and pictures all over the kitchen. It has been suggested that smoking the leaves gives an effect similar to cannabis though more mild. (Please don't try this at home and die, if you do…don't blame me.)
Originating from S. Africa our friend Leonotis is a distant relative of the dead nettle and being tender need to be protected from the frosts…or treated as an annual.
How to grow Leonotis Leonurus.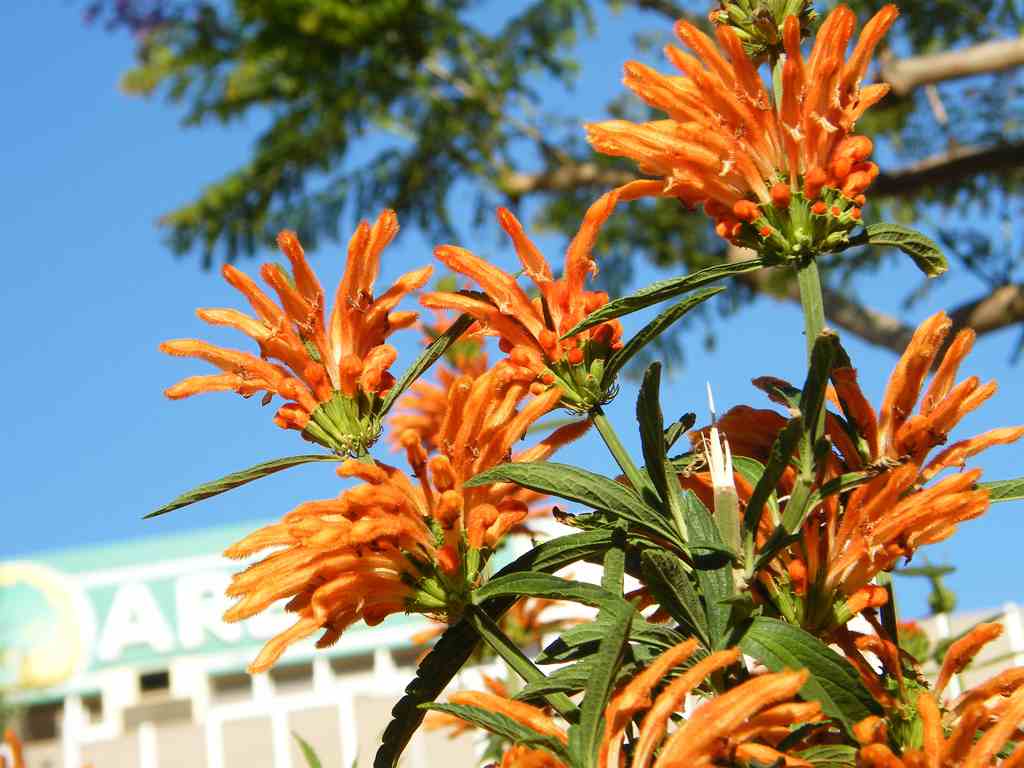 Usually it is labeled as being for 'experienced' gardeners but don't let that put you off. Give it a go, it's really not that tricky.
All you need to remember to do is start it off early under glass. I suggest six weeks before the last frost. So for me in Cambridge this would be the start of April.
Then plant out after the last frost date. Give at least 50cms between plants. It's best to add some compost to your soil before planting.
They are drought tolerant but don't let it get too dry whilst it's still a youngster.
Leonotis Leonurus and wildlife.
This fella is a winner as far as attracting wildlife is concerned. Although obviously it is best at doing this at home in its native South Africa. However our own insects dig the vibe it offers and bees and butterflies seem to love being in it's company.
As a cut flower it goes well with bluecornflowers…perhaps a little Ammi Visnaga to soften it up…and Cosmos seems to work well too.
Give it a go, you won't be disappointed.
Leonotis will appear in the Higgledy Shop in a few short weeks…probably before Halloween.
Kindest Regards
Benjamin