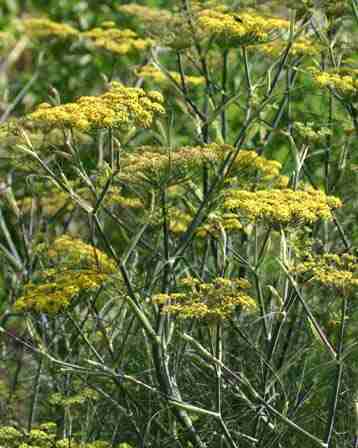 Much to the envy of her neighbours Mrs Crouch grew wonderful bronze fennel in her front garden in Standshonky Street. My brother and I thought she always looked really cool in her scarlet wellies as she busied herself with her shrubs and flowers. Sister Stacy however didn't seem to like her and when we walked past the low wall to the garden she would  whisper loud enough for Crouchy to hear…,'Red shoes no knickers.' These days when I see a lady with red shoes I always think of bronze Fennel and a lack of underwear but never in that order.
What is Fennel anyway?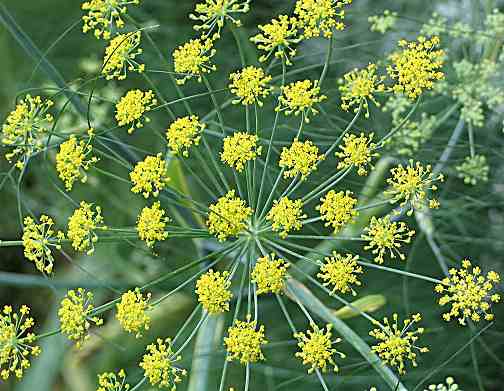 Fennel is a hardy perennial, an umbelliferous herb, with feathery leaves and yellow flowers. Though it has naturalised in many other regions it is native to the Mediterranean.
It is highly aromatic and strong in flavour. Along with anise it is a primary ingredient in Absinthe. (The Higgledy Kingdom's National drink.)
Its swollen root base is used for eating and its seeds are used for flavouring.
How to grow Fennel.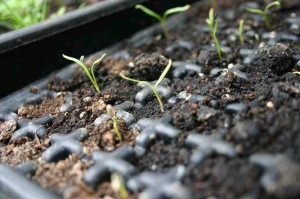 With fennel it's all about the soil. You simple must dig some organic matter into your soil, ending with a free draining but moisture retentive bed. Without this you are doomed…doomed I tell ye…DOOMED!
Sow your seeds from April to June where the little beauties are to grow. OR you can so under glass in pots from late February and transplant out after hardening off.
Space them out to a little over a foot.
Like all flowers, keep them weed free and never let them get too dry.
How do you use them in the vase Snr. Higgledy?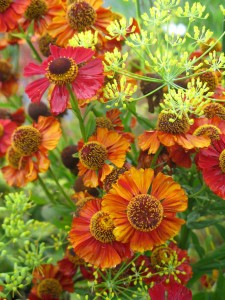 They are a great foliage filler, adding a softness and a depth of colour to any arrangement.
As regular reader will know I have a very unfussy view on arranging flowers and usually throw them blindfold from twenty feet into a vase. I go for the relaxed cottage garden flowers in a jug on the kitchen table vibe.
I think fennel works with most flowers but especially Barbara Cartland type flouncy numbers…bring in the Cosmos! Cosmos purity works superbly with bronze fennel as do tall cornflowers and luscious larkspurs…
…AND speaking of Cosmos…and we were last night…that chocolate one whose name I can't remember (please post comment if you can tell me) …is a right little diamond with our feathery friend fennel.
Happy fenneling!
Best wishes
Benjamin Higgledy