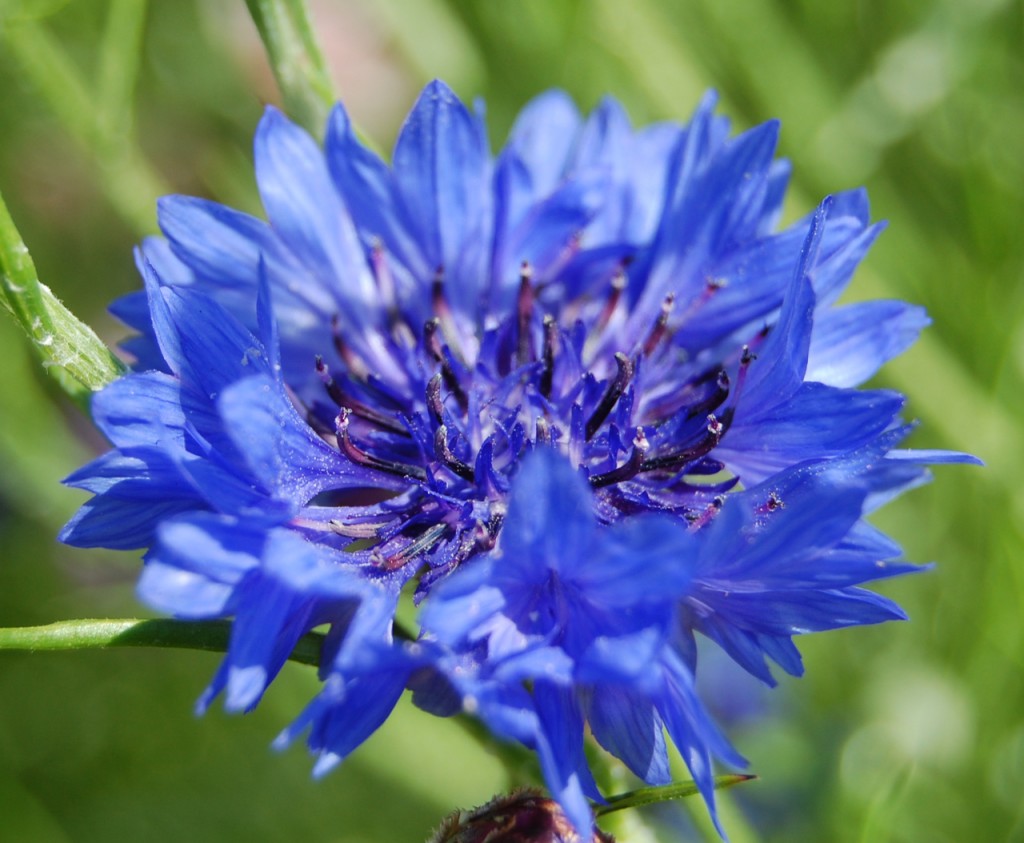 Aunty Flippy never once wore shoes in her life. She said shoes interfered with the messages that the tectonic plates were sending her. The plates were her friends and they had sent messages to the effect that they found the colour blue particularly calming.
In a bid to save Merseyside, where she lived, from the ravages of a terrible earthquake, she would keep her garden covered in 'Blue Boy' cornflowers. Flippy would go out into the blue field that used to be her lawn and speak down to the ground suggesting the plates  'take ten breaths', 'have a cup of coco.' and 'Have you been to the toilet?'
You may laugh but it's a well known fact that Merseyside never did have an earthquake during the days of Aunty Flippy's Blue Period.
'Why do you like 'Blue Boy' Cornflowers so much Mr Higgledy Ben'?
Above is a photo of a single Blue Boy in the Higgledy garden last year. I just love this flower. Wonderfully unsophisticated…it just does it's thing…play's with the bees…hangs out looking pretty…then self seeds.
It's the text book cut and come again flower. The flowers just keep on coming. I had flowers until just a couple of weeks ago, that was mid November and I hope to have next years crop starting in May.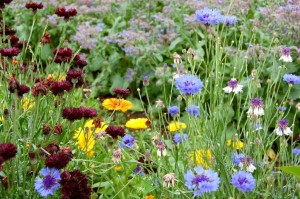 Blue Boy goes brilliantly with calendula, the blue and orange contrast immaculately. This combo sold really well for me last year and I can't wait to see it back. I would chuck in a few stems of Ammi Visnaga  which would flounce it all up a bit and the ladies who lunch would go weak at the knees and dip into the house keeping.
I have included Blue Boy in next years selection of our 'Cut Flower Seed Collection 2014'  and the 'Seeds to sow in Autumn' collection.
So How Does One Grow These Blue Boy Cornflowers?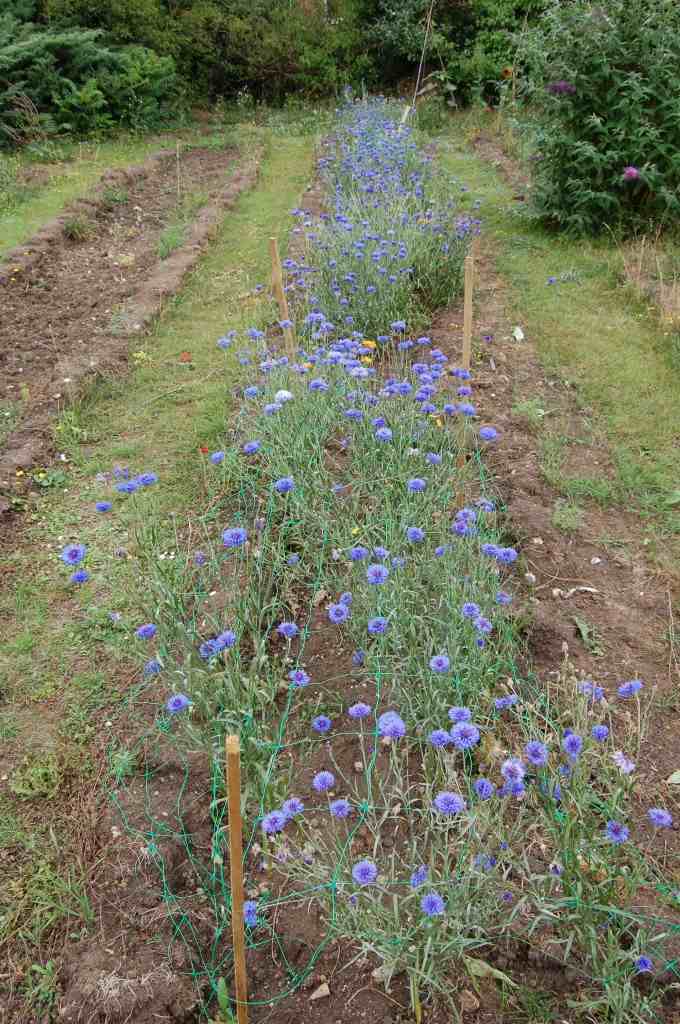 *First of all you need to find a space for them in free draining soil in full sun.
*The soil doesn't need to be rich, in fact Blue boy cornflowers are rather delighted to be in the presence of poor soil. (Treat em mean keep em keen.)
*Rake the soil down to a fine tilth. By this I mean rake it down to small pieces no bigger than a marble.
*I make an September sowing and then a spring sowing…not sowing outside until mid April when the soil has warmed up.
*I tend to sow the seeds into three rows about a foot apart. This way when the plants grow it is easy to reach the middle from either side.
*sow the seeds thinly. A pack of Higgledy Garden seeds should be enough to cover twenty meters of a single row without any bother. Don't do as I did on my first attempt many moons ago to use a whole packet of seeds in about three feet. Silly man.
*Prewater your seed drills…this stops the seeds from being washed away by watering afterwards.
*In three weeks you will see the little munchkins wiggling their way up out of the ground…thin them to about a foot apart. If you are careful you can move the seedlings if  you don't disturb the roots too much.
*Keep the bed weed free.
*Don't let the ground dry out too much whilst they are growing.
*I put some pea netting up at a height of about two foot and let the plants grow through it. That way they get support, high winds can flatten a bed in no time.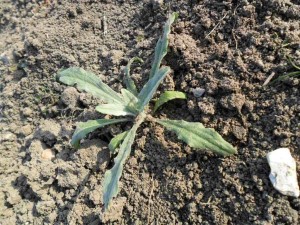 Blue Boy will rock your world and keep you smiling.
 BUY BLUE BOY CORNFLOWERS HERE! :)
Best wishes.
Benjamin