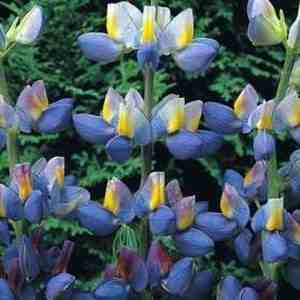 Three doors down from us lived the Brigadier. After a prestigious military career he worked as a volunteer for the West Sussex Underwater Mountain Rescue Team. It was whilst rescuing an old lady who had got stuck on a shelf whilst diving for baby rock pandas, that he came across  a stoney peak covered in the most wonderful of Lupins.
Wasting no time he was able to pluck some of these lupins on his return up to the surface with the flinching old lady safely in tow. When back on Terra Firma he bred the salty beauties to be able to survive out of seawater and in our gardens. Genius.
Three cheers for the Brigadier!!!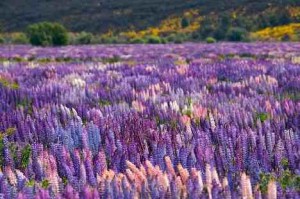 How does one grow the Brigadier's most famous Sunrise Lupins?
*First of all prepare abed in full sun or partial shade. Give it a good dig over, chuck in some home made compost or peat free compost from the shop. (If you don't know why I don't use peat in the Higgledy Garden click…'Peat Ban')
*I soak mine in tepid water overnight to soften their hard seed shells, I think this improves germination…not everyone will agree. Just feel the force and do what you think is right…(Apply this to most things you come across.)
*I sow mine from April until May.
*Lupins are very clever chaps produce their own nitrogen…to us, this means we can plant them in poor soils. (This knowledge impresses even old people.)
*Rake your lovely bed down to a fine tilth, with only dinky size crumbled soil remaining. Keep the soil nice and loose…yeah baby.
*I plant mine one foot apart and in three rows.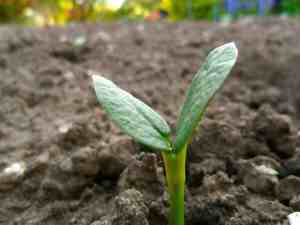 *Cover your magic beans/seeds with 1/8 inch of soil and gently water.
*These shy little fellas take a while to come out to play, you may have to wait over three weeks…you won't miss them when they do.
*Never let them stay dry for too long and keep the bed weed free.
*They should flower in late June or July depending on the price of fish, I tend to feed them with a general organic fertilizer in mid June…but it's no biggy if you don't.
*Keep an eye out for American Lupin aphids.
*Sit back and enjoy the show.
*Give a bunch to your Gran and keep yourself in the will. (It's going to be a cold winter.)
NB Sunrise Lupins are a Half hardy Annual. Click to discover more.
How to use Lupin Sunrise as cut flowers.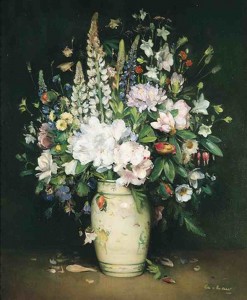 *Cut lupins early in the morning…when the sun is dawning…Postman Pat..er…sorry…early in the morning when they are full of moisture, or in the evening…but not during the heat of the day.
*Don't dally around like a Fraggle…get them straight into some luke warm water…right up to the flower spikes.
*Cut with a SHARP pair of sissors…a clean cut heals more quickly and the flower will bloom longer in the vase.
Lupins look good with just about every thing. If you are exploring the delights of the Higgledy Garden Cut Flower Seed Collection then try them with your Cosmos Antiquity, Blue Boy cornflowers and Buplureum . Be creative…nothing is right or wrong and most things are groovytastic.
Buy Lupin Sunrise seeds in the Higgledy Shop.
If there is anything else you need to know, then just comment and I'll get the Brigadier onto it right away.
Hope you are having a good time wherever you may be.
Kindest regards.
Benjamin