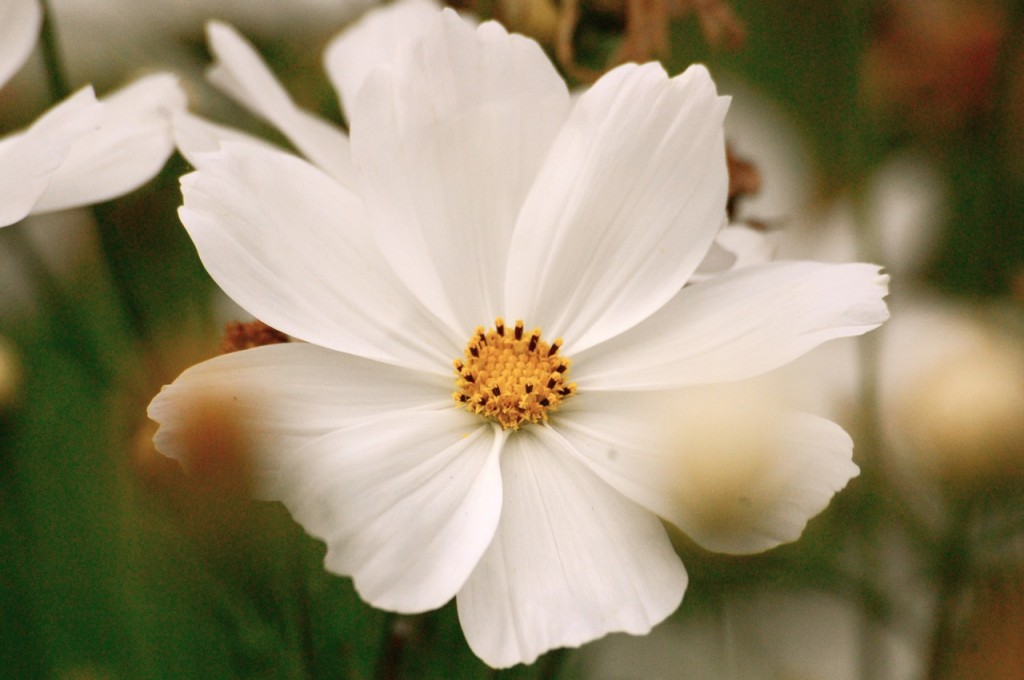 Uncle Flamingo and Aunty Steve lived the life of Riley in their mobile home parked adjacent to 'Fish World'. 'Fish World' is Suffolk's nearly well known aquatic attraction where up to 782 people a year  pay to watch Fish. Aunty Steve couldn't get enough of watching the finned fiends and was there nearly every day. Meanwhile Uncle Flamingo would tend his bed of Cosmos 'purity' and practice whistling  the theme tunes of famous war films from between the years 1974 and 1979.
Uncle Flamingo would tell me that tending a bed of Cosmos brought the soul nearer to the truth…then he would look wistfully to the setting sun before suddenly launching into a lippy rendition of 'Kelly's Heroes' or 'A Bridge Too Far'.
On my seventh and a half birthday, Uncle Flamingo gave me an envelope containing some of his precious Cosmos seeds whilst quietly and somberly whistling the theme tune from 'The Deer Hunter'…I knew exactly what he meant…and it is the ascendents  of these seeds that are grown in the Higgledy Garden today. Rest in peace Flamingo man…you rock.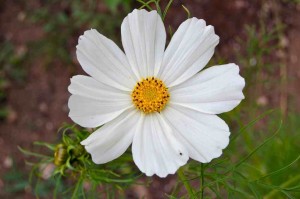 So what is this Cosmos 'Purity' that Uncle Flamingo gave you, Benjamin?
Well…where should I begin Grasshopper? Cosmos is a half hardy annual. The Greeks named it Cosmos because of the well ordered petals. Cosmos in Greek means order and/or harmony.
The leaves of Cosmos Purity are feathered and almost fern like…and the petals are as white as a Frenchman's flag. The plant can happily grow to five foot in one season with the right conditions.
It is a 'must have' in the cutting garden. Stunning.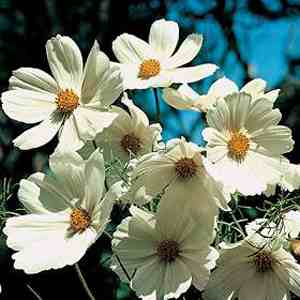 Sound fabulous. How do we grow this Cosmos 'Purity'?
*Either start the seeds off under cover in April, I start them on April fools day. Some folk say you can start them off in March but they can get leggy and the April ones soon catch up with them anyhow.
*OR sow they outside after your last frost date. Mine is the 15th May here in sunny Cambridgeshire.
*They are sun worshippers and won't dance at any discos in the shade.
*Give them about a foot of space between plants.
*Dead head regularly and the flowers will keep on coming and all will be well.
*She will do best in moderately fertile well drained soil.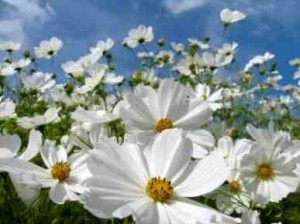 *If you like you can pinch out the tips to encourage bushy plants.
*If they start getting really tall then I stake mine…or one day the gales may knock them over and once down the willowy darlings seem to stay there.
How to display Cosmos Purity in the Vase.
'Purity' is a very versatile flower and seems to be very happy to rub shoulders with almost any other garden flower in bloom at the same time. I like to contrast the simple and orderd beauty of Cosmos Purity with the nuttiness of Leonotis and the busyness of Calendula.
Buy wonderful Cosmos seeds in the Higgledy Garden Shop! :)
I hope this finds you all well.
Kindest regards
Benjamin.