In the cut flower universe, Scabiosa is a bright and gleaming sun. She rocks out to a baying cosmos of planets and moons…melts the hearts of passing comets and drives nebula crazy with unimprisonable desire. Handle with care my friends…and never…never…look her in the eye.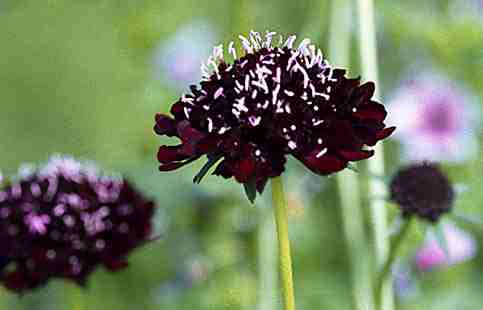 'What is this Scabiosa of which you talk so highly, Mr Piggledy?'
…er….it's Higgledy… Flowers of Scabiosa are born on to tall, elegant stalks, they usually come in lavender, creams and pinks but other colours including dark plum exist too.
Insects, bees and butterflies all go positively squiffy for it's heady nectar producing blooms.
It is a flower that seems to come into it's own when the summer is tiring of itself and the days gently become cooler.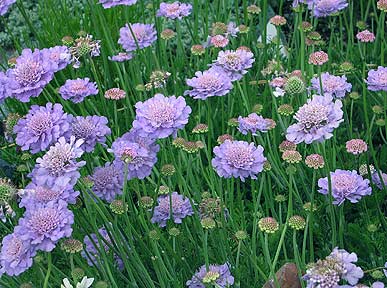 How do I grow Scabiosa Mr Wiggledy?
…er…oh never mind…
*First of all find yourself a site in full sun…lots and lots of delectable sunshine is key.
*Second only to this is a site that has free draining soil, Scabiosa doesn't like her slippers to be damp.
*I sow mine in rows about a foot apart. (This makes it easy to hoe through.) Sow into prewatered drills and cover the seeds LIGHTLY with soil.
*Thin them out…I keep them quite tight within their rows at about 4-6 inches apart.
*It is my experience (and clearly not of all others) that autumn sown seed needs some protection from the frosts…horti fleece will do the trick nicely.
*I sow my first batch at the beginning of March and sow a row every two weeks until the end of April. Mine usually flower some time in June.
*I shall also be sowing a tray or two in my poly tunnel from the beginning of February and compare them with the later sown ones.
*Scabiosa is a pick and come again flower, so you could have blooms until well into the winter…how cool is that?
*Some say allow to dry out between waterings…I am one of those.
*If you are not in a sheltered position then you may wish to stake your scabiosa or grow them up through pea netting.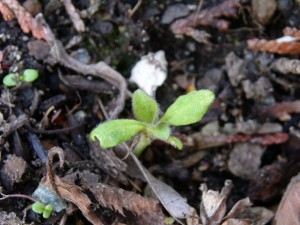 'Will you be growing them in 2012 Mr Diddlely?'
Indeed I shall. I shall be documenting my progress with a tall Crown variety and you will be welcome to grow with me…as it were.
This is really a great flower to have a go at growing…it won't let you down.
Buy the best most wondefulistic scabiosa seeds at The Higgledy Garden Shop.
Regards
Benjamin HIGGLEDY
;)
Please visit my post on the Top 50 annuals for cutting.