Our scabiosa have been awesome this year, despite monsoon conditions and a severe lack of good old fashioned sunshine, our wonderful Scabiosa 'Crown' all came good… albeit a tad later than usual.
Generally you will find they have long flowering period from late May until well into winter. AND scabiosa is really easy to grow from seed.
Yes…scabiosa is a terrible name…but out ancestors used the plant to stop bleeding wounds…(don't say I never teach you any top trivia.)
How to grow Scabiosa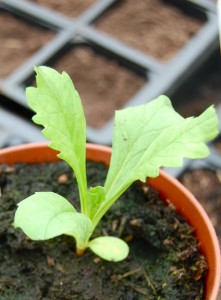 *For my own purposes I have found it best to start scabiosa seeds off inside. Though it is perfectly acceptable to sow them straight into the ground…if doing this leave it until mid April when the soil has warmed up a little.
You can also sow them in Autumn for earlier flowering plants. See 'What flowers to sow in Autumn'
*I sow in small pots, usually three inch modules.
*Gently cover the seeds by their own depth with good quality seed compost (I use sieved homemade compost where possible) and keep the compost damp but not saturated.
*Leave your pots on a windowsill or in a greenhouse…or in the back of the car as I did last year.
*Six weeks later it will be mid May and this is the last frost date for most of England…Scotland is later…the west of England may be a little earlier. Your scabiosa plants should be big enough to go out into the real world…get them used to the change of temperature though…pop them outside during the day for about a week and if a particularly cold couple of days is forecast, just hold off and leave them inside a little longer.
*For a cutting garden, I leave about a foot between plants and plant them in straight rows…this makes hoeing around them a WHOLE lot easier.
*Once established my old chum Walter Winkleforth said to let them dry out between waterings…which I do…and they seem to love it. (Bless their cottons.)
Try growing them with Ammi Majus and Bells of Ireland…a super marvelous combo.
Please buy our super chic Scabiosa seeds! :)
Kind regards
Benjamin