So you have wisely come around to the fact that you want to create your own cut flower patch…and who can blame you…being able to fill your house and the houses of  your neighbours with your own freshly cut flowers is a thing of great joy and general YES YES yesness. So how do you go about establishing such a thing?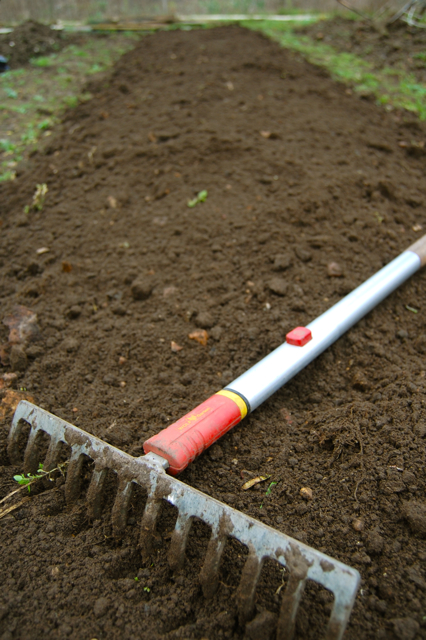 *First and foremost you need a patch of ground that receives a generous amount of sunshine. Some flowers that are suitable for cutting enjoy partial shade but not many.
*I prefer my cut flower beds to be approximately three feet wide. This way I can easily reach the plants (and weeds) that will grow in the middle…and I can do this from either side. I like grass paths and match the width of the path  to my mower's cutting blade.. (Probably the most sensible thing I have ever done in the entirety of my existence) …ok…the pic underneath doesn't have grass paths. ;)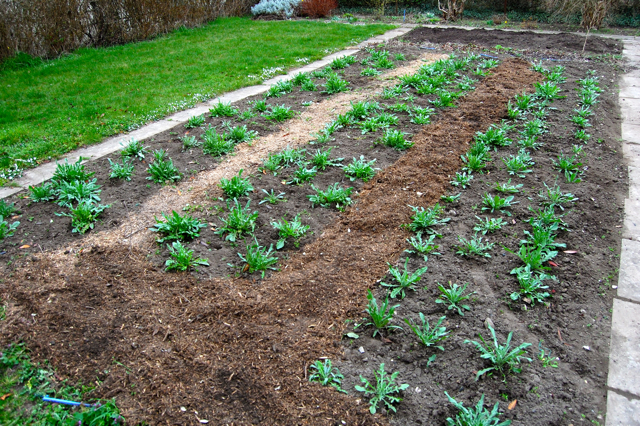 *Dig over your soil so that it is light and drains well. If it is clay or a sandy soil you should dig in a good amount of organic material…compost…leaf mulch…or amenity 'soil improver'. Let it settle for a couple of weeks if you can wait that long before planting out or sowing.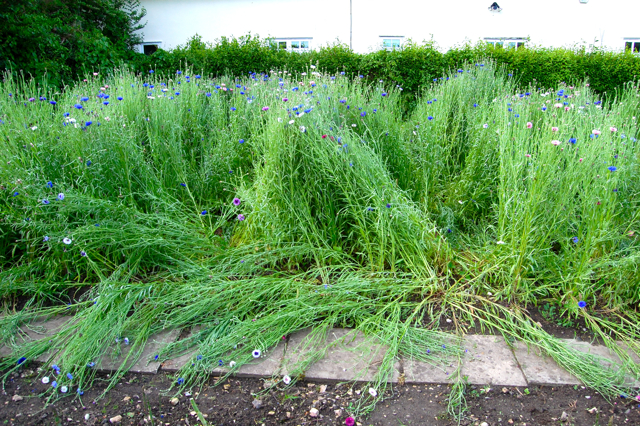 *With the right choice of flowers you can have a very productive little patch in just a few square metres….but the more the merrier. In the new year I shall be establishing new cut flower gardens in Cornwall. I shall be demonstrating what can be achieved in different sized areas…from a single mixed bed of 1 metre by 5 metres to a full sized standard allotment plot. Stay tuned.
*In my three foot wide beds I will generally have three rows of plants…most plants are spaced a foot apart…I also have each row a foot apart. Flowers such as Larkspur and Nigella I would have closer together and plants such as sunflowers and ricinus I would have further apart. (You will find all you need to know about spacings in the individual 'growing guides'.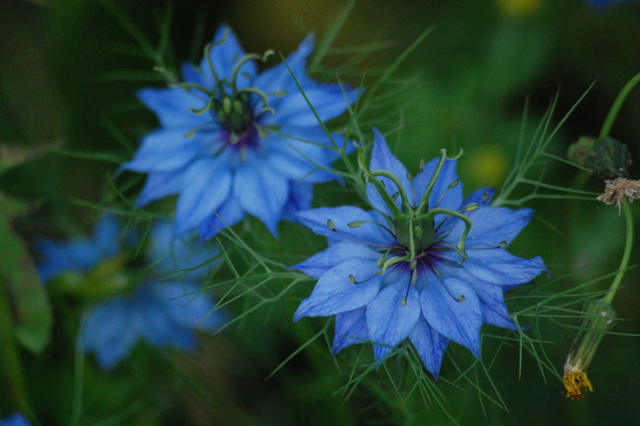 *NB With regard to rows…you may be tempted to sow and plant more randomly to enjoy a more natural feel…ignore this temptation…weeding is eight trillion and a half times more easy if you sow in rows…and it's also super easy to tell the seedlings from the weedlings. Listen to wise old Mr Higgledy. ;)
*Here is a general 'Seed sowing guide'.
*Some folk get very fussy about having flowers in height order so they don't shadow other plants…whilst I can see the logic in this I don't pay it the slightest bit of attention…other than very big things like sunflowers which I keep to the northern areas of the plot. Most of the flowers I grow tend to be around the 75-100 cm mark and by the time of year they are coming into flower the sun is generally overhead for much of the day…they seem to be fine.
*When your plants get a few inches tall (sorry about mixing my metric and imperial…it's the multiculturalist in me.) mulch around them…give the ground a good water first. This will help keep weeds down and moisture locked in…double whammy…looks impressive too….like you know what your doing.
*Plant a mixture of perennials and annuals and don't forget to include a good number of foliage plants. Bupleurum, Nicotiana 'Lime Green', Ricinus 'Impala' and Bells of Ireland are a good start.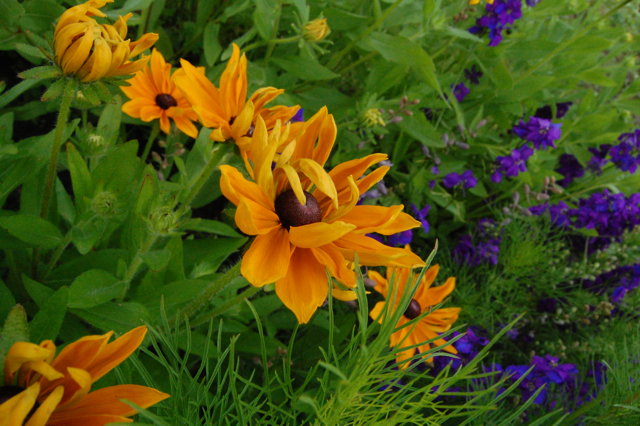 *Obviously the only place you should consider buying seeds for your cut flowers is in The Higgledy Garden shop.
*I you won't go far wrong by investing in my '2013 season. Complete Cut Flower Collection. 20 packets for £19.50…this will give you a great patch without being left with loads of half empty packets.
Remember this is just a brief guide…there is loads more to learn as you go along. You can fire any questions you have at me in any of the comments boxes at the bottom of each post. Don't worry if it's an old post from last year…my clever computer beeps at me and takes me by the hand to your waiting comment.
…I hope you enjoy growing your cut flowers as much as I enjoy growing mine. :)
Kindest regards
Benjamin Higgledy.