Not everybody wants or has the space for a cut flower patch in their already full to bursting garden….by 'cut flower patch' I mean a plot of ground laid out solely for the production of flowers for cutting, with no regard for its own beauty as a 'thing' in itself.
Cut flower patches are regimented…my preference is three foot wide beds containing my plants in three rows…all ship shape and singing sea chanteys in perfect unison, with neat rows in between just the right size to take my lawn mower.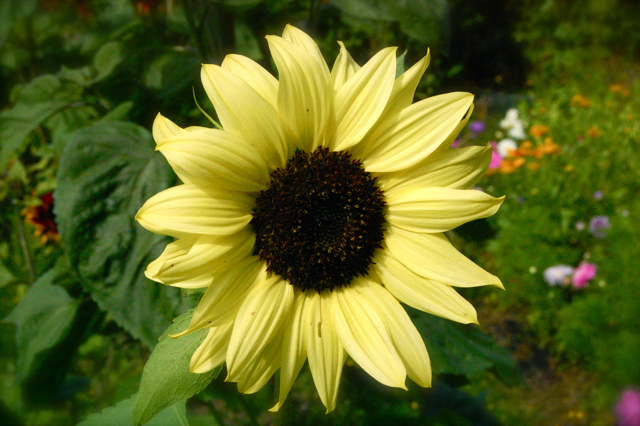 However…this is not for everybody…so I have a plan to design some simple 'cut flower beds', the main difference being that they are super gorgeous to look at from ONE side…taller plants at the back and shorter chaps at the front…they wouldn't be in rows…more 'meanderings'.
For my prototype I have designed a bed about the same dimensions as an estate car…(To my American readers,,,this is what you darlings call a Station Wagon…which quite frankly is much more appealing)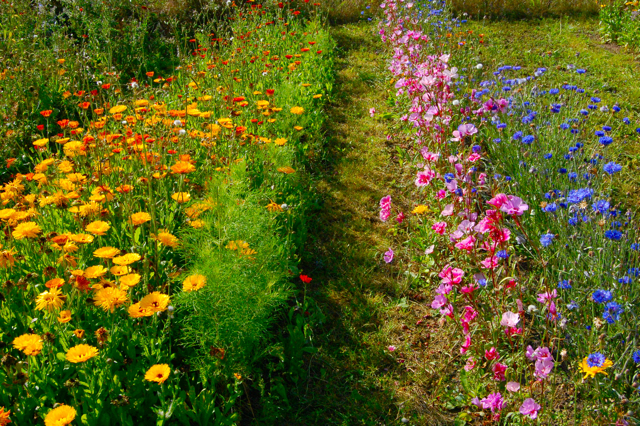 (In the above we have Calendula, Godetia and Cornflowers…and a few weeds…please ignore the weeds….thanks)
As long as you don't pillage this patch day in day out for flowers it should be enough to give you a healthy bunch or three every week…say from June if you sow in April…and should see you right up until the frosts.
I have opted for nine types of flowers for my first effort…three at the back…in the middle and at the front…though they will be generally separate…they will blend at the edges…'mingling' is perhaps a better word.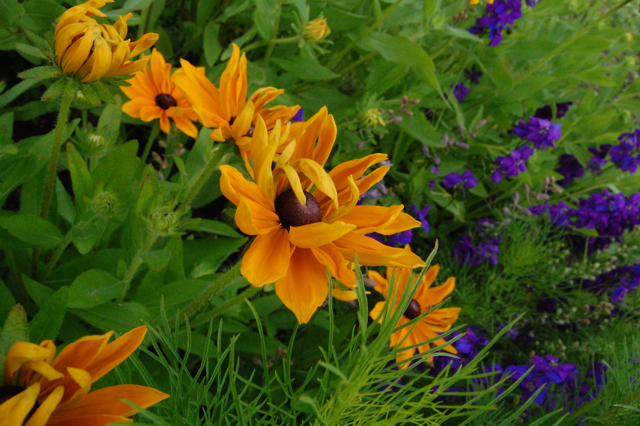 I will pick up some felt tips tomorrow and draw up a pretty picture with arrows and everything…but for the moment you'll just have to imagine…I'm sure you can.
So…at the back (Going from left to right, we shall have some Sunflower 'Valentine', with Rudbeckia 'Marmalade' and Larkspur 'Imperials'…in the mid drift (See what I did there) we shall enjoy the wonderful Cosmos 'Purity', 'Blue Boy' Cornflowers and Godetia 'Crown' (Tall double mix, no less)…
…then to finish off at the front we shall have Calendula 'Art Shades', Nigella 'Persian Jewels' and Eschscholzia 'Orange king'.
Find how to grow these in my 'Growing Guides' section.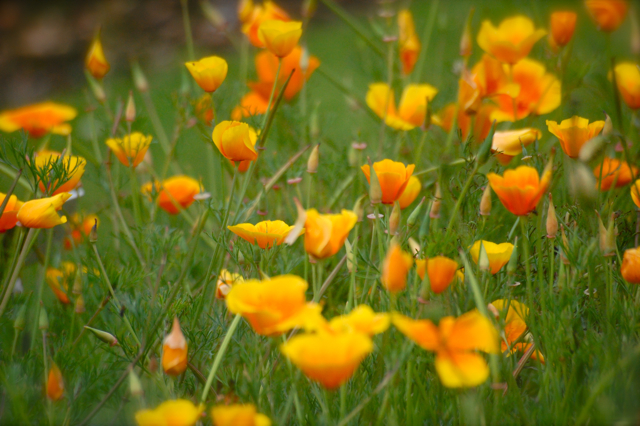 This whole bed will be a riot of colour…you can chose whether or not to start your seeds off in pots and then plant them out after giving the bed a good weed through…or whether to sow directly into the soil…both have pros and cons. Though myself I would certainly start the Rudbeckia off in pots…which is easy peasy…direct sowing can be tricky…well at least for me it seems to be.
I shall start a couple of beds like this in April 2013 so please stay tuned…I will demonstrate how I go about it…and hope I don't fall flat on my face.
All of these seeds and more can of course be purchased in the Higgledy Shop…please take a stroll around it if you have the time. :)
Thanks one and all.
Kind regards
Benjamin Higgledy