Feb
17
Dill is the unbeatable umbel or so says the rumble in the cut flower jungle.
My patch will never be without it.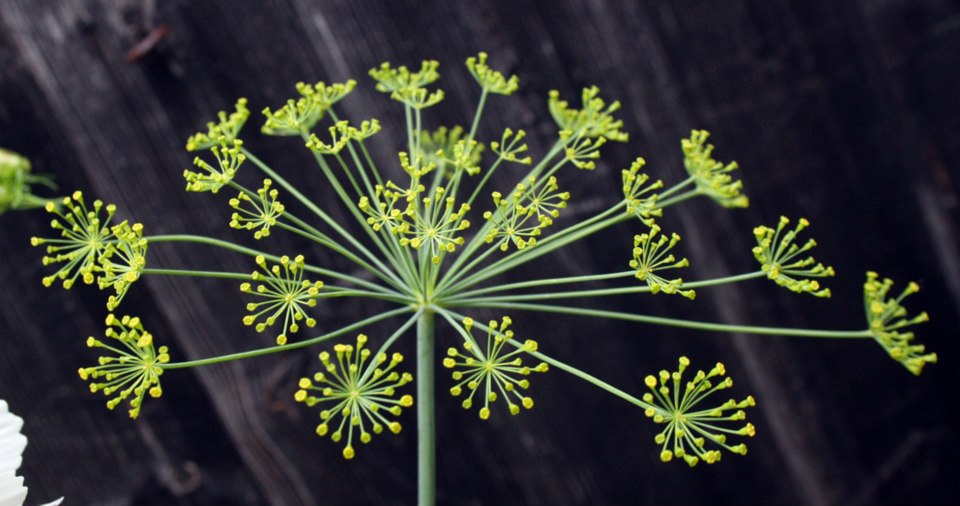 Dill
Until last year Dill was, to me, a herb that other people grew. Ah, last year, the halcyon days before Ben abandoned his Cambridgeshire plot for the seaside Hanging Gardens of Trehiggledy. I can see him now, in wellingtons and shorts, splewshing around rock pools in search of fishes to fricassee and douse in dill sauce. Anyway, enough of life in the coastal caravan of ardor…
Let me introduce you to Veronica Von Trollop, keeper of floral vessels, mistress of vaseology. We met one warm July in a Cumbrian flea market having both eyed a Cornflower blue milk jug, the perfect colour pot for the acid green Dill flowers. Now it is told, in the lakeside taverns of the county, that Veronica is the biggest Dill fan you will ever have the pleasure to meet. She grows all manner of Dill from Hercules to Hedger and is able to decipher each variety with the finesse all Von Trollops are blessed with.
Dill 'Mammoth'
Last year, on her recommendation, we grew Dill 'Mammoth' at The Higgledy Garden, along with 'Vierling', which is supposed to be the florist's choice. Having told Ben I was sowing mammoth seeds for him, after the initial smidge of disappointment when finely cut foliage began to emerge and not a wooly trunk, he was soon high fiving the jackdaws as the umbels opened – yellow fireworks from strong blue-green stems. Better than his kaleidoscope, he admitted.
Dill is one of those herbs that suddenly bolt and rush into flowering before living their carefree youth. Once in the vase this green goddess stays fresh for a couple of weeks then enters the in-between stage where it's tempting to compost her prematurely, but don't condemn her to the heap – for then the marvelous dried years begin. And I do mean years – umbels are experts in architectural excellence should you wish vase based or rafters hung, crispen reminders of Summer.
Which variety to grow
Both Ben and Veronica favour Dill 'Mammoth' and two cut flower trollops can't be wrong. It's strong and reliable – accompanies super tall flowers with gusto but is equally at home with mediums and smallies.
Dill versus Ammi
Both are in the Apiaceae (or Umbelliferae) family and yet a completely different kettle of fish. Dill tends to be sturdier, more upright whereas Ammi can be slightly unruly (some might say shinkyshonky) and flounder gracefully. You need both. The question you may want to ask is "should I be growing fennel or dill for cut flowers?". I will answer that when I've persuaded Ben to sell it in the Higgledy Garden Shop. What I will say is both self-seed with ease and if you find that pesky, Dill'lings are easier to whip out than hardy Fennel that puts down winter roots. Personally, self-seeders can carry my books to school any day.
Growing Dill
An easy germinator, succession sowing – that's the way to ensure a constant supply of Dilly Willy Woo Woo, as a certain Cornish dweller calls it. Anethum graveolens, as I call it, is a tender soul, so once frost has done a bunk you can sow Dill outside until whimsy tells you otherwise. If you are still sowing on Halloween may I suggest stern words with Ms Whimsy.
Bens sows in rows, I sow in lines and Veronica – well, there are some cultivation secrets that must remain within the bonds of friendship (rhomboids, but keep it mum). Everything you read says Dill doesn't like disturbance, direct sowing all the way. Well, last year, The Year of The Slug, I planted out Dill that I'd grown in paper pots – Dill that towered over slugs and sent them sloping off in fear. They were fine – start em off early in pots undercover for a slug themed contingency plan.
If you fancy slightly shorter, more branched Dill'lings, nip out the growing tip when the plant bears a few friffly leaves.
Don't be a silly Billy,
Grow Dilly willy (woo woo).

Karen, The Higgledy Researcher (@sanguisorba)