Grow your own wedding flowers.
© Georgie Newbery
Getting married? Overwhelmed at the looming cost of the event? Long to keep your whole day as home-made and home grown as possible?  Then doing your own wedding flowers is a great option.  Even if your big day is planned for January there's no need to spend a fortune on hothouse flowers flown in from Venezuela: greenery, church candles, teeny white fairy lights can be installed along church window sills and as centre pieces for tables at a fraction of the cost both environmental and financial of out-of-season roses flown in from abroad.  If your wedding's planned for July, however, or September, or for any of the temperate months between April and October, and if you have a little time to plan, and a little land to plant on (yours, begged, borrowed, but please not stolen,) there's no reason why you shouldn't grow your own wedding flowers.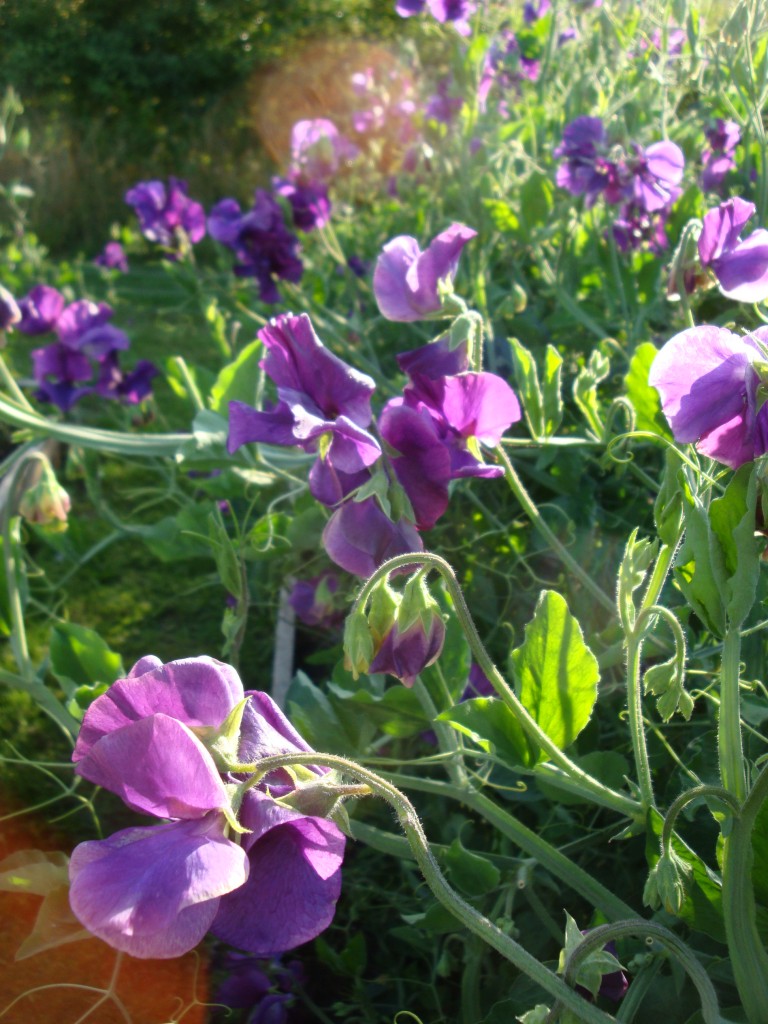 Space: how much?
In high season, well fed sweet peas in full production should give you at least ten flowers per plant per day.  Ten sweet pea plants therefore, will give you 100 flowers per day. Dead head your sweet peas on Monday and you will have a lovely big crop for your wedding the following Saturday.  I plant sweet peas a foot apart so I need a ten foot bed for 10 sweet pea plants.  You begin to see where I'm going with my space question?  The answer is you don't need much.  A tee pee of sweet peas will give you lots.  Two tee pees of sweet peas will give you hundreds.  Plant your two tee pees of sweet peas at either end of a 10 foot by 3 foot bed and you can almost grow all the flowers you'll need for your wedding in the space between.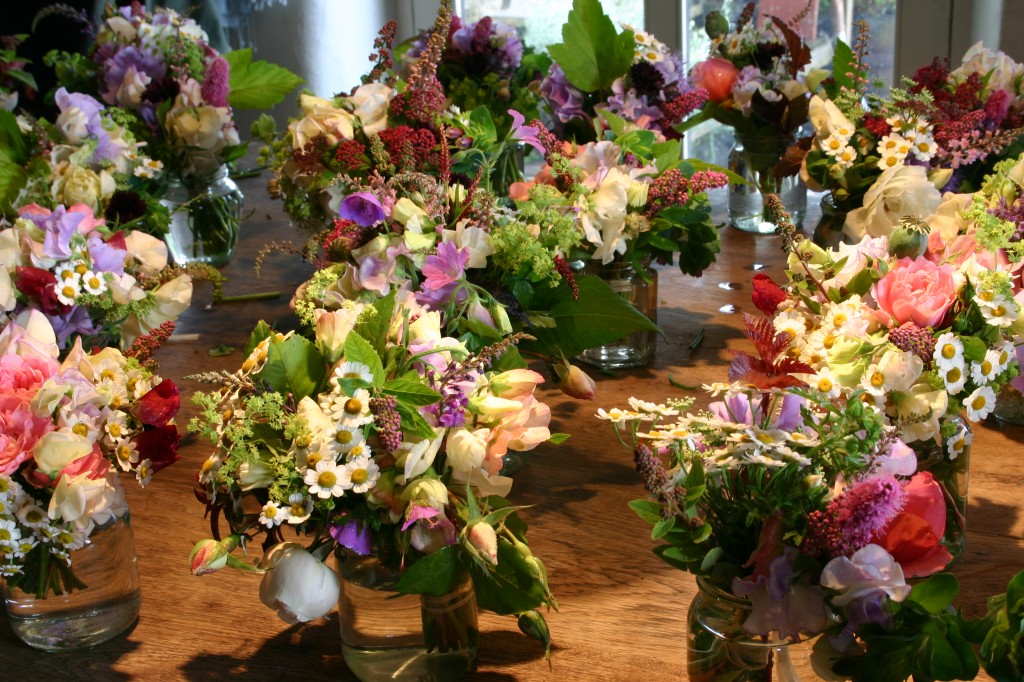 Planning
The more time you have to plan the better.  September planting for a June wedding will give you a gorgeous crop of hardy annuals: ammi, cornflowers, sweet peas, orlaya, clary sage, cerinthe, snapdragons, larkspur – all of these can be overwintered with a little tlc. Equally, plant in February for a July wedding and the same list of flowers will give you a display that's second to none.  If you mix in roses from your and friends' gardens, alcamilla, honeysuckle and other perennials, with freshly unfurling beech or hornbeam for greenery, then you're well on the way.
For a late summer wedding plant tender annuals in late March/early April: cosmos, sunflowers, zinnias, bells of Ireland.
For an early spring wedding plant pots up in October: daffs, narcissi, tulips – all of these are fantastic in beautiful terracotta pots which can be moved from the church door to the reception, brought indoors to force if they're looking unwilling to flower, made to match smaller pots for table centres.  Use hazel or willow clipping sticks as plant supports if your narcissi or tulips look as though they're going to fall over.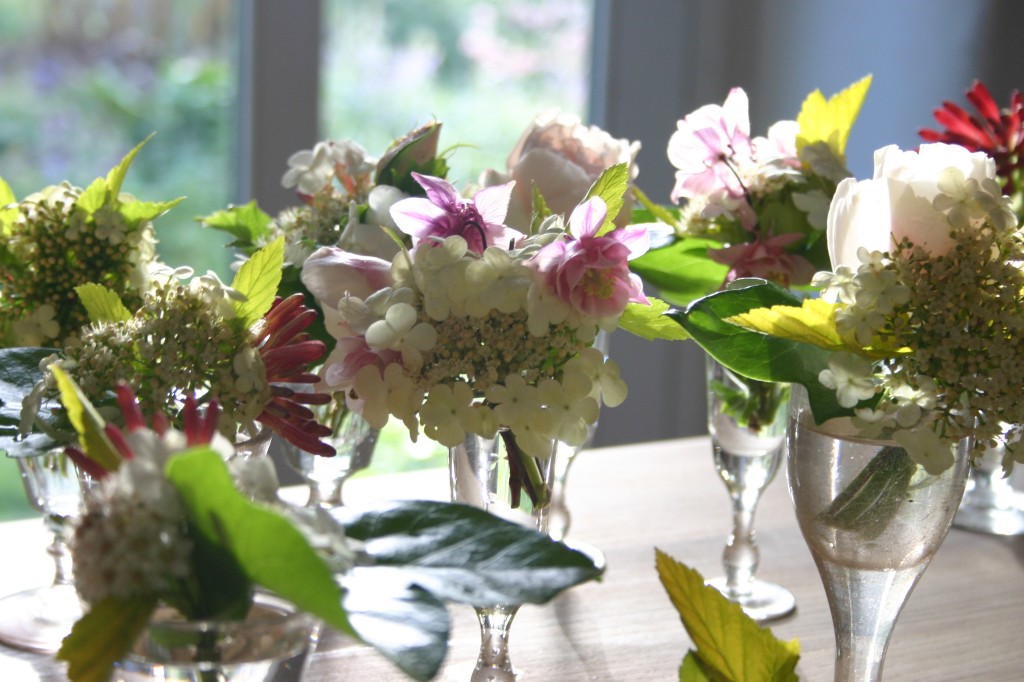 When and what to cut
As a rule of thumb give all cut flowers at least 12 hours up to their necks in water in a cool, airy, darkish place before using them in arrangements.  Cut woody stems to the length you're going to use them and sear in an inch of boiling water in a tin bucket for a minute before filling the bucket with cold water for conditioning.  Never cut flowers when you can feel the heat of the sun on the back of your neck: ideal times for cutting are between 5 and 7 in the morning, and after 7.30 in the evening.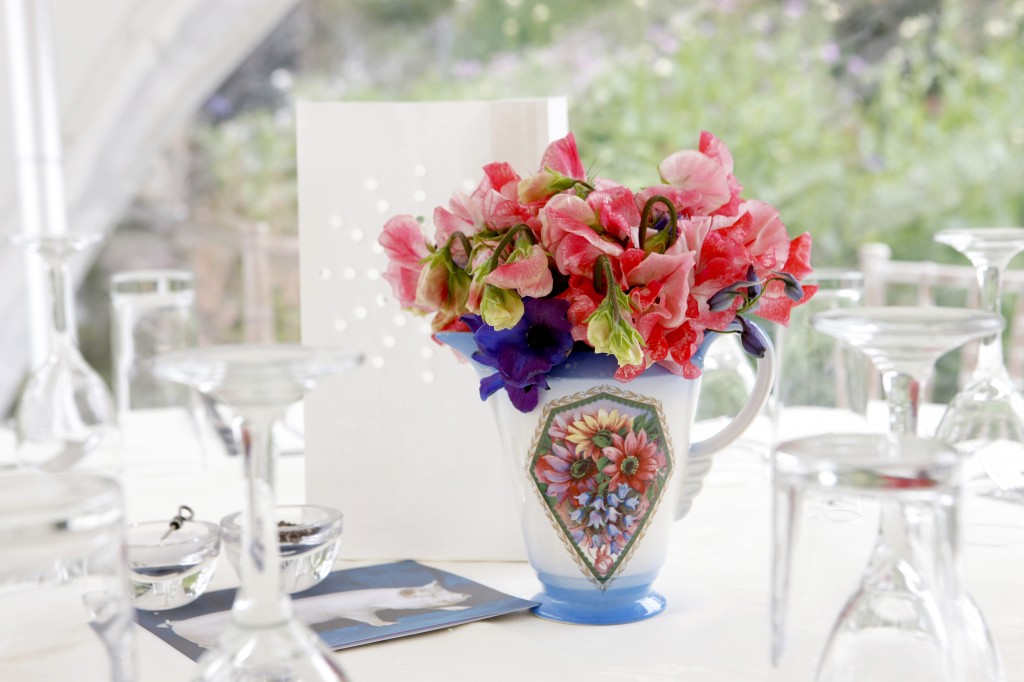 Timings
Do ceremony, then reception, then bridal party flowers – whether this takes a few hours or several days the order of works stands.  Keep finished arrangements cool until needed – hot sunshine through a window won't be good for variegated cornus based arrangements if you leave them there for several days. Make the bride's bouquet last and keep it in water until the last minute: if you're doing flowers yourself with stock grown in your own patch nothing will have been treated with flower preserving treatments and so, on a hot day, out of water, they won't last forever.  There's no need for a bride's bouquet to be out of water until just before the bride leaves for the ceremony.  And if you put a little vase next to her place, or by the cake at the reception, then her flowers can be put there to keep fresh and dress the table until she might want to fling them over her shoulder, or take them to her granny's grave, or give them to her mama as a thank you for a lovely day.
Good luck. 
For detailed consultations specifically re planning growing and arranging your flowers foryour day call Georgie at www.commonfarmflowers.com for an appointment.
If you'd like Georgie to DO your wedding flowers with her own, home-grown, untreated with chemicals, eco flowers, then call Georgie at www.commonfarmflowers.com for a bespoke quote.  See our Pinterest page for the kinds of wedding flowers we do. http://pinterest.com/theflowerfarmer/
Georgie Newbery
www.commonfarmflowers.com