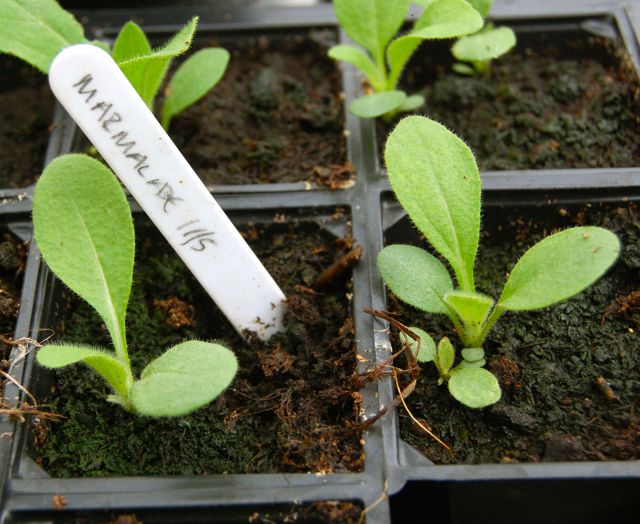 Rudbeckia 'Marmalade' Seedlings are doing well this year…though they had a slow start. Despite being one of the more common annual Rudbeckias, they are to my mind the best. Sure, I love the quirky green centred 'Rudbeckias like 'Irish Eyes'…but few plants in the cut flower garden have the same warmth that 'Marmalade' has…and its tall and strong stems make it an absolute diamond as a cut…lasts yonks in the vase too.
'Marmalade' is at the peak of its career in the autumn, when its daisy like golden blooms shine out as the leaves on the trees start to lose their enthusiasm for the sun. I bill Rudbeckia 'Marmalade' as an annual…but in a mild winter you will find some plants will make it through and flower the following year. I shall try some in pots in polytunnel and see how they fair next spring as an experiment.
Often folk use the common name 'Black Eyed Susan' when referring to Rudbeckias…I think my Gran did….but then I think she referred to half the plants in the garden as 'Black Eyed Susan'…
Rudbeckias are native to north America where they hang out in light woodland and moist meadows…so they can handle a bit of shade…but not too much. Unlike most annuals they seem to like a moderately fertile soil…so a little muck dug it won't do them any harm. I tend to mix my cut flower beds up…so all plants get them same soil type, like it or lump it…they seem to go for the 'like' option.
Five Top Tips For Growing Rudbeckia 'Marmalade' From Seed.
*Sow seed THINLY in modular cells filled with a good quality compost.
*Do NOT cover the seed…they need light to germinate and therefore sow them on the surface.
*Keep the compost moist for the duration of the germination.
*You will most likely get lots of tiny seedlings in each module…instead of pricking these out and potting them on, I tend to just take out all but one…chuck the others away. Say for instance you are left with 15 seedlings….that is still lots of plant and will take up a good deal of space in your cut flower patch
*Don't plant out your seedlings until the seedlings are a few inches tall…from an early April sowing this will be towards the end of May
*Space Rudbeckia 'Marmalade' to about a foot between plants.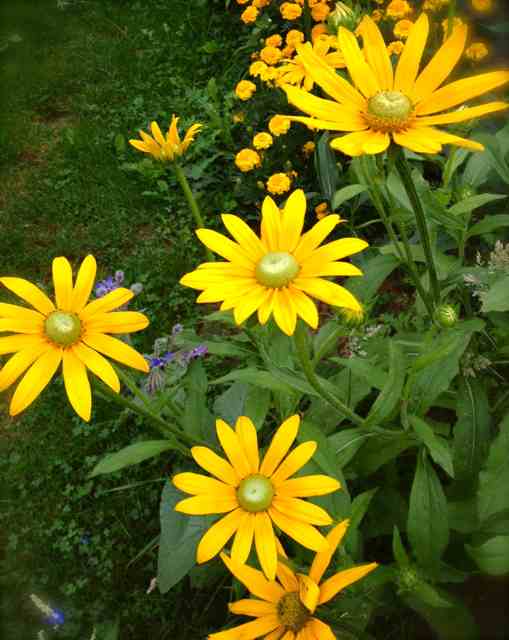 Yes…Rudbeckia can be a little fiddly to get started…but later on in the season when you are rewarded with buckets and buckets of flowers you will feel that it was all worth while and you can trot around looking all smug when the neighbours come round.
In the vase Rudbeckia look amazing with 'Larkspur', which will give the vase some 'spire action' and I like to throw in some Ammi Visnaga too…this will soften everything up and make it more flouncy…alternatively try some Cornflower 'Blue Ball' to contrast the flower colour…this look is more 'funky art school chic'.
Long live the 'Marmalade'!.
I sell Rudbeckia 'Marmalde' at £1.95 for 500ish seeds. :)
Have fun one and all.
Kind regards
Benjamin
PS…if you want some more tips then click on 'Germinating Rudbeckia, Top Tips'.