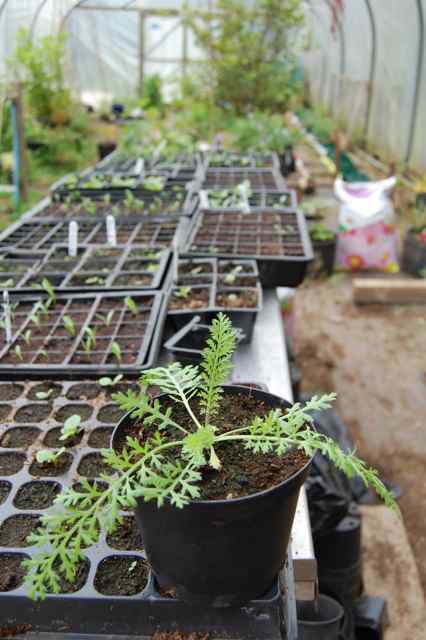 At present Achillea 'Cerise Queen' is the only Achillea I am growing in the cut flower patch at Higgledy Garden. It is to my mind one of the best for cutting…great colour…a deep crimson, darker at the margins then lightening up toward the centre. It's deep green feathery foliage add an airiness and it's strong stems make it super dandy for the vase.
Achillea 'Cerise Queen' is a full hardy perennial and a single plant in your local garden centre will cost you at least a fiver…but they are soooooooo easy to grow from seed. True they may not flower in their first year (Though with high light levels in spring and summer they WILL) but you will get heaps and heaps of plants from a seed packet costing £1.95. You will probably make enough plants for your own garden…your neighbours garden…and plenty to sell at the church fate to buy a new roof and a carport for the vicar
These wonderful and vigourous plants are a cultivated variety of our wild/native  Yarrow…and like Yarrow will flower from summer through until the autumn…and bees get all gooey when they set eyes on it…a wonderful wildlife plant.
Top Five Tips For Growing Achillea 'Cerise Queen' From Seed.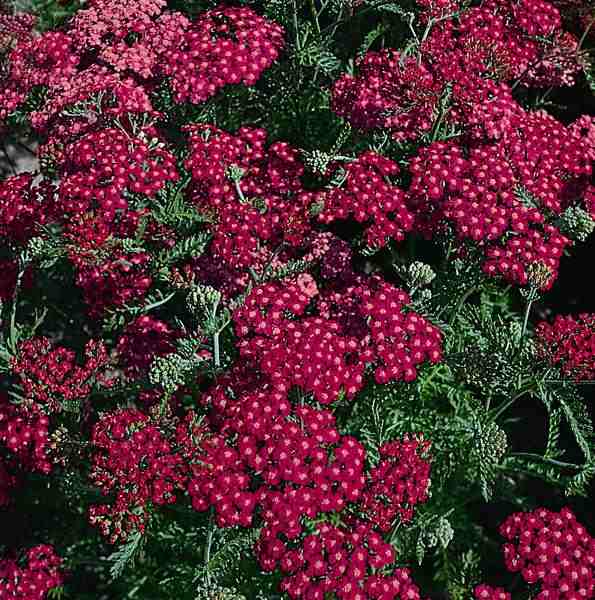 *I start a batch off in early April…you could start earlier if you had a heated propagator or heated greenhouse…then I sow a further batch in September.
*Sow on the surface of good compost…firm them gently into the compost….give a super light dusting of compost to cover…the tiny Achillea seeds need light to germinate.
*I generally wait until the seedlings are six weeks old before planting outside….this means that my April sown plants won't see a frost until they are all grown up and will laugh in the face of Jack himself.
*Make sure the bed you plant them in has plenty of good drainage…add grit if you have to…they are very happy in gravel beds too.
*These plants are pretty bullet proof and can take even a sustained drought…but if they are in an exposed spot then you will need to stake them…space them out to a foot or more apart.
Extra Free Tip (I am too generous) *Cut the flowers when most are open…cutting fading blooms to the ground will encourage more flowers. If you wish to dry them…simply hang upside down…preferably in the dark…in a warm (not hot) environment with good airflow.
'Give us some trivia on Achillea My Higglepops, you old sea dog, you!'
…well…first off…our ancestors used to flavour beer with the flowers before we had discovered hops would do the job…and it is still used to flavour Vermouth. The dried stalks have long been used for divining the future…in fact the famous 'I Ching' in China was used in conjunction with these.
In medieval times Yarrow was used as a protection against sorcery and hexes….dried flowers were strewn across thresholds and around the cribs of infants.
…you heard it here first.
I sell Achillea 'Cerise Queen' at £1.95 for 800ish seeds. 
When using Achillea in the vase…they look fab on their own but the flat flower heads look great with a different form…like the more compact shape of cornflowers…'Black Ball' look very contemporary with Achillea….then maybe something light like Gypsophila 'Covent Garden'…or Cosmos 'Purity'.
Kind regards
Benjamin Higgledy
PS If you are looking for seeds to sow in June…then please chip over to 'Guide to Sowing Annuals in June'.