Growing Cleome from seed is moderately tricky…well…in as much as you may not get wonderful germination rates. However Cleome is a statuesque flower and you shouldn't need all that many plants in your cutting patch to keep you contented.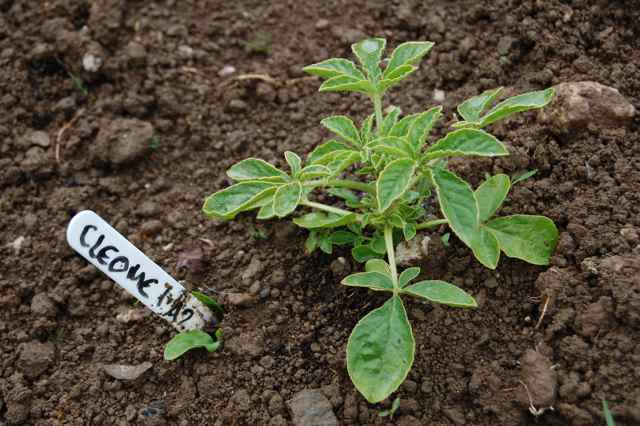 These cracking plants are native to Central America, I have it on good authority (Brian, down the pub) that the name Cleome come from the Greek kleio meaning 'to shut'…which may relate to it's peculiar petals which only fully open at sundown. Equally it could be Brian spouting rubbish after four pints of Skinners.
The flower clusters develop at the top of the stalks and seed pods project out from the sides, this is an odd looking bloom to be fair. I like the pink and violet varieties but may have been swung round to some pure whites. I shall experiment this year and perhaps add another variety to the shop for next season.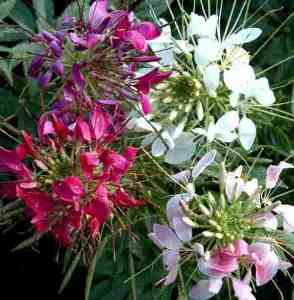 Being late flowering, Cleomes have a vital part to play in extending the productivity of your cut flower patch…it's true to say they are not everyone's cup of tea…but if you have never grown them I should give them a go and see for yourself. They will flower right up until they get duffed up by a meaty frost…usually in early November.
How To Grow Cleome From Seed.
*I put mine in the fridge for a week before sowing.
*Being half hardy you cleome seeds need to sown undercover.
*I sow in modular trays to avoid disturbing their roots when I plant them out.
*They need light to germinate…so just firm down into good potting compost…don't bury the blighters. Like most seeds they need to be kept damp…either water from the bottom or water gently from the top…preferably with a mister. Some folk put the seed trays in a clear plastic bag to help keep them moist.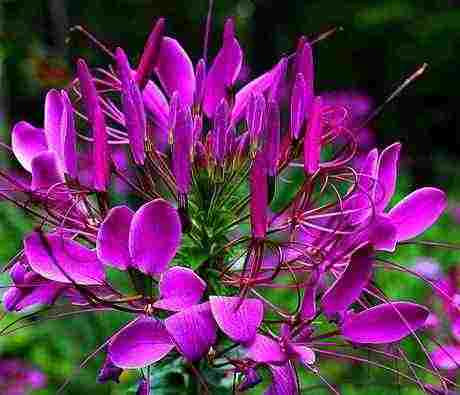 *Fluctuating temperatures will also assist the germination of Cleome seeds…cold nights and warm greenhouse days…or a window sill in the home and a few nights out side in the cold. (I am sooooo mean)
*These days I sow mine fairly late April…and I sow quite thickly…if you buy Higgledy Seeds you will get far more than you need…so sow thickly to increase the uptake.
*They must not be planted out until all chances of frost have disappeared…mid May and beyond is good.
*Pinch them out if you want bushier plants.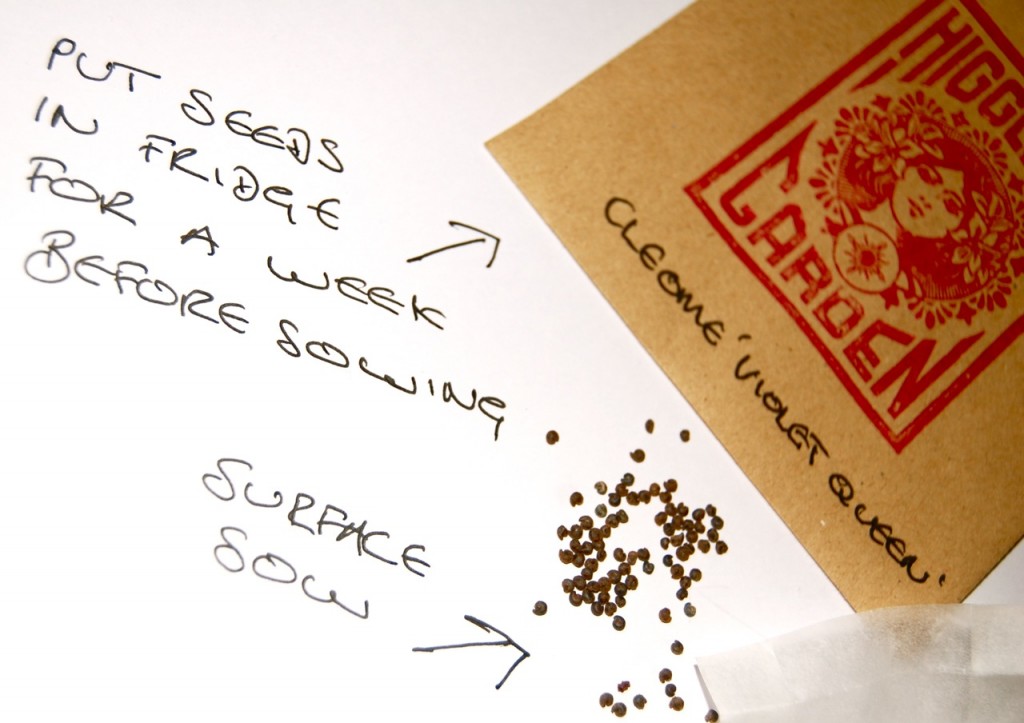 *I space to just over a foot apart.
*In exposed areas they made need staking.
*Give them LOTS of time to germinate…some of mine took up to six weeks to germinate this year.
I sell 'Violet Queen' at £1.95 for 200ish seeds.
Try growing Cleomes with other big and late flowers like Dahlias and Sunflowers.
Here is a link to what the good people at Wiki have to say about Cleome.
Kind regards
Mr Higgledy.
If you enjoyed me warbling on in this post, perhaps you may enjoy 'Godetia From Seed'. :)