Calendula Officinalis is one of my favourite cut flowers of all time…it is simplicity itself…sunshine on a stem, one of the brightest and most cheerful plants you could wish for in your cut flower garden.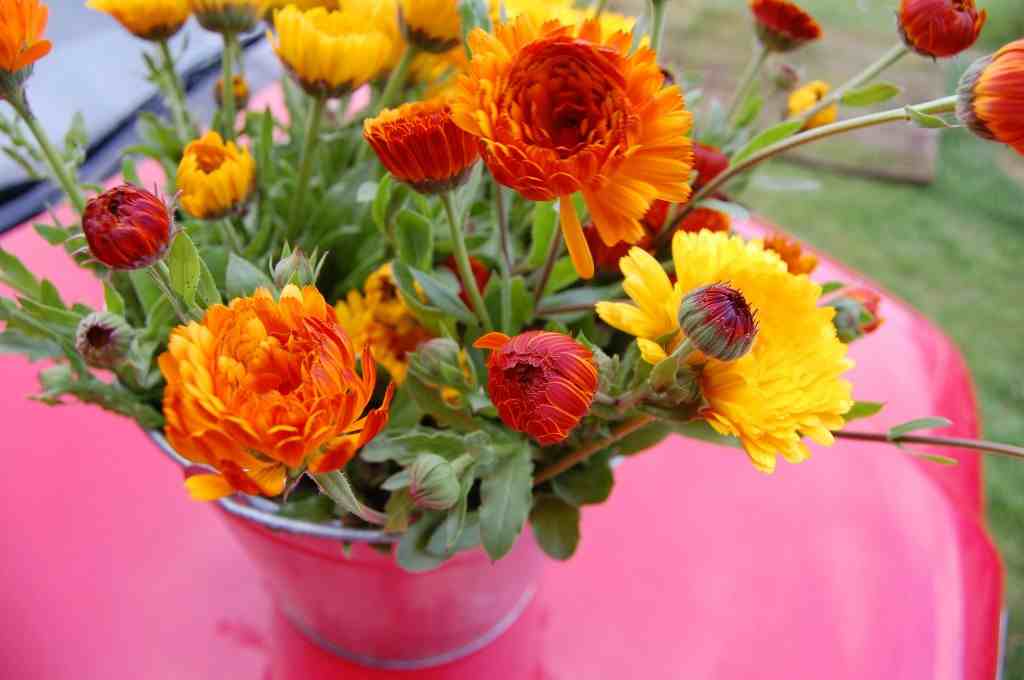 Not only is Calendula Officinalis beautiful, it is also one of the most productive flowers with regard the amount of blooms it will provide for you. A true 'cut and come again' flower. Cut the stem just above a leaf node and two further stems will rocket forth and will be offering you two new flowers within a couple of weeks.
I'm not alone in this calendula love. There is a Greek herbalist whose name escapes me (It always does) let's call him…Carl. Carl says that just gazing upon calendula can rid the mind and body of malady. Joking aside I think the old boy is right.
Herbalists throughout the ages have revered Calendula. The Egyptians used it as an antiseptic and calendula is found with cornflowers in Tutankhamun's tomb…the very same combo was my biggest seller of the year. Me and Tut have got it down my friends.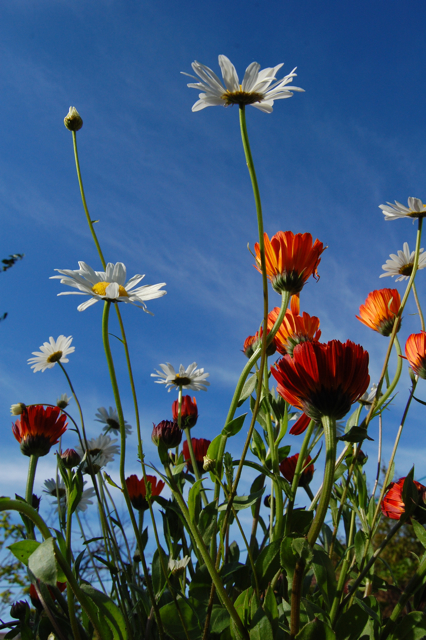 The Romans knew of it's antiseptic qualities  as did the ancient Indian people. Hindus adorn their alters with it. And (excuse me starting a sentence with 'and' but it's my blog…my life…so 'up yours' Mrs William's class of 83) in the first world war…huge tents were set up to treat the injured using only calendula as antiseptic.
'So How Do We Grow This Calendula Officinalis Mr Higgledy Man?'
*As per usual make super sure that your proposed bed is properly dug over and all trace of weeds removed.
*She will grow best in a sunny spot
*I sow the first batch of  my Calendula Officinalis in September for an early flowering the following year…then some undercover at the beginning of April…some more directly in the soil in mid May (after the frosts) and a further row or two at the beginning of June for a late harvest.
*If sowing in your cut flower patch you will want to sow in straight rows…bury the seeds no more than a cm deep and keep the soil moist whilst they become established
*Thin out the seedlings to about a foot…you can transplant the ones that are too close to another part of the plot if you have gaps…I love having mixed beds in the cut flower garden…this help reduce the spread of disease too.
*Spring sowings will take 10 – 12 weeks to flower.
Happy Calendulaing.
Regards
Benjamin.
PS Also try it with Cerinthe major 'Purpurascens'…it's awesome! ;)