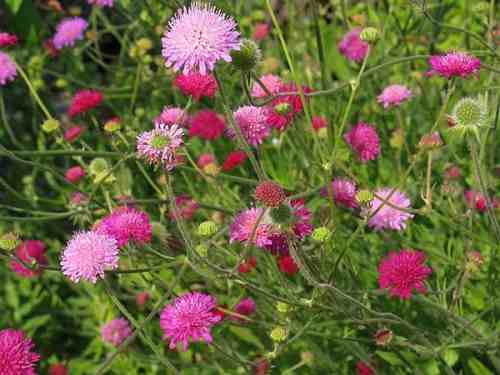 When Uncle Frank 'Porridge' Higgledy broke out of Dartmoor by digging under the granite walls from  governor Melton's cut flower garden….(and then escaping across the moor by dressing up as a blowing away Tesco bag) …he took with him some Knautia seeds that he had harvested from his favourite Knautia….a Knautia that had been cut off from the rest of the world for several generations. He named them 'Melton Pastels'…made his fortune from the sale of the variety…and disappeared off the radar…some say to Columbia….some say to Uttlesworth. Either way…no flowers are naughtier than his Knautia.
'What do the boffins at the RHS say about Knautia 'Melton Pastels' Mr Higgledy?'
….well….it goes something like this:
"Knautia can be annuals or perennials, and may have simple or pinnately lobed leaves and scabious-like flower-heads.
Melton pastels are seed-raised perennials to 1.2m tall, with lance-shaped basal leaves, and finely divided stem leaves, and pincushion-like flower heads in a range of shades of red, mauve, pink and salmon from early summer to autumn" RHS.
Knautia are VERY similar to annual scabiosa…but being perennial expect just two flushes of flowers. I have about a dozen Knautia plants in my dedicated perennial bed. I wouldn't be without them, the colours are so strong and they last and last in the vase. Try arranging them with Rudbeckia 'Irish Eyes' and Larkspur for a colour festival in a vase.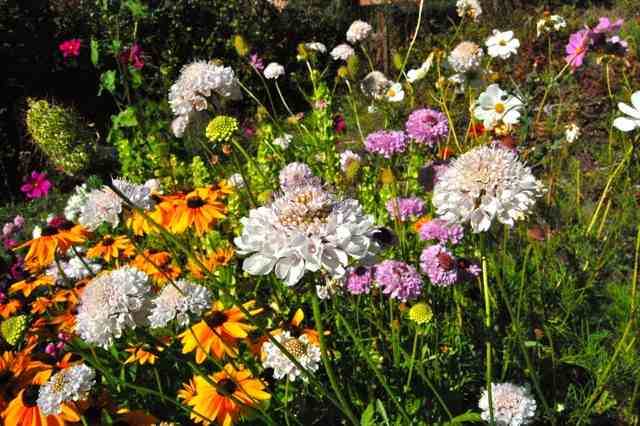 Top Tips For Growing Knautia From Seed.
*I tend to sow in modules or pots at the beginning of April….into compost.
*Lightly cover and water gently.
*They should germinate in a couple of weeks…keep them sweet by not letting them dry out.
*After about six weeks, check the weather forecast…if none of those nasty frost beasties aren't on the way, then harden your seedlings off and plant out.
*I leave just a little over a foot per plant…perhaps a foot and a half.
*Let the little beauties get on with it. Sometimes they will flower in the first year…but often not…so please be patient.
I sell rather fine Knautia 'Melton Pastels' at £1.95 for 15 seeds.
Have fun
Benjamin Higgledy