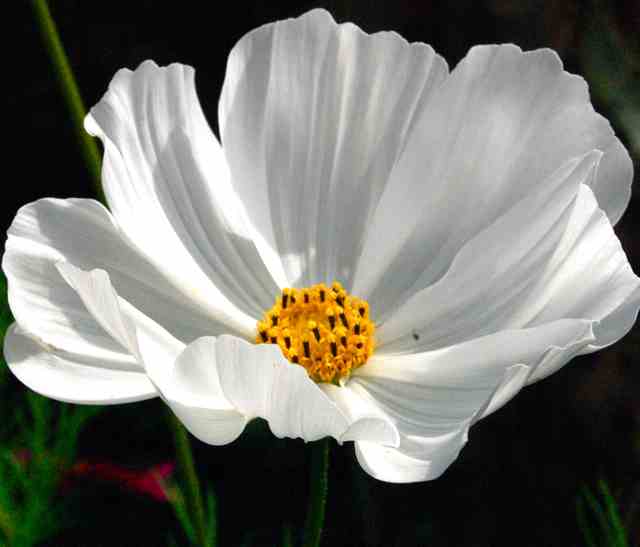 Cosmos 'Purity' must be one of the best known flowers on the cut flower circuit…(I'm not sure that there is actually a cut flower circuit but it sounds good)…its delicate, Persil white flowers wave about in the breeze atop tactile feathery foliage. They can happily get to four foot tall if you treat 'em nice.
Not only are they tall and beautiful they are also very hard working and will produce hundreds and hundreds of flowers for you in even a small space…just keep cutting them and they will keep producing for you and they are just hugely useful as a cut as they go with everything.
'Purity' is a relative newcomer and as I understand it, it comes from a well known old school Cosmos called 'Great White'…myself I prefer the name 'Great White'….but that's just the alpha male in me.
I must have had about thirty Cosmos plants this season…wowzers flower trousers…what a show and the bees were swooning and fawning all over them…(Pathetic creatures) …they flowered from June (Sown early April) and I still have some now, though they were beaten black and blue in the St Jude storm.
I sell my Cosmos 'Purity' seeds at £1.95 for 50ish seeds.
For a more detailed growing guide click: "Cosmos 'Purity' from seed."
Regards
Benjamin Higgledy
PS For other flowers that are great in a small patch click 'Top Eight Flowers For A Small Cut Flower Patch'.