Jan
29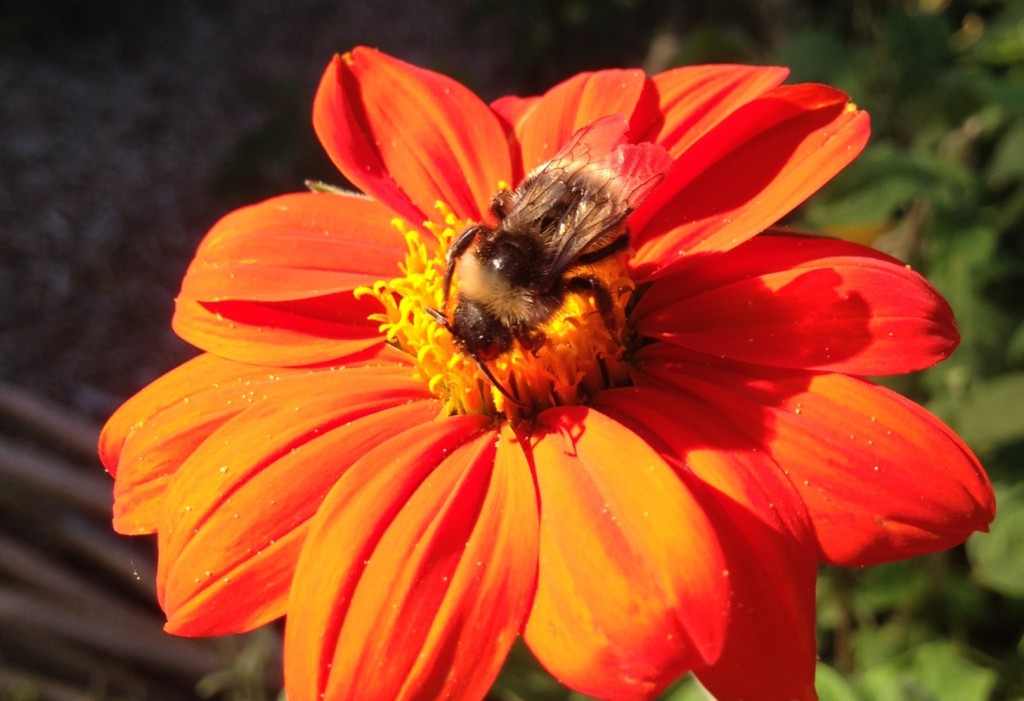 Tithonia rotundifolia 'Fiesta Del Sol' – factful fiction
Tithonia Rotundifolia was the central character in an early draft of MacHigg, by Benyard Ranjamin, the ancestral Higgledy playwright – who couldn't write a play right.
Benyard lived in Stratford-upon-Pavier and laughed like a seagull. After a scandal with an ambidextrous dairymaid, he fled (casually) to North America, leaving his portmanteau of penned papers with his good friend Bill – for safe keeping.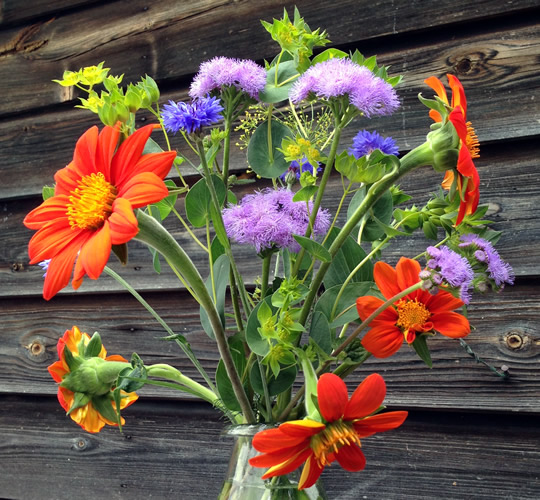 Settling in Mexico, where the floral, less fictional, Tithonia grew and tantilised him with thoughts of what could have been – Benyard led a simple life, righting his wrongs.
Us flower farmers now grow this bushy, half hardy annual – AKA the Mexican Sunflower. Bees go all waggly for her honey scented goodness  - which is why she's on the RHS 'Perfect for pollinators plant list'.
Look right – orange Tithchops with Bupleurum 'Griffithii', Cornflower 'Blue Ball' and Ageratum – did you ever see such a sight?
Tithonia is in the Asteraceae family along with many Higgledy chums such as Chrysanthemum 'Hippy Rainbow Love Child' and Cosmos 'Pied Piper'.
Up to 75cm tall, Tithonia tolerates poor soils and drought - nay, prefers – a martyr for our pleasure.
I hear tell African farmers use Tithonia species as an organic fertiliser or compost tea. Shall we try? Hmmm – not sure I could sacrifice the tomato soup fla'ars. You try instead Ben. Look down and Tithclogs is rockin' around the clock with Corncockle, Larkspur and Ageratum. Let's take a moment in praise of colour…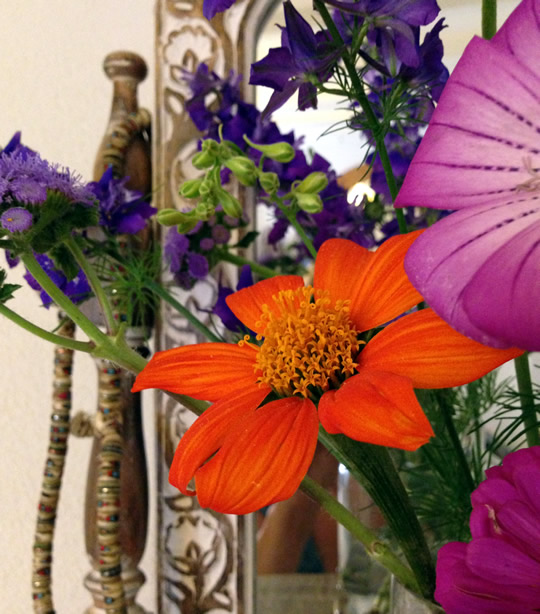 Tithonia in the vase
Well, if you look at the above photo, what do you notice about Tithonia? Yes – exactly – it has a puffed out bit where the top of the stem meets the flower. Or as Mr Higgledy so oft times says – a swollen peduncle adjoining the receptacle. He's good with words – just like Benyard.
The peduncle is in fact hollow – making it vulnerable to bending and snapping in transit. We know what that means? You get to keep all the Tithonia you grow to yourself rather than wrapping in paper for delivery to Great Aunt Myrtle.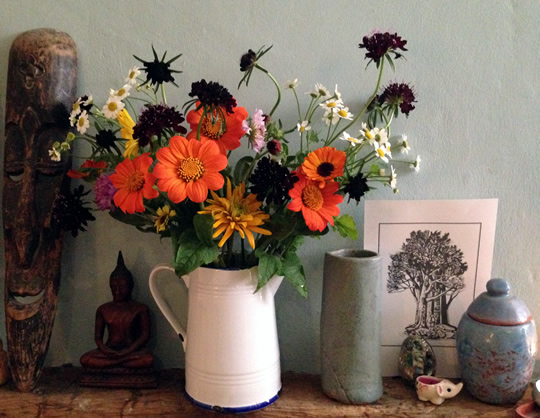 Seen up yonder with Scabiosa 'Back in Black', Feverfew, Cosmos, Rudbeckia and Calendula 'Indian Prince, once securely in the vase Tithonia rotundifolia 'Fiesta Del Sol' provides a good few days of Mexican cheer (perhaps even a wave if you're lucky…).
Growing Tithonia rotundifolia from seed.
Sow Tithonia seeds Feb-March under glass.
Prick out the seedlings into modules and then a 7cm pot.
Do not plant out until the danger of frost has passed, not even if a dairymaid tempts you to.
Space plantlings around 45cm apart – cos they're big, bushy and need a wide berth.
Don't worry one iota if your plants look a bit shabby, once in the ground Tithonia will utilise every bit of goodness in a poor soil, rocket and flower to smithereens.
Generally self supporting (unless exposed) and a full sun insister.
Deadhead for new heads – simple.
Auditioning for the part of Lady MacHigg
Karen, The Higgledy Researcher (AKA @sanguisorba)