Feb
1

Rudbeckia hirta 'Irish Eyes'
Rudbeckia 'Irish Eyes' is a brilliant cut flower, due to its sheer Rudbeckian qualities. She must be one of the most prolific flowerers and each last for donkeys years. Last year I filled a decent sized courtyard garden with a Rudbeckia 'Irish Eyes', Ammi majus, Nicotiana 'Lime Green' and Sunflower 'Vanilla Ice' mix. Rudders was the star – flowering well into October with just a tad of seaweed feed (ooh, that rhymes) and watering when dry. A touch of deadheading helps too. 70 dazzling cm's.
Now the very first Rudbeckia I ever grew, and fell for, was R. 'Marmalade'. Last year I widened my experience with several other cultivars – yet 'Irish Eyes' and 'Marmalade' are the only two annuals I'd consider using in a planting scheme where flower staying power (ooh, that rhymes too) is essential. There is of course 'Rustic Dwarf', which you'd think, being a child of the Seventies, I'd adore due to its orange/brown vibe… but I don't. You know me though, I'm a fickle pickle (ooh, that rhymes as well) and by June next year I'll be singing a different tune.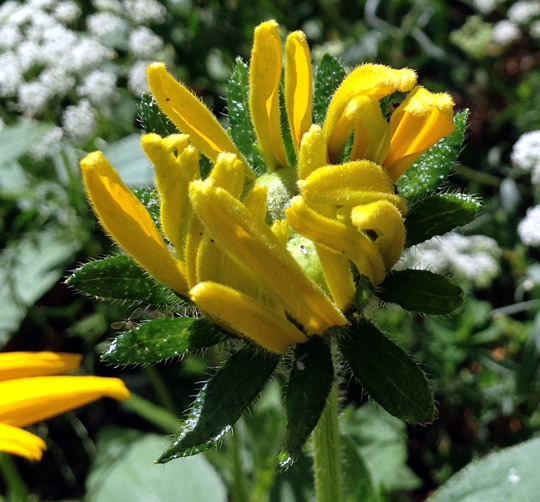 Any road up, back to 'Irish Eyes'. In the Asteraceae family, along with many others, her species name is hirta, meaning hairy… stem, calyx, and leaf alike, she is the most hirsute of the Higgledy bunch., but not in a "join the circus" way.
The common name of Cone Flower holds equally as well as her sister species, but this cultivar is more Green Eyed Susan than black when it comes to this North American native. Long stems and loved by pollinators too – by Jove, she's got it all.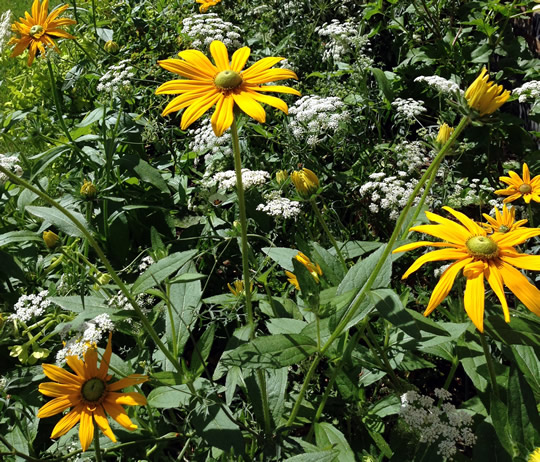 Last year I also grew Rudbeckia 'Prairie Sun', just to check it wasn't 'Irish Eyes' in disguise (I spy another rhyme). It wasn't… had more of a two tone effect… whilst "not unpleasant" (as Nanna Olive used to say when she wasn't impressed) it didn't make me happy.
Now the fabbest thing about Rudbeckia is that she'll grow in light shade – Rudders is gooders hey?
Growing Rudbeckia 'Irish Eyes' from seeds
Sow Rudbeckia under glass in March/April.
They are tinsy seeds, so surface sow and cover with the lightest sprinklet of composticles or, if you're feeling posh, vermiculite.
When 4 or 6 leaves, prick out and pot on. If you're a bit of a sausage fingers, sow lots of seeds and thin them out… which of course means throwing seedlings away… so you'd need sausage fingers and to be well 'ard.
Plant out when they're about six weeks old or when dangers of frost have passed.
OK Twinkle Toes? Buy those 'Irish Eyes' seeds and see how your garden grows (last rhyme, promise).
Karen, The Higgledy Researcher (AKA @sanguisorba)