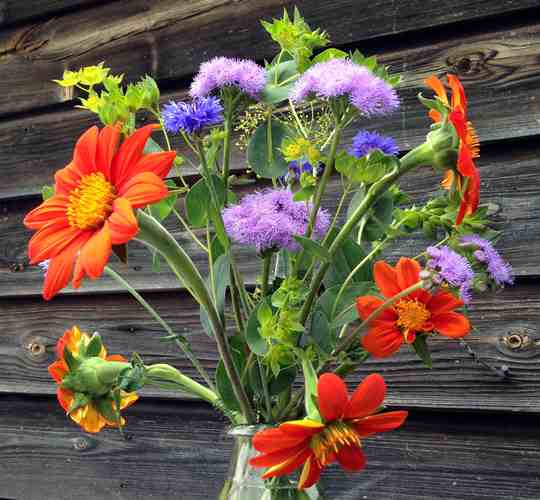 "Mr Higglesworth…What Are These Half Hardy Annuals Of Which You Talk?"
As you many know annual flowers are generally put into two camps…hardy annuals and Half-hardy annuals. Half Hardy annuals will not tolerate a frost and will get the hump big time if they are subjected to one and will then usually go and die on you. Half Hardy annuals are usually started off indoors from late March or April when the frosts are still creeping about in the garden…and then they are planted out in mid May if the weather man says the frosts are over. Many Half Hardy annuals can be sown outside after the frosts as their life cycle is such that they will still have time to flower that summer…BUT a little heat when they are germinating can help so you may have more success starting undercover….choices choices.
Sweeping Statement About Half Hardy Annuals (number one):
Half hardy annuals are generally native to the warmer climes…they are often more flouncy and fancy and exotic and hula hula than their Hardy brothers and sisters.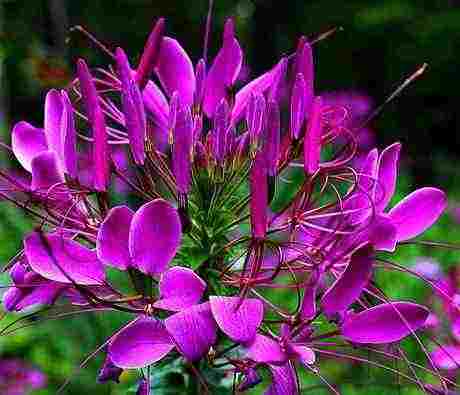 Sweeping Statement About Half Hardy Annuals (number two):
Half Hardy annuals are usually less productive than hardy annuals….hardy annuals keep on producing flowers when you harvest them….(as a rule)…this happens less so with Half Hardies…however they make up for it by being more glamorous.
NB: If you have started your annuals off indoors (whether they are hardy OR half hardy) they will need hardening off before you plant them out:
"Hardening off is a term used to describe an interim period that bedding plants, including half-hardy annuals spend inside a cold frame before being planted outside. When a plant is greenhouse raised it has been mollycoddled in the warmer greenhouse environment and will be slightly more susceptible to the cold. Rather than plant it straight out into the garden where it may suffer stress and shock, the savvy gardener transfers the potted plants into a cold frame for a week or two so that the plants can adjust and toughen up to the slightly colder outdoor conditions. You can't do this too early or you risk losing your plants to frost, but by early/mid May in most parts of the UK, most danger of frost should have passed. Keep a ream of horticultural fleece handy just in case. Open the cold frame during the day in sunny weather, and ensure there is good ventilation. Protect your plants from slug and snail attack too.
Don't lose sight of the fact that even in a cold frame, half-hardy annuals will die if exposed to the cold, so they can't be planted into the garden until after the last frost."
(Credit: Growhouse-Greenhouses.com)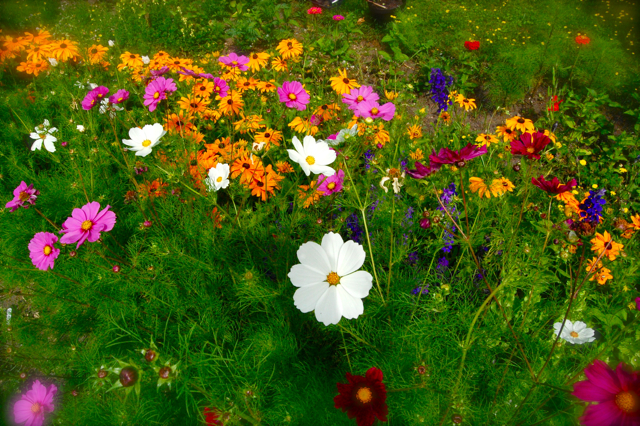 Here is a list of annuals (well….they are not ALL annuals as it happens) that I shall be sowing indoors this season…NB I don't start sowing until the spring equinox (22nd March)…some folk start earlier but remember you CAN'T put them outside until after the frosts…so if you start early you will have big plants by then…I would advise my customer not to sow until 1st April.
Bells of Ireland, Celosia, Cleome, Cobaea, Cosmos, Craspedia, Dahlia, Didiscus (though they are hardy), Gomphrena, Ipomoea, Nicotiana, Ricinus, Rudbeckia, and Tithonia. Zinnia can be started indoors but don't like root disturbance so use modules. (I generally use modules for everything…but I'm a geek.)
Happy Half Hardy-ing my friends!
Kind regards
Benjamin Higgledy
PS Perhaps you would like to know the answer to 'Some FAQs?'