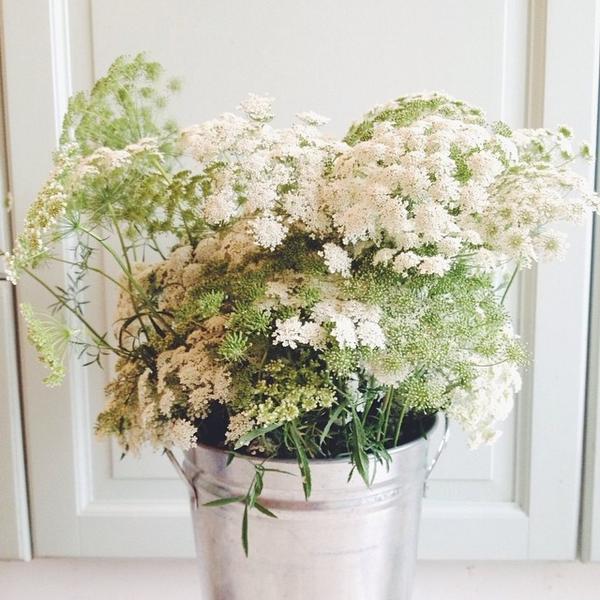 A cut flower patch is greatly assisted by making some autumn sowings for a number of reasons. Over the next six weeks I shall be posting up info on the best flowers to sow and how to sow them. For an overview on autumn sowing with a list of the flowers I would recommend, click over to 'Autumn Sowing In The Cutting Patch'  As a rule of thumb late August to mid September is usually the optimum time to sow for growers in England…earlier in Scotland….say from the end of August…and here in Cornwall I have met folk who sow in early October.
Ammi Majus and Ammi Visnaga are both super popular with the flower growing community. They are very prolific and add a rustic 'lightness' to arrangements. Ammi also looks great in the garden…swaying around in the breeze attracting an array of pollinators.
Sowing Ammi seeds is straight forward. I myself don't like to sow them in pots or modules and instead prefer a direct sowing.
*My beds are about three foot wide…and they are split into three equal rows of about a foot apart
*Take a taught piece of string and run it where you want your row…then with a stick make a shallow drill….VERY shallow….like a scratch.
*Cover the seeds REALLY lightly….it is a good idea to prewater the rows so that the seeds don't wash away by watering them afterwards. Generally with seeds they need covering approximately three times their width deep. Realistically this means just don't bury 'em too deep! A common reason for germination failure is burying seeds too deeply…if in doubt go too shallow.
*A packet of Higgledy seeds would easily cover a 10 metre row….and possibly a 20 metre row.
*When making an autumn sowing I generally don't thin seedlings until the spring, when I space them out to about a foot. I don't transplant the ones I thin out as they generally have a hissy fit and keep over after about a week.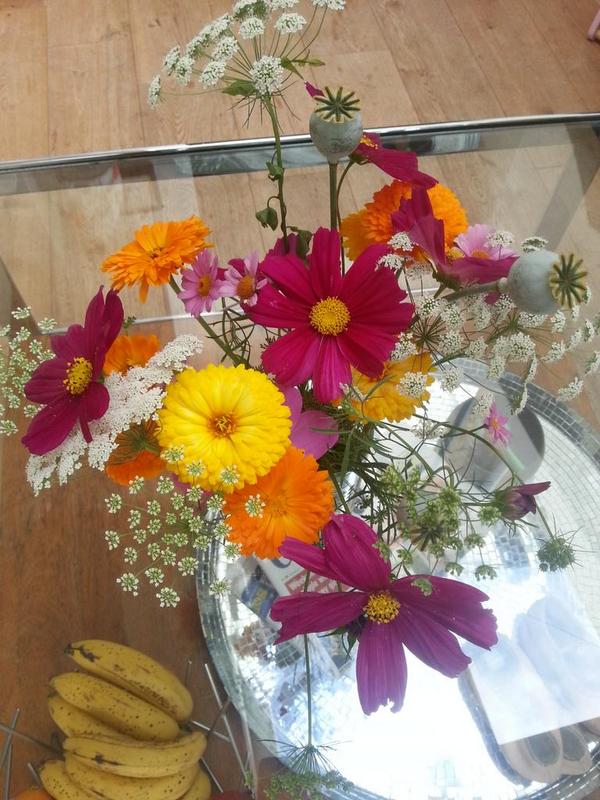 I like this simple arrangement that Rosie has done…you can see that Ammi (in this case 'Majus') has added it's own particular vibe to proceedings. …..what the bananas are doing I have no idea but extra points for being avant-garde.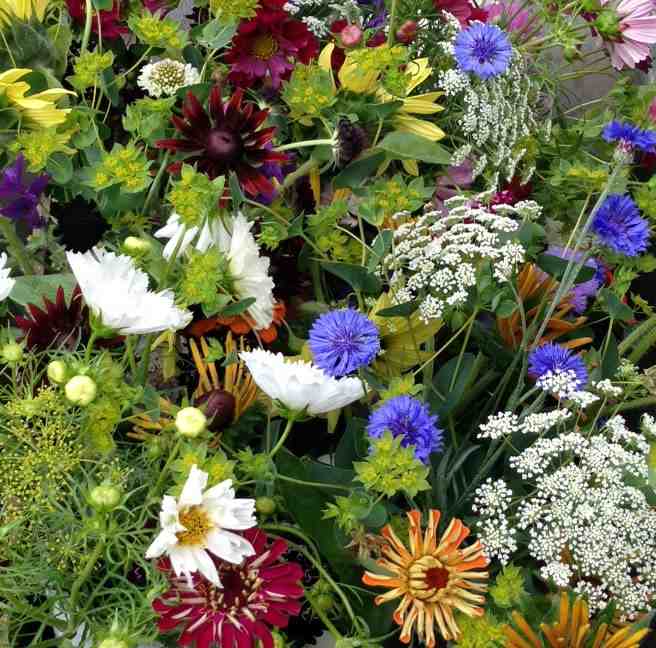 In the above photo we have Ammi with 'Blue Ball' cornflowers….which are also ace for autumn sowings…some Zinnias….(spring sowing only)….Bupleurum….also great to sow in Autumn…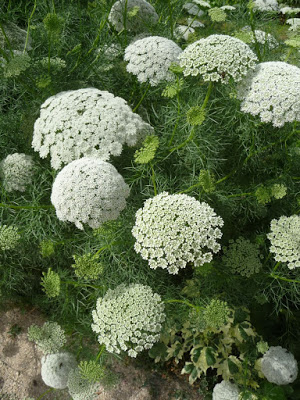 So there you have it…I sell Ammi seeds in the Higgledy Garden shop and I also have a rather minty 'Seeds To Sow In Autumn Collection' which has 20% off and free shipping.
Kind regards
Benjamin Higgledy
Related posts: 'Autumn Sowing of Scabious'
'Cornflower 'Blue Ball'…the best cut flower in the known universe?'