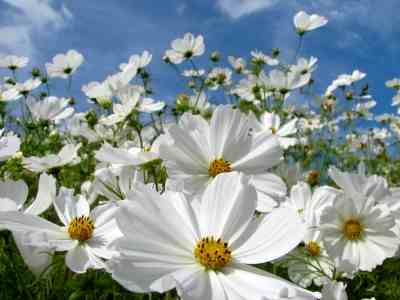 Those familiar with my flowery tastes will be aware that I am big on annual flowers….I'm not into growing flowers from bulbs or corns….a dedicated bed of perennials is a great thing to have in the flora armoury but growing annuals from seed is my one true love. Blue Cornflowers are my favourite all time flower (See: Cornflowers The Best Cut Flower In The Known Universe)…every year I wait for the first flush and they never fail to make my wrinkly old heart sing like a giddy Chaffinch…..I have been pondering on which flower comes second…
To determine the answer to such questions one should define the question more clearly…ie…does the 'best' mean the most beautiful….the easiest to grow….the most prolific…the one that lasts longest in the vase……..or the one that rocks out and turns the amp up to 11. I'm going with the latter.
Cosmos 'Purity' has been in every cut flower garden I have ever created…it's a classic in the true sense. Not only are its flowers amongst the most most graceful in the garden but it's ferny foliage is amongst the most tactile. Cosmos 'Purity' is a great plant to hang out with. I spend a good deal of the late summer lying on my back in the flower patch chatting with the bees and having a bit of banter with the flowers….and maybe squeezing in a power nap or two….out of all the flowers in the garden Cosmos are the most talkative.
Some Cosmos trivia:
The Greeks named Cosmos…they said the petals are ordered in such a perfect way they are in line with the harmony of the Cosmos…….well…..something like that.
'Purity' is derived from a very old variety called 'Great White'…which is frankly a much better name….at least in my alpha male/bachelors mind.
Monty Don says "Cosmos is out of this world!"….come on Monty old fruit….you can do better than that. ;)
How To Grow Cosmos 'Purity'.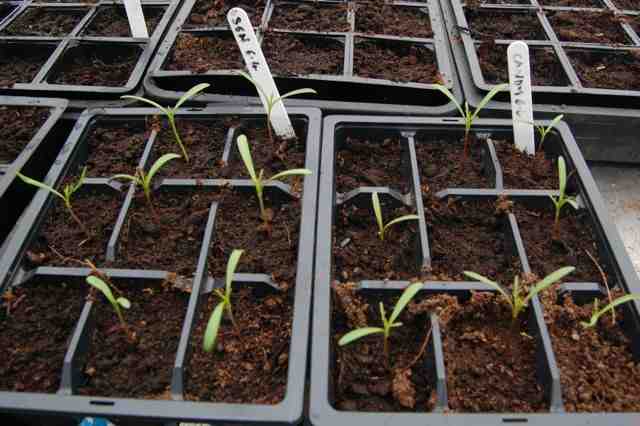 *Either sow your Cosmos 'Purity' seeds direct into the soil after all threats  of frost have disappeared….or sow six weeks earlier in pots…in a greenhouse or on your windowsill. Best just not be in too much of a rush to get them started…one bit of frost and our Cosmos chums will keel over…and you will be all sad…guilty….and be in the shallows of  despair….well…maybe. I sow mine from April (undercover)…outside after 15th May…and this year I will also sow a much later batch and see if I can have flowers into December….here in the mild climate of Cornwall I'm sure this is possible.
*Prepare the bed you are going to grow them into…make sure it gets lots and lots of sun and is weed free.
*I thin my seedlings to a foot apart…many other flower folk sow two feet apart….either way your plants will need staking if the site is exposed. 'Purity' will easily grow to four foot and often five foot with a good summer.
*Don't feed your Cosmos as too much nitrogen will give you heaps of green growth but few flowers…a poorish soil is fine.
*When you harvest cosmos flowers…cut them just above a leaf node and this way you will get some more blooms.
Other great Cosmos to grow are 'Pied Piper' and 'Sensation'…I grow all three….
I sell Cosmos 'Purity' at £1.95 for 50ish seeds.
Kindest regards
Benjamin Higgledy
Related posts:
'How Deep Should I Sow My Flower Seeds?'