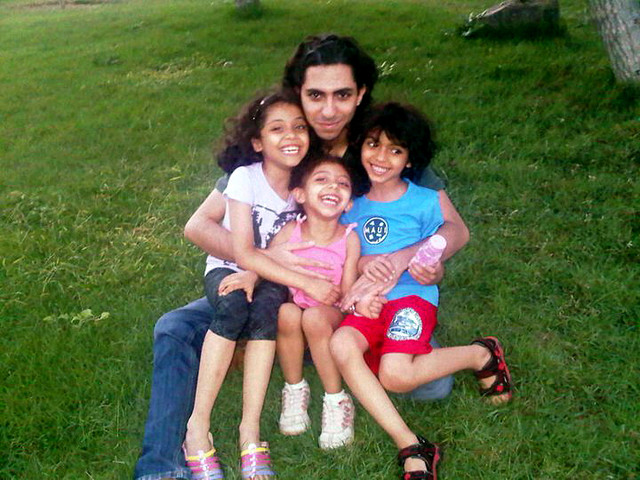 Raif Badawi – An Appeal
At the time of writing, the Saudi Arabian blogger Raif Badawi remains in jail, sentenced to ten years and 1,000 lashes for the 'crime' of setting up a website devoted to free speech and liberal values. As the world now knows, Raif was subjected to the first 50 of those lashes last week, in a brutal public display of what, in Saudi Arabia, passes for justice. And for what exactly? You can read fuller excerpts from Raif's writings here, but the spirit of his thinking may be captured in this quote:
"For me, liberalism simply means, live and let live. This is a splendid slogan. However, the nature of liberalism – particularly the Saudi version – needs to be clarified. It is even more important to sketch the features and parameters of liberalism, to which the other faction, controlling and claiming exclusive monopoly of the truth, is so hostile that they are driven to discredit it without discussion or fully understanding what the word actually means. They have succeeded in planting hostility to liberalism in the minds of the public and turning people against it, lest the carpet be pulled out from under their feet. But their hold over people's minds and society shall vanish like dust carried off in the wind."
In these eloquent words, Raif Badawi expresses nothing more or less than an embrace of liberal tolerance and, thus, a rejection of tyranny. There is nothing offensive or, with respect, hugely radical in Raif's writings. Simply the desire of a young man to see his country and people enlightened by certain secular liberal values, which he sees as the values of our shared humanity. Nowhere in his writings does Raif Badawi insult Islam or the leaders of Saudi Arabia. Nowhere does he blaspheme or offer derogatory portrayals of religious figures (he was, in fact, cleared of the 'crime' of apostasy by the Saudi authorities).
For expressing these peaceful values – values shared by hundreds of millions of people around the world – Raif Badawi was, on the 9th January of this year, brought before  a crowd of hundreds of people outside a mosque in Jeddah and, in breach of international law, publicly flogged – an act described by Amnesty International as "a vicious act of cruelty". Needless to say, the act of public flogging is designed to cause the victim maximum pain and distress. Donald Payne, a Toronto psychiatrist and co-ordinator of the international health network for Amnesty International, says Badawi is at great physical and emotional risk from the punishment, particularly if it is allowed to continue. Payne has said:
"With this kind of torture there is general demoralization and depression and feeling of lack of control. (Badawi's) wife said that he handled the first blows well and didn't break down. But this will happen over a period of time, which makes it harder to resist. There could be a point where the reality of the situation can't be held off any longer. Then he could get into really serious trouble."
But Payne also goes on to add:
 "Torture tends to make you feel hopeless. Knowing that people in the outside world are supporting him is important."
With this in mind, the Higgledy Garden blog offers its full support to Raif Badawi. As bloggers ourselves, we know how beautiful and empowering the simple human act of writing down words can be. To provoke debate, to freely express ideas, to make someone laugh and, yes, even sometimes to offend, these are truly liberating and enabling things. To think that someone, anyone, should be beaten and humiliated for this is truly horrific.
As Donald Payne of Amnesty says above, Raif Badawi needs to know that he is being supported. Already a massive international backlash and wave of revulsion appears to have given the Saudi authorities pause for thought, with Raif's second set of floggings being postponed.
Please join us in keeping up the pressure by supporting Raif using the links below, or by blogging, tweeting or posting your support. Let Raif Badawi know that he is not alone, and let the world know that no one should be beaten, imprisoned and tortured for an idea.
Nick Jordan
——-
Sign Amnesty International's petition to free Raif Badawi here:
https://www.amnesty.org.uk/actions/saudi-arabia-free-raif-badawi-flogged-blogger
Free Raif Badawi Facebook page
https://www.facebook.com/pages/Free-Raif-Badawi/397956733638642
Five ways you can help Raif Badawi
http://livewire.amnesty.org/2015/01/15/five-ways-you-can-help-raif-badawi/
Change.org petition to free Raif Badawi
https://www.google.co.uk/webhp?sourceid=chrome-instant&ion=1&espv=2&ie=UTF-8#q=human%20rights%20watch%20raif%20badawi
Sources:
'A look at the writings of Saudi blogger Raif Badawi', The Guardian, January 14, 2015.
http://www.theguardian.com/world/2015/jan/14/-sp-saudi-blogger-extracts-raif-badawi
'Saudi Arabia's flogging of blogger causes "pain, distress" Amnesty International says', The Star.com, January 13, 2015-01-19
http://www.thestar.com/news/world/2015/01/13/saudi_arabias_flogging_of_blogger_causes_pain_distress_amnesty_international_says.html#
'Postponement of Raif Badawi flogging on medical grounds exposes shocking brutality of punishment.'
http://www.amnesty.org/en/news/postponement-raif-badawi-flogging-medical-grounds-exposes-shocking-brutality-punishment-2015-01
Amnesty International – Saudi Arabia Report.
http://www.amnesty.org/en/region/saudi-arabia