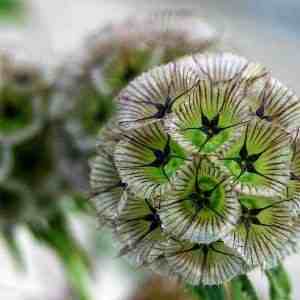 It was Great Uncle Reggie Higgledy who as you may know was the inventor of both table tennis and of comfortable gentleman's slacks, that first suggested the cut flower gardens of the Higgledy clan should include Scabiosa stellata 'Ping Pong'. Reggie could often be seen snipping away in his cut flower patch supporting a dashing pair of teal trousers with elasticated waist and integrated cushioned seat. He cut quite a rug in home town of Hastings.
In my own cut flower garden I am rather fond of Scabiosa…I have limited space and so I limit myself to three varieties. I have 'Back In Black' for it's deep and sumptuous purple…it is royalty on a stem…'Crown' is a more relaxed vibe with shades from white through pink and a smattering of darker blooms….this variety is the most 'Country Style' and I wouldn't be without it. Lastly I have 'Ping Pong'…not only because Uncle Reg  loved it so much but because the florists who buy flowers off me for weddings go quite delirious about having it….and it's not hard to see why.
The flowers of 'Ping Pong' start off their life as a light blue…fairly unassuming to be honest….but then develop into the most incredible seed heads…these seed heads are made of maroon and green bracts…run of the mill they ain't.
Tips For Growing Scabiosa 'Ping Pong'
*For my own purposes I have found it best to start scabiosa seeds off inside. Though it is perfectly acceptable to sow them straight into the ground…if doing this leave it until mid April when the soil has warmed up a little….sowing outside before this may reduce the germination rate.
You can also sow them in Autumn for earlier flowering plants. See 'What flowers to sow in Autumn'
*I sow in small pots, usually three inch square pots….which gives you 15 pots per seed tray.
*Gently cover the seeds by their own depth with good quality seed compost (I use sieved homemade compost where possible) and keep the compost damp but not saturated.
*Leave your pots on a windowsill or in a greenhouse…or in the back of the car as I did last year.
*Six weeks later it will be mid May and this is the last frost date for most of England…Scotland is later…the west of England may be a little earlier. Your scabiosa plants should be big enough to go out into the real world…get them used to the change of temperature though…pop them outside during the day for about a week and if a particularly cold couple of days is forecast, just hold off and leave them inside a little longer.
*For a cutting garden, I leave about a foot between plants and plant them in straight rows…this makes hoeing around them a WHOLE lot easier.
*Once established my old chum Walter Winkleforth said to let them dry out between waterings…which I do…and they seem to love it. (Bless their cottons.)
Down here in Cornwall my plants seem to make it through the winter….though I always sow more…as I'm a seed fiend.
Kind regards
Benjamin Higgledy.