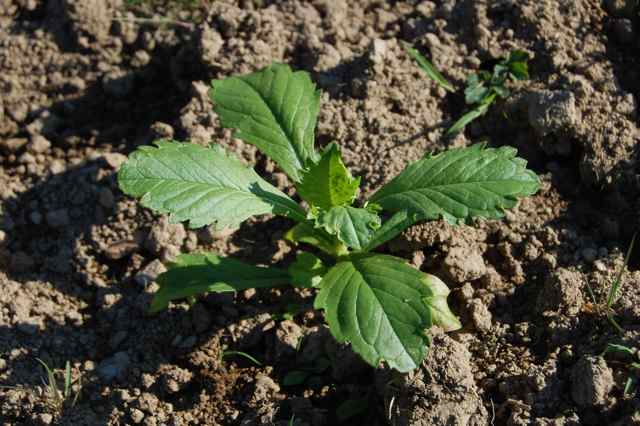 Scabiosa  is a blinder of a cut flower…it may not have the RHS plant of merit award but it certainly gets the Higgledy Garden 'Right Little Cracker' award. I know grow three varieties which I have found to be both reliable and gorgeous. 'Scabiosa 'Crown', 'Back In Black' & 'Ping Pong'
I shall be making an Autumn sowing of Scabiosa as well as a spring sowing…this will give me bigger, stronger plants that will flower earlier on in the season…then sow some more seeds next spring and I will be blessed with a long and fruity flowering season….(well…perhaps not 'fruity')
Five Top Tips For Growing Annual Scabiosa From Seed.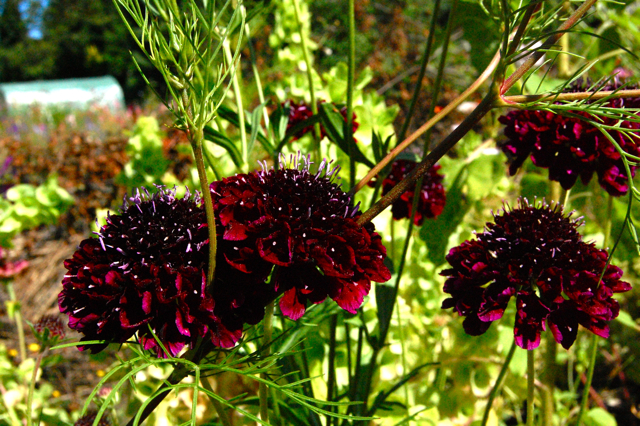 *Although you can direct sow seeds into the soil from mid April…I tend to sow in modules, undercover from early April…then plant out the seedlings six weeks later making sure there are no frosts around the corner…if so just wait…despite being hardy they won't be impressed from going from the windowsill or greenhouse into a freezer.
*Acclimatise your seedlings before planting them out…I leave both doors of my garden tunnel open for a couple of weeks and this seems to do it….or you can take your trays outside during the day and bring them in at night.
*Space plants to a foot apart….this will give you oodles of nice clear space into which you can hoe off all the pesky weeds that will arrive to spoil your summer.
* Keep picking your Scabious flowers and they will keep producing flowers for you…for months…oh yes indeed…our Scabiosa friend is a generous one.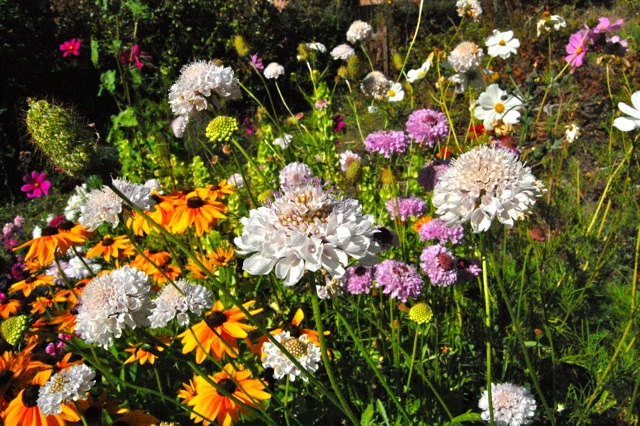 *Scabiosa flowers can be perhaps too flouncy on their own so I suggest adding some Nicotiana 'Lime Green' to your arrangements…this will calm things down…and perhaps add something with a 'spire' vibe going on…Larkspur 'Imperials' are always pretty good at playing the part….also I am utilising the silky skills of Salvia viridis 'Blue Monday' with my Scabiosa…this completes the country cottage style rather well.
*Scabiosa are a Mecca for bees and other pollinators…so if you are planning a cut flower garden with bees in mind…don't miss this one. NB See my 'Bee Friendly' Collection if you are up for wildlife flowers…yes…the collection that The Guardian keep raving about. ;)
I sell my Scabiosa 'Crown' at £1.95 for 40ish seeds. 
'Give us a bit of Scabiosa triva Mr Higgledy!'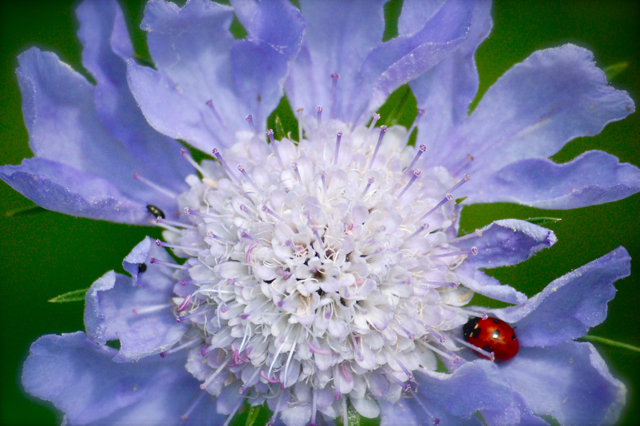 …well….ok….it gets its rather unattractive name from the fact that it used to be used by our ancestors to treat sores…especially in the time of the plague…however only the healers of the time would pick the flower as it was believed that if anyone else did…the Devil would appear at their beds at night. …you have been warned….
Scabiosa is certainly one to try in your cut flower patch…it's easy…reliable…and very very beautiful.
Have fun one and all. :)
Benjamin Higgledy