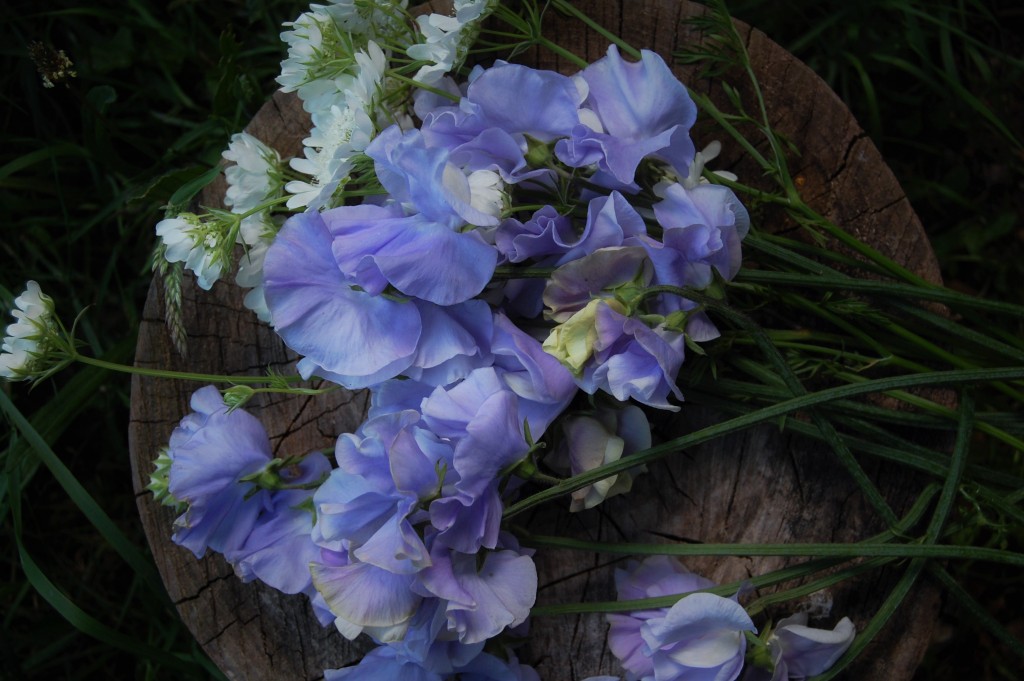 It was evil Auntie Switch Blade Higgledy who put me on to  Sweet Pea 'Charlie's Angels'…she said the frilly, powder blue blooms tickled her evil gland delightfully. Not having an evil gland myself, I can't comment…but having grown 'Charlie's Angels' for a few years I must say they become very moreish to the senses.
The flowers are tremendously  reliable..I have three plants growing this season and I have a good jam jar sized harvest every few days…all from spring sown seeds.
They have a good scent…not as knockout as 'Painted Lady' or 'Perfume Delight' but still fantastic…and the stems are the longest of all my Sweet Peas this year which I know is vital to you commercial growing types.
Sweet pea Charlie's Angels was chosen by BBC Gardeners World magazine (July 2011) as the best ever sweet pea…this of course is very subjective…personally I think Auntie Switch Blade had got to the editor. (My own favorite (which changes every year) is 'Winston Churchill)
'this exceptional variety blooms for a long period and has superb perfume making it good for garden display, cut blooms or showing. 'Charlie's Angel' Gardener's World.
Sweet Pea 'Charlie's Angels'  has the RHS Medal of Distinction…teacher's pet….
I sell 'Charlie's Angels' at £2.10 for 20 seeds…they are also in my 'Sweet Pea Collection'.
Kind regards
Benjamin Higgledy