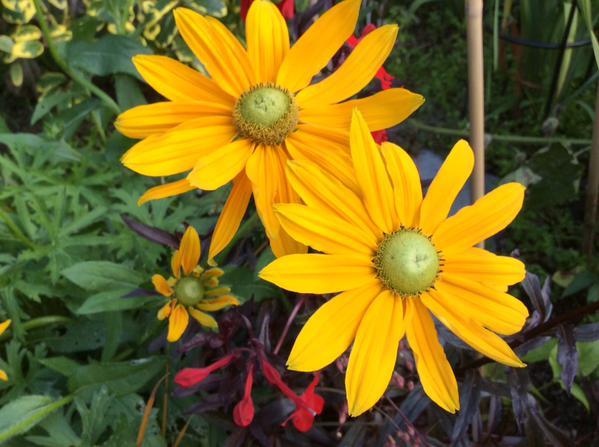 Rudbeckia 'Irish Eyes' are not widely grown…most folk go for 'Marmalade' (which is understandable as 'Marmalade' rocks out for the free world)…but I always have some space for 'Irish Eyes'…it's doesn't produce quite as many blooms as 'Marmalade' but they have wonderful pale green centers (Hence 'Irish Eyes')….they are like the quieter…more sophisticated cousin…
How To Grow Rudbeckia For Cutting:
*Rudbeckia sowing at Higgledy takes place in early April. Being half hardy the seedlings can't go near a frost.
*I always sow my Rudbeckia undercover…in a coldframe…on a windowsill…in a greenhouse…or all three. They can also be direct sown after the frosts…but it's something I have never tried.
*It makes life much easier if you sow in pots rather than seed trays…I prefer three inch square pots…I sow a few seeds into each pot and then discard all but one seedling.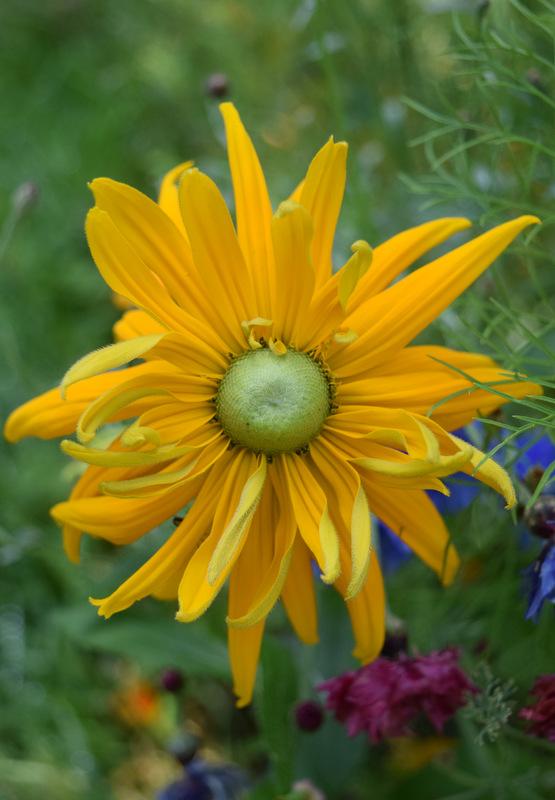 *Only cover the seeds super lightly with your compost…or use a sprinkling of vermiculite if you are organised enough to have some.
*Nearly always you/I will sow too many seeds…they are tiny and the urge to sprinkle too heavily is irresistible…but you must  thin these out to one seedling per pot.
Seeds To Sow In Late Summer/Autumn Collection. 25% Off. Free Shipping. £20. Fourteen packets of seeds delivered to your door. #Simples
*After about six weeks…and after the frosts have finished being boring and have naffed off back up to Lapland, then your seedlings can be planted outside….this is usually around mid May.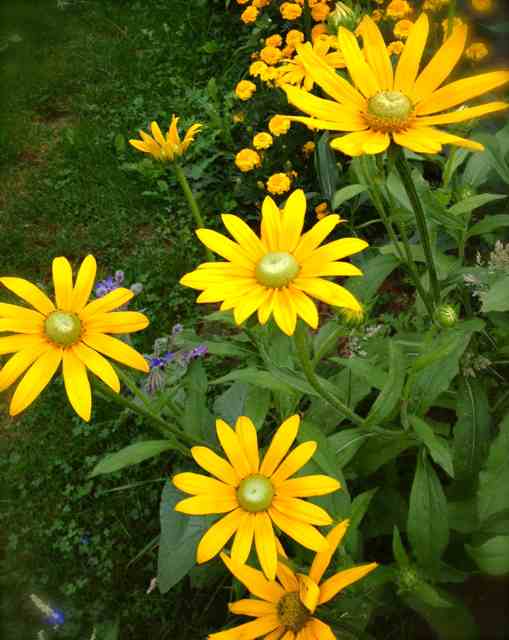 *Make sure they are planted in full sun.
*I plant mine to a foot…or perhaps a little more apart.
*Rudbeckia 'Irish Eyes' are fairly drought tolerant but they will need water whilst they are getting established.
*By cutting the blooms for the vase she will produce more flowers…we like this sort of behavior.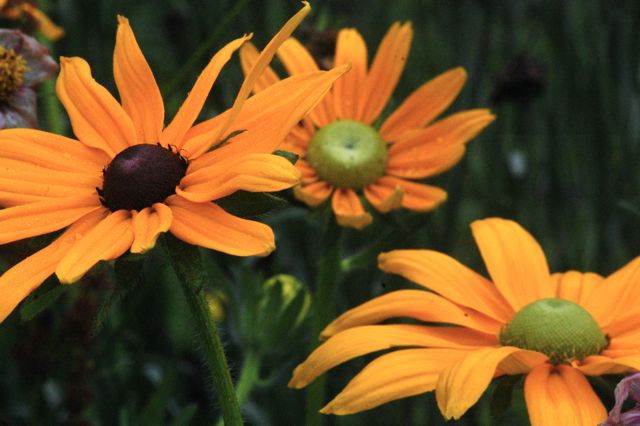 *If we have a VERY mild winter the plants may survive for another season…I am going to try fleecing a square metre of them this year as an experiment. (*geek.)
'Irish Eyes' is an outstanding cut flower…and with just a little effort you can have a good amount of plants that will provide lashings of flowers from mid/late summer through until the frosts.
I sell Rudbeckia 'Irish Eyes' at £1.95 for 300ish seeds 
 Try growing and showing 'Irish Eyes' with Dill 'Mammoth' (For some height interest)…and something citrus green to compliment the heat of the yellow/orange…Bupleurum would be good…or Nicotiana 'Lime Green'…also use Blue flowers as an opposite…for some contrast…'Blue Ball' cornflowers will rock with Rudbeckia…
Kind regards
Benjamin Higgledy
Related waffles:
Rudbeckia…the late summer rock stars.
The Best Rudbeckias For Cutting