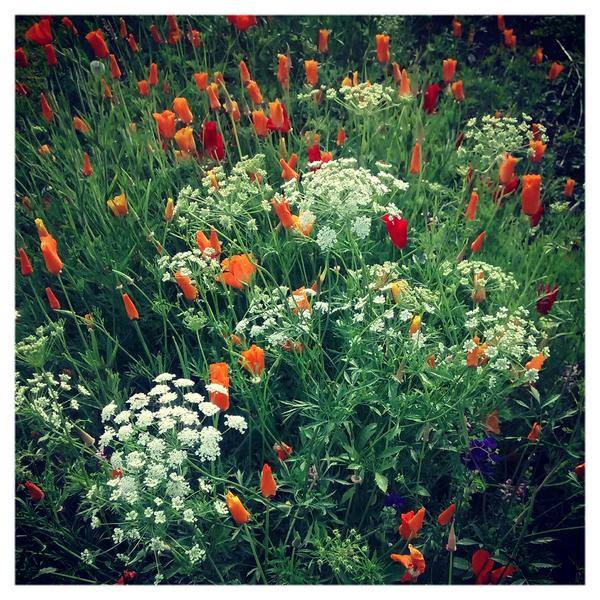 Higgledy Flower School 2016. #12. Ammi majus.
When one is engaged in the super rock n roll, roller-coaster ride of passion, desire, danger and exhilaration that is known to the world as cut flower growing, one learns to make good friends with Ammi majus. Ammi majus is a mover and a shaker…a leader of men…a follower of none. She runs with both the jester and the King…with just one bat of her flowery eye lids she could turn you salt or 'love you long time'. Get her on your side at all costs.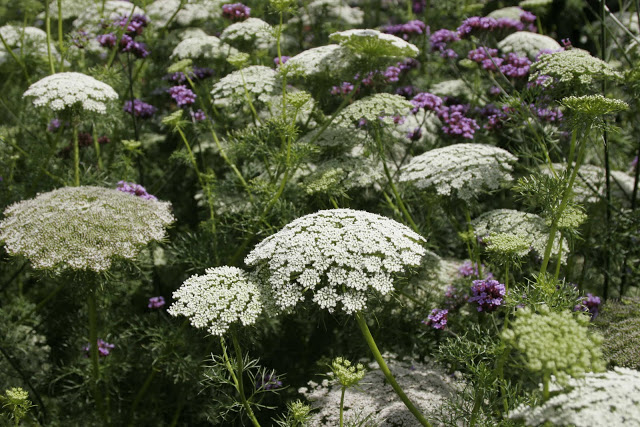 "On my heavy clay, Ammi majus, the best of all umbelifers with its delicately structured yet vast lacy plateau of flowers, grows to more than 2m (6ft 6in) with a spread of 50cm (20in) when sown in late summer. Yet, when sown in spring, it will be a puny little thing.
Ammi makes one of the best cut flowers, delicate and pretty as a single stem in a narrow-necked bottle, marvellous as a filler in a mixed bunch and truly magnificent in a huge arrangement on its own. This makes one of my favourite flower arrangements – ammi covering a 20cm floral foam Oasis globe."
Sarah Raven. Daily Telegraph. 17 Aug 2007.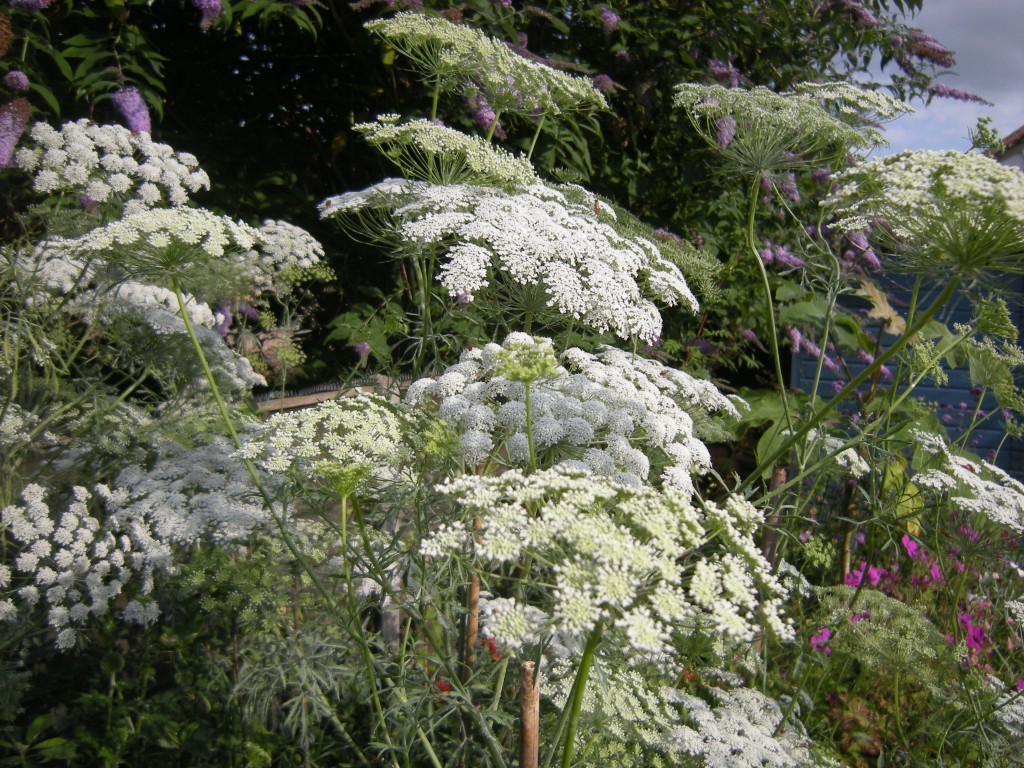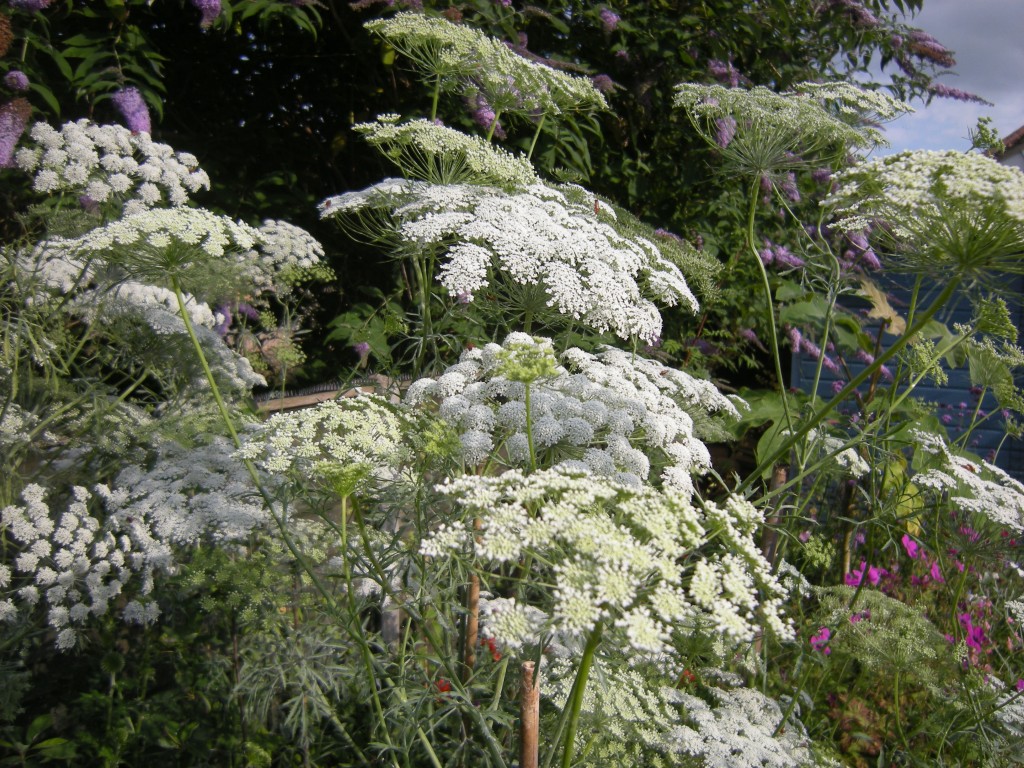 I couldn't agree more with Mrs Raven…'one of the best cut flowers'…its uses are many in the vase and it is very prolific. Being a hardy annual (You remember lesson #3? …there will be a test at the end of term you know…) seeds can be sown in early Autumn or Spring…I of course do both but then I am a trained professional with years of training under my belt.
How To Grow Ammi Majus From Seed.
*Sow in Late August or early September….these days I seem to favour late August…I make another sowing in mid April…though a May sowing would also be hunky dory.
*Personally I direct sow into the soil as I find Ammi can have a sulk if her roots get disturbed by moving her from a pot in the greenhouse to your cut flower patch. However I have spoken with plenty of  folk who run very successful flower farms who sow in pots without any dramas.
*A Spring sowing will be in flower in June – August.
*I sow in straight drills a foot apart and only lightly cover the seeds…about a millimetre is enough and ensure your soil has been raked to a fine tilth…remember these seeds are tiny…and don't want to struggle through six feet of heavy soil to reach the light.
*Ammi likes lots of water when she gets going so try not to let the ground dry out completely.
*The bed should receive full sun and be well drained.
*It is well worth staking Ammi unless your cut flower garden is protected from the wind.
*Once the seedlings are two or three inches high I thin out to about a foot…I don't bother replanting the ones I take out as they seem to struggle in their new home…it seems like a waste…but…well….get over it.
Try Ammi majus with Cornflower 'Black Ball' and Larkspur for a country style eco-chic arrangement that will wow your friends to jelly.
I sell Ammi Majus Seeds in the Higgledy Shop at £1.85 for 600ish seeds.
Kind regards
Benjamin Higgledy
Related rantings in the Higgledy Flowers School 2016 Series:
*Tithonia #11
*Hesperis #10
*Larkspur #8
*Biennial Flowers #6
*What Flowers To Grow In The Cutting Garden #3
*Preparing Cut Flower Beds #2
.