Growing hardy annuals from outdoor autumn sowing.
Last year I decided to have a proper go at growing autumn sown hardy annuals. One previous attempt failed miserably but that had really been little more than a "chuck it and chance it" attempt in a corner using some "leftovers." So this time I prepared the patch just the same as for the spring sown ones ready to plant three rows of mixed annuals at the end of august.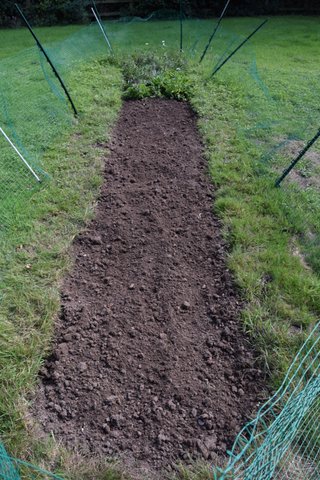 The seeds were sown on the 28th August last year.
Timing:
The risk with autumn sowing is that if you plant too early and the weather is warm and wet you may get early germination and the flowers may try to bloom before the autumn….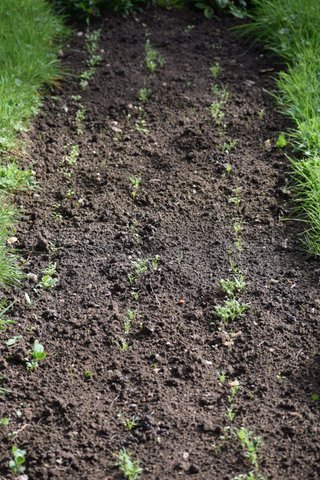 Leave it too late and may be too cold for germination- seeds rot and nothing grows.
The time of sowing therefore varies in different areas of the country and involves a fair amount of guess work re the weather! As Ben says- Autumn sowing can be a lot more Art than Science which is a nice way of saying it's great when it works but if it doesn't don't blame yourself- at least you have a nice seed bed ready and waiting for the spring!!
Seeds to try:
Last year I tried: eschscholzia, nigella, borage, cerinthe, orlaya, cornflowers, corncockle, bupleureum, ammi, phacelia and godetia. I planted three rows in a bed just over a metre wide and mixed up the seeds before sowing to (hopefully) get the random effect.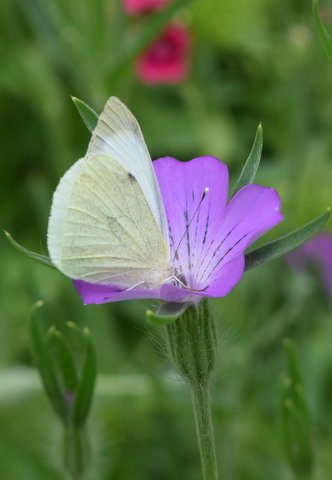 Nb Other hardy annuals can be found at the Higgledy shop of wonders.
Results!
Germination was good from most species but a few didn't get going at all.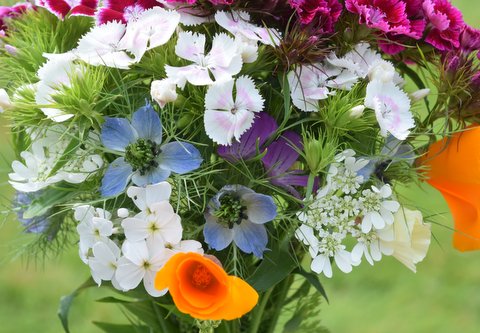 Californian poppies (eschscholzia) were the undoubted stars of the show. Both varieties (orange King and Ivory Castle) did brilliantly- germinated early and formed good strong plants which survived the winter well. Had a couple of rabbit incursions but overall the plants thrived and I now have a good show of strong plants with nice big blooms on long stems. I am guessing that this is a reflection of the well established root systems.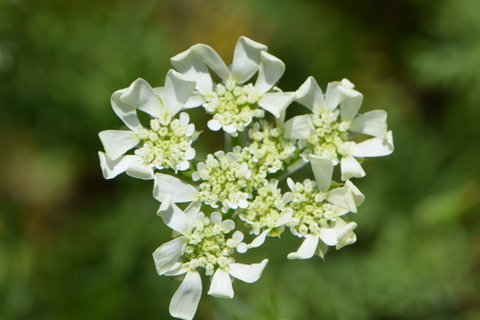 The Cerinthe appeared early- but what with slug attack, weather damage etc were pretty stunted by the time they started flowering. They are picking up a bit now but the spring sown ones are going to overtake them. They survived the winter but never really got going. I'm not sure exactly what hindered them but its been a very miserable spring here so having survived the mild winter I think they were hoping for a lovely warm spell to bring them out in all their glory and it simply didn't happen.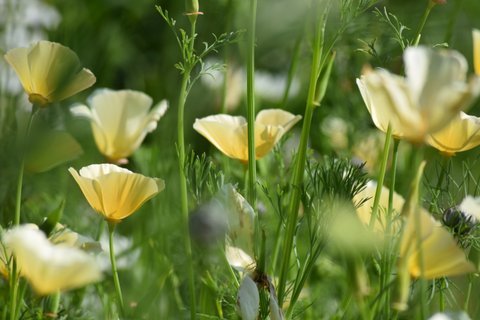 This was my first attempt at growing Orlaya so I can't compare with spring sown but they have formed some really nice plants- and they are definitely going to feature in the future. They are more robust than Ammi and turned out to be a good alternative as the ammi were a no show from the autumn sowing- a shame because my previous experience of ammi in spring sow patches had been good.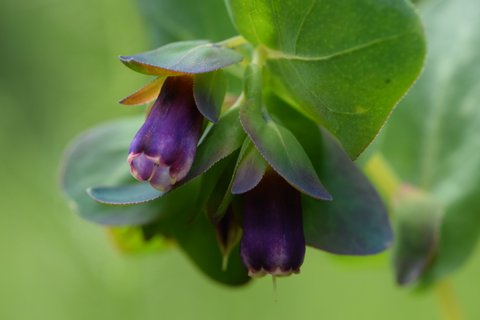 The autumn sown Nigella has been amazing. Nigella hasn't done well for me before when sown in the mixed spring plantings. I wonder if it doesn't like being sown in mixtures. I suspect it has been outcompeted in the past. It certainly did best in the areas of the autumn patch where there was very little in the way of fierce competition. The plants overwintered really well and the flowers have been brilliant for cutting.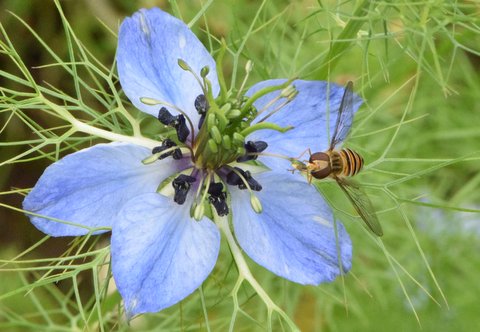 Nigella looks great mixed with biennials in vases and is very very pretty in the patch.
Nigella even turned up in a patch of self seeded Briza maxima (quaking grass)- I am still puzzling over where the Nigella came from…. Looks lovely though…..
Speaking of Briza maxima- I loved this when I grew it for the first time last year. I grew some in a separate mixed area with poppies and other cornfield weeds and let it self seed- which is basically the same as autumn sowing! Loads germinated and it has been looking fantastic for several weeks already.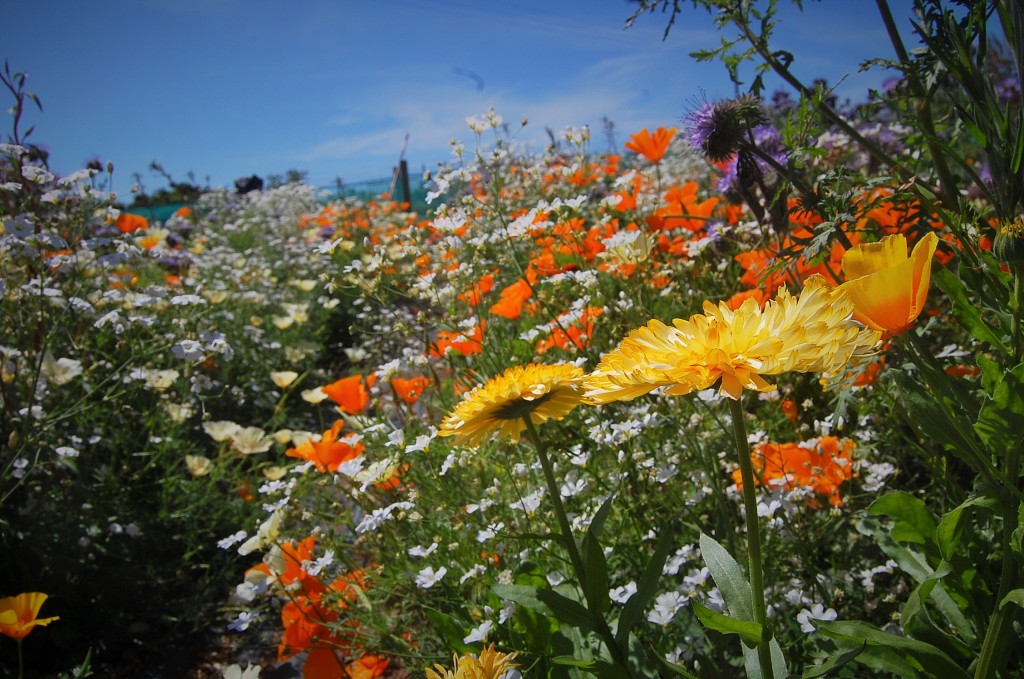 Corncockles on the other hand have germinated everywhere I sowed them. In fact I have to fess up here and admit that I thought they were cornflowers for much of the winter….. so much for seedling recognition. I confess I was a bit disappointed when I realised I had been nurturing a viper in my bosom. Poor corncockle is still reeling from the bad press it received last year following a tv programme which emphasised its toxicity! But now I am eating my words ( not the corncockle!) because they have been really good cut flowers- the blooms have had nice long stems- better than the late summer ones and the sheer number of flowers has been a lovely addition to the beds.
The stems and leaves have a lovely silvery sheen and so far they have withstood the really rather ghastly weather- standing up good and strong despite the wind and monsoon rainstorms.
Borage germinated and overwintered but has been a bit slow getting going- and may well be overtaken by the spring sown plants. Lovely deep colour though.
Bupleureum really doesn't seem to like me- there are a couple of seedlings struggling through but they hardly count as autumn sown—I think they waited 'til spring which just goes to show you should never give up- some seeds will overwinter ready for an early start….!
A couple of groups of candytuft plants are looking very pretty. Will definitely be planting this again in spring and autumn patches in the future.
Overall conclusions:
The Californian poppies are well worth trying in an autumn sowing- these are Ivory Castle
Briza and corncockle seem fail safe. Nigella is a must have. Orlaya is also worth a try.
A row of autumn sown hardy annuals is a brilliant way to start the season in the cutting garden and provides some flowers to compliment the biennials.
I tend to grow more for the mixed meadow look and to take pictures but if I were growing just for cutting I think I would be tempted to sow the autumn hardies in individual groups….. that way any empty patches could be utilised earlier in the spring.
In my garden it looks as though Nigella is probably best sowed with a limited mix of other annuals- so I will definitely sow Nigella in autumn again.
Reasons to sow annuals in autumn
The insects will love you forever for providing early nectar rich flowers
you will have annuals in your cutting patch much earlier than from a spring sowing.
they form super strong plants with good root systems
Fretting over your seedlings/young plants will stop you getting bored and frustrated over the winter.Kind regards

Rose
Many thanks to Rose for taking the time to write this for us…and sending her wonderful photos….you are a STAR! Why not pop over to her Twitter feed to see more photos from her cutting patch.