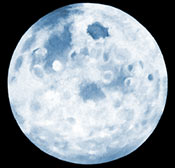 …I couldn't sleep last night…the full moon was shining through the porthole and sending an eerie silver spotlight into the cabin of the boat. I spent an hour entertaining Flash with all the werewolf jokes I knew…he didn't laugh once. Slowly the lunar spotlight moved until it was zapping me right in the chest, I felt like I was in a 1960's horror film. It came to mind that there could be a witches coven in the local village and that they were presently skipping (naked) around a cauldron enchanting up pagan spirit gods….I hoped I wasn't going to wake up having been turned into a deer…what if they gave me antlers?….antlers are not great on a narrowboat…and I'd never be able to get the fiddly catches open on the bow doors with hooves. After going through the list of various woodland and river animals I decided that my best bet was to hope they turned me into an otter….no antlers to deal with but with nimble fingers for door catches….and if I fell in the canal it wouldn't be a problem. I fell into unsettled sleep…lucid dreaming that I was up and awake in different parts of the boat…and when I woke up proper at the first rays of dawn I was relieved to find I wasn't hankering for raw fish or bashing the paintwork with my antlers…
We are moving off today…heading west for a few miles…I have been preparing Casper for travel…clearing the roof of unnecessary clutter and dropping the solar panel so that it sits flush with the roof in case we find a low bridge….there is ice on the roof…happily most of my seedlings are tucked up in their storage boxes, though some helianthus were already planted up into their builder's buckets….touch wood they will be OK. It's not common to have a frost in May…and having spent five years in Cornwall which is virtually frost free, I have become off my guard…
In other news my camera/phone is out of action….it will be a few days until I get into Northampton where I can have it fixed….so there will be no pics for a while.
PS White rabbits!