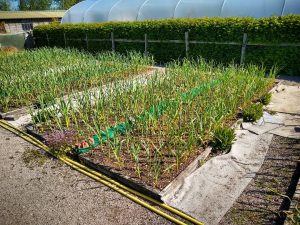 There are a whole host of well-meaning folk who will tell you that sowing annual flower seeds in May is too late. I say Balderdash to such nonsense! To prove my point I am experimenting at the Bridge Nursery at Napton.
Christine, who runs the nursery makes her own black garlic. These garlic beds will be harvested at some point in June and then replanted up in November. Being that the soil is better off having a crop in it…we are going to see if we can slot a cutting patch into that timeframe. We sowed up twenty varieties of annuals on May 4th into three-inch square pots. The little cherubs should be fine in those pots for a month or more. However, the seedlings are romping away with magnificent gusto, so it will be interesting to see their development time when compared to seeds sown in late March. (Personally, I see very little advantage in sowing before late March and plenty of disadvantages.)
The beds are 8ft wide and 16ft long. Unlike my other gardens this season I shall be making this one un-higgledy….in as much as I shall be growing the same variety in straight rows. One plant per square foot. So rows of 16 plants. It's great to be straight!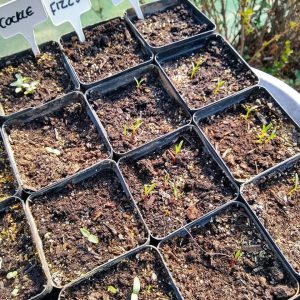 The Bridge Nursery has its own NGS garden which is open and collects donations for Macmillan nurses. The un-higgledy Higgled Garden will be part of that this summer so please come down and take a look. I will post pics on our progress with my usual warblings as we go along.
If you have any questions then please ask away…you can find me on Twitter or Facebook  Should you wish you can join 'Club Higgledy' for newsletters and discount codes. (see the right-hand sidebar).
Kind regards
Higgers & Flash