Ahoy there, dear reader!
Please let me introduce myself. My name is Benjamin Higgledy. I run a flower seed business, Higgledy Garden, which I operate from my narrowboat, Casper. I live on Casper with Flash, a six year old Hungarian Pointer who is both the pride and the bane of my life.
Throughout November I shall be writing and publishing a diary in order to try and raise a bit of cash for the charity Shelter who have got their work cut out during the cost of living crisis. It's not that I think our life aboard Casper is the most exhilarating rollercoaster of an adventure or that Higgledy Garden is a dynamic go-getting microbusiness that will inspire a generation to ditch the nine-to-five, but more it is an opportunity for me to get a chunk of writing under my belt after a long period of abstinence from the sport. I would hope in the process it might also raise a laugh and even be informative once in a while.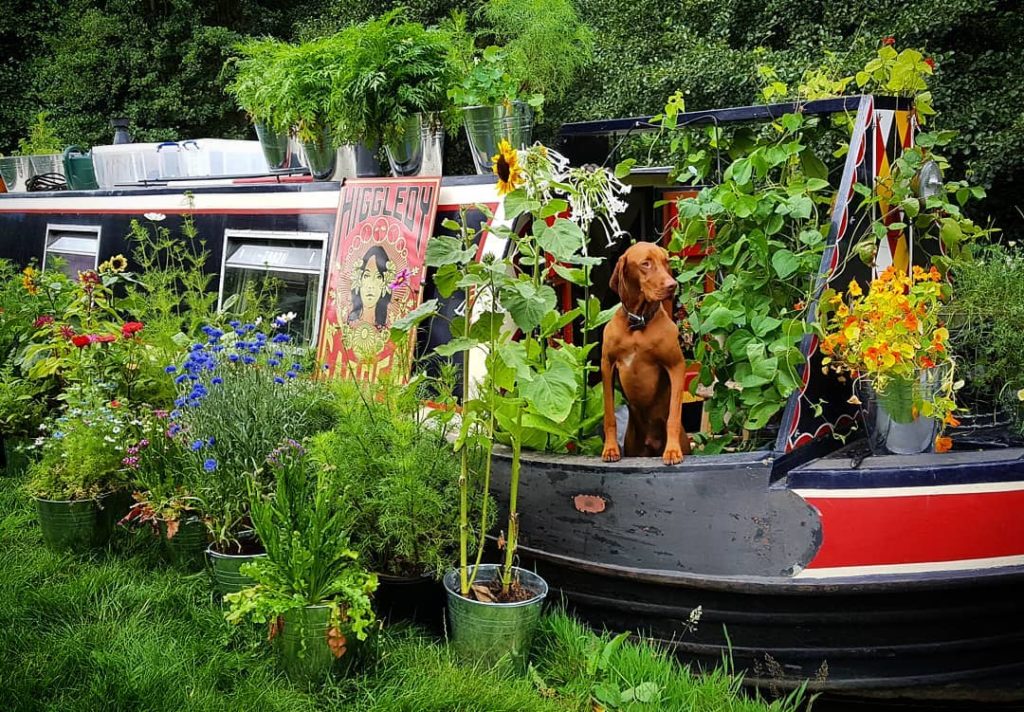 After Flash, Higgledy Garden is my second pride and joy. The business is ten years old and was started from a loan of £700 from some friends after the banks turned our business plan down. We only sell our stock online and we keep a very limited portfolio of tried and tasted varieties. Presently most of our stock is imported from the flower fields of central Europe but we have got to the stage when we are ready to invest in land to grow our own seed stock and we are actively seeking a few acres on which we can self-build a home and create 'Higgtopia'. Higgtopia is my dream of a smallholding (or homestead, as they say across the pond) An off-grid, biodiverse flower farm and woodland coppice….complete with an orchard, veg patch, and a wooden cabin. Higgtopia is our north star and that's what we are navigating towards.  With a fair wind, we hope to make this dream a reality next year. I will undoubtedly be warbling about my flowery dream from time to time over the forthcoming pages…please humour me.
Our boat. Casper, is a 45ft steel narrowboat made in 1984 by the super salubrious (If that is the right word.) Sagar Marine boatyard. Sagar are well known for building some of the most beautiful and solid boats of the day. While Casper is a little rough around the edges after nearly 40 years in constant service, he is clearly an old and well respected gent of the waterways. Casper is the narrowboat version of an old Bently. We've had almost all of the interior refitted, rewired, replumbed, and we've bought the old boy a spanking new engine that purrs away like the most contented cat on Cat Street. At some point we might have to sell up in order to help finance Higgtopia and that day will be a heartbreaker as we've lived aboard Casp' for five years and we are firm friends….he is the first proper home I've ever owned.
We bought Casper on the Oxford Canal, at a village called Cropredy, about 20 miles north of Oxford. From there, over four years, we journeyed across to the Fens and onto the Eastern rivers to Cambridge. From the east we headed up north to Warrington past Birmingham and Coventry…then finally we headed west to North Wales to the beautiful Llangollen Canal, where we now loiter suspiciously. For the moment I've had my fill of traveling and am quite happy to hang about here on the Welsh borders for six months or so. The woods are full of squirrels, so Flash is happy too.
Flash was one of nine pups in a litter that were bred for the fire service. The search and rescue team conducted tests on the pups and picked Flash and his sister, Fleur, to undergo extensive training. Fleur was to work for the Lancashire brigade and Flash for Tyne and Wear. Fleur was sacked within a month because her 'play drive was stronger than her work drive'….Flash got dropped because of cuts to the T&W fire service. The long and short of it was the breeder found me through some followers of mine on the socials. She knew I'd had a Vizsla (Hungarian Pointer) before and that I would be aware of what a challenge they can be. After lots of discussions 'Flash Decorus Fantastic' (his full pedigree name.) came to have adventures with me.
I've had him for six years….some of those years he was something of a challenge…I'd say about six.
When we're not barging about on the waterways we are trundling about in the Blunder Bus, our campervan. She is a converted Renault Traffic panel van….a great engine but rubbish electrics. We use the van for trips down to the west country where we have been scouting about for a field suitable for Higgtopia. The Blunder Bus is less comfortable than Casper but she goes faster and squeezes into smaller places.
So that's us. We live a reasonably simple life and for the most part, we love it.
So please tag along with us on our November adventures…who knows what delights might be in store…I need a couple of new teatowels so I will be making a visit to B&M at some point this week and I know you won't want to miss out on that heady action.
Please, please, please…if you can afford it, can you bung a bit of cash into our Just Giving page.
Thank you.