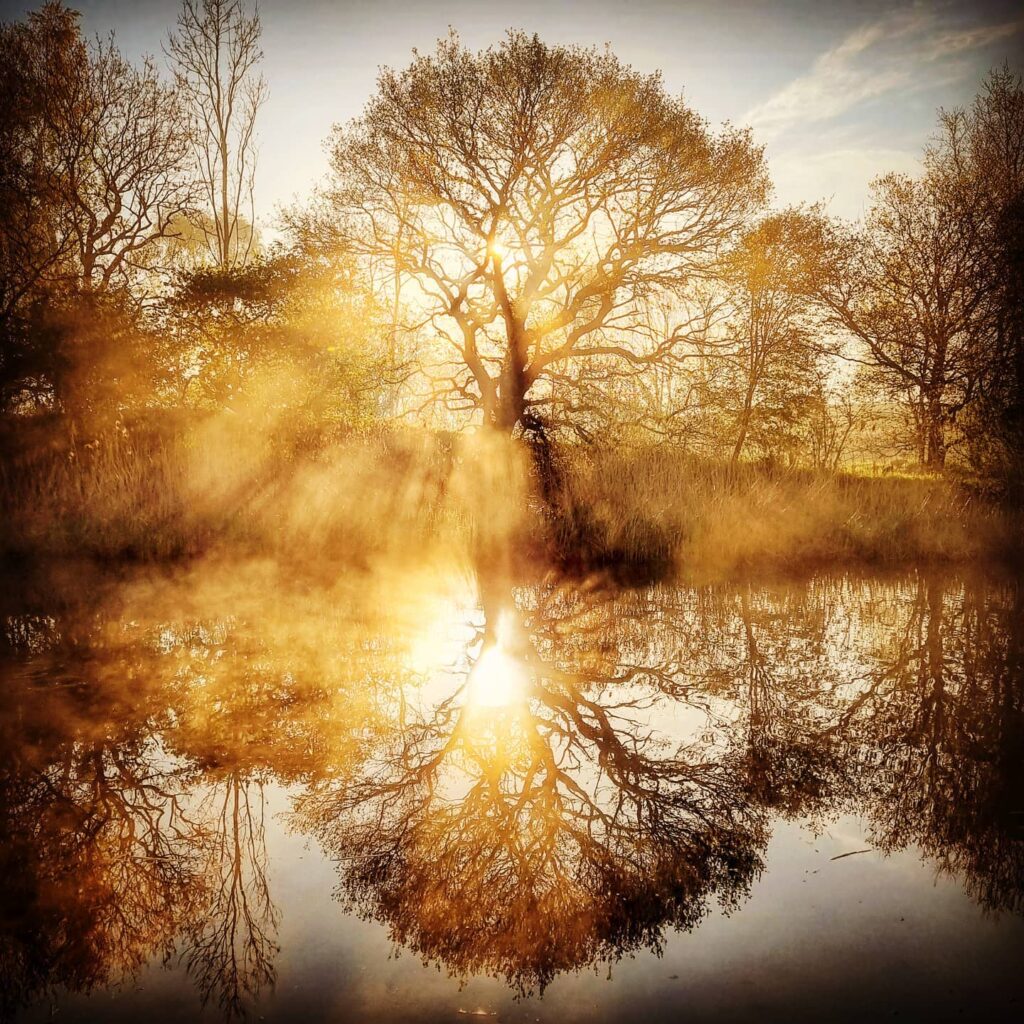 4.35am. Our morning routine.
Dear reader,
Since turning 50 my body clock has taken it upon itself to wake me up at the same time my 25 year old self would be staggering to his bed. I don't take any issue with this and welcome these early starts with open arms and a bouncy heart….I tut my 25 year old self and mumble things to him about hangovers and work ethics and 'I didn't get where I got today without….' speeches….this makes me feel grown up and normal.
Flash is not a morning person and at some point in the night he has wormed his way under the duvet. He is on his back with his paws skyward…gently snoring. Frankly, a chap of my calibre should have a Scandivanian heiress slumbering contently in his bed, and possibly her friend too but instead, I'm lumbered with a dribbling, six year old, ginger hunting dog. Flash lets out a small but well timed fart. I get up and pull on some clothes that I've handily left on the floor by the bed.
Flash and I live on a boat, a 45ft narrowboat presently moored up on the Welsh borders on the charming Llangollen Canal. Now while this is all fine and dandy and full of much whimsical joy, it is also cold and damp at 4.35am on a November morning. Heating the boat in autumn and spring is a tactical skill that has taken me five seasons to master. This is because by midmorning the boat will be tolerably warm without a fire burning in the stove….and intolerably hot if there is one, so the Captain of the vessel (that's me) has to make a Goldilocks fire that will warm the boat for the first few hours and then peter out by elevenses. We buy our firewood and diesel from the fuel boat that comes by every fortnight. The Mountbatten is a 70ft historic working boat and the service provided by the folk that tun the boat is tip-top. Us liveaboards would be lost without them and we'd rather spend our shillings with them than overpriced marinas. Our boat, Casper, has his stove in the centre of the main cabin, annoying in summer as it takes up so much room but perfect for the seven months of the year when we spark it up as it heats the whole boat. It won't be long before our stove is kept alight 24/7. I made the mistake of letting it go out one night in our first winter on board Casper, I'm sure you remember the Beast from the East?….well we were icebound somewhere near Oxford. I'd had a few woody ales with my neighbour one evening and had made the schoolboy blunder of not banking up the stove before I was away to my bunk. The ice around the steel hull was inches thick, we were effectively a 45ft metal ice box. It was so cold we had polar bears in the sink and Ranulph Fiennes was stumbling around the cabin with an ice pick singing Norweigian sea shanties. I was shaking so much I couldn't get the matches to light the kindling…and Ranulph was no help (turns out he's a bit of a Jessie.). Us Higgledys don't give up easily though and with much determination and boaty pluck we got the fire roaring and saved the day. Needless to say, we only made that mistake once.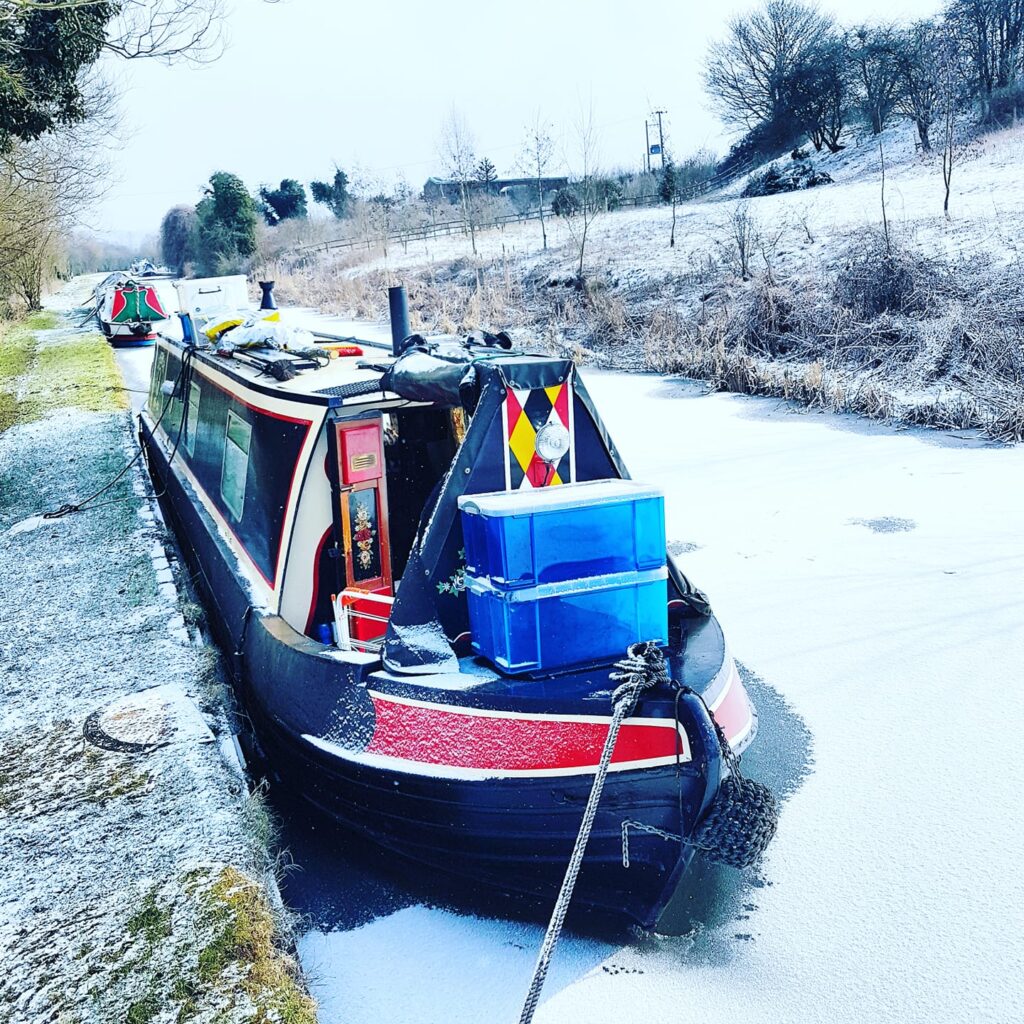 Fire lit. Phase one completed. Phase two is coffee. An international seed merchant such as myself needs a pint of coffee to get his system jiggling of a morning. Fresh coffee is king. .
"Instant coffee, for example, is a well–deserved punishment for being in a hurry to reach the future." Allan Watts.
I favour making coffee using an old fashioned Bailetti stove top pot. I don't know if it makes the best coffee but it certainly has a good amount of faff and ritual which scores lots of points. The pots hangs on a hook next to a hurricane lamp, from the wooden ceiling of the boat…this lends the space a woodland cabin sort of a vibe and makes me feel like a wilderness adventurer. I have my pint in two sittings. The first is sitting by the fire. This involves a good deal of staring into the flames and going gozzy eyed. I'll switch the wireless on to listen to a few minutes of the World Service and let it wash over me….eventually, the World Service slips into the shipping forecast…albeit I'm on a narrowboat fifty miles from the sea, I still pretend it's relevant and will relay the highlights to Able Seaman Flash by shouting to him down the short corridor that separates the cabin from the bedroom. I usually use my Scottish accent for this in order to add tension and drama but I suspect it is wasted on Flash who is Hungarian and probably can't detect the difference between that and my usual Queen's English.
Flash will wake up when I've finished my first coffee and saunter through to the cabin dragging the duvet with him. He likes to go out and make offerings to the undergrowth about 6am. We go out together and while he is going about his business I will look at the stars and remind myself for the thousandth time that I should learn what more of the constellations are called. The 'W' one…Cassiopeia? She is trying to hide up in the oak tree that hangs over the canal close to the boat. Every now and then an acorn drops down from the branches and kerplunks into the jet-black water.
Once his ablutions have been successfully performed, Flash takes himself back onto the boat and off back to bed, leaving me to pick up the duvet, follow him, and tuck him in. At this point it's time to crack on with some work. My mission is to make up two hundred packets of flower seeds before 8am. This is repetitive mundane work and perfect for the early morning. With my trusty second coffee, I set to work. Today it is Nigella 'Oxford Blue' which gives the boat pleasing niffs.
2.15pm Reasons to be cheerful.
Cooking one pot wonders on the woodburner. Somehow it is very satisfying and saves gas too. I can also heat water for washing up. I would be a brilliant Victorian.
Please, please, please…if you can afford it, can you bung a bit of cash into our Just Giving page.
Thank you! :)