5am. Specs.
I Jumped out of bed and stepped on my specs, breaking one of the arms. I did lots of advanced level swearing. I have no idea where or if I have a spare pair. Who put them on the floor?
7.35am. Reasons to be cheerful.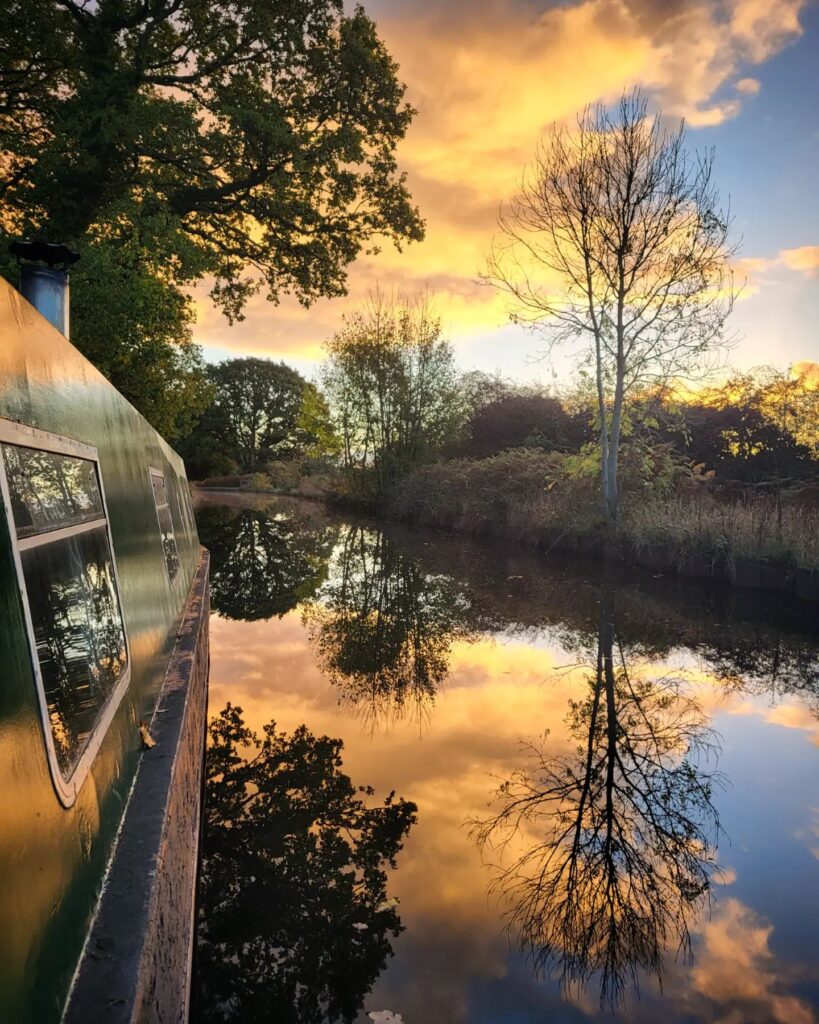 We had a spanking gorgeous sunrise which was made up of gold and deep green.
10.45am Register with the doctor.
My fancy pants sports watch is telling me my resting pulse has been steadily dropping over a few months from 58 BPM (which is pretty low to start with) down to its present 38 BPM…any lower and frankly, what would be the point. Either I'm super fit or I'm about to fall off my perch.
I need to register with a doctor up here on the Welsh borders. I've been moving around so much I'm not sure where I'm actually registered. I suspect it is Cornwall. Not having an address can be a real pain in the proverbials. Insurance companies don't like it, and neither do banks, libraries, mobile phone companies, the Fuzz, and doctor's surgeries.
I checked online and found a surgery in a small market town not too far away, and with Flash we headed off in the Blunder Bus to see what we could sort out. After a small parking blunder involving a traffic cone and a bewildered lady, I made my way to the door of the surgery. It was a sliding automatic door, at least that's what it said it said it was but it didn't seem to register my presence even when I knocked out some pretty niche disco moves in front of what I thought was the sensor. The receptionist had to come to my aid….it turns out there was a big green button with 'OPEN' printed on it. For a split second I considered pretending I was either blind or Spanish or on drugs but this could have led to complications once I was inside so I ditched those options and instead opted for the reliable 'upper middle-class bumbling bachelor' approach.
The receptionist was an attractive lady of similar age to me. Medical maidens can be pretty fierce, they like things to be organised and shipshape and it's a good idea to tow the line in this respect. I explained to her I didn't have an address. Happily Medical Maiden wasn't put off by this and she allowed me to use the address of the storage company that I have a lockup with in Northwich. She gave me a pen and a form to fill out. There wasn't much room on the form for filling in the information and by the time I had finished, the document looked like it had been involved with a marker pen-wielding, drunk, toddler.
Medical Maiden frowned. Medical Maiden then asked if I needed an appointment with a doctor. I mentioned that I thought I could be about to die at any minute. She looked at me over her horned-rimmed glasses. At that point I realised my own glasses were held together with gaffa tape and Medical maiden had been funneled to believe I was an illiterate homeless person with a heart condition. This was not the Tinder profile I was after.
An appointment was made and I left with all the dignity I could muster.
Boaty trivia. Traveling by boat with a campervan.
If I'm making a long journey for a month or two I may decide to leave the Blunder Bus in the care of some friends, or I might decide to bring her along. When I bring her along I tend to move Casper about five miles along the canal and then take Flash for a hike to go and pick her up. Flash needs a minimum of a five mile walk a day otherwise he enters a state of madness and he will climb the walls of the boat, so the walk to the van is no hardship. Generally speaking by most bridges that cross the canal there are little laybys where liveaboard boaters park their cars. Traveling like this is often referred to as 'bridge hopping' by the boating community. There is also a Facebook group just for this very issue. You can ask if any other boaters can give you a lift back to your vehicle and in return you give lifts to other boaters. I don't use it but I hear it works really well.
6pm Sweet pea spike.
It's been a good autumn for sweet pea sales. My delicious customers have been filling their boots. Sweet peas sown in autumn tend to make much stronger, bigger and earlier plants than their spring sown mates. You just need to keep them away from the frost. (Here's a guide to how I sow them aboard Casper.) This means much of my time has been making up packets….we have 20 seeds per packet. I now hold the world record for the number of times a human being has counted up to 20. I suspect when I'm dead and dusty they will place a blue plaque on Casper and people will come from miles around and take selfies.
I generally don't work after 6pm but I'm a bit behind. I'm making up packets of Painted Lady. These are among the most heavily scented of all the sweet peas. They have short stems and the bicolour pink can be a bit flouncy but I would never have a year of not growing them. I usually have some trailing off the boat on the towpath side. The towpath maidens become intoxicated with the heady scent and dance around chanting and doing much waving of arms.
Please, please, please…if you can afford it, can you bung a bit of cash into our Just Giving page. 
Thank you.:)